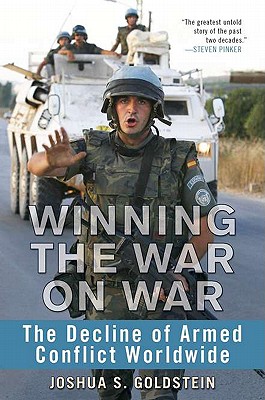 Winning the War on War: The Decline of Armed Conflict Worldwide (Hardcover)
The Decline of Armed Conflict Worldwide
Dutton Adult, 9780525952534, 400pp.
Publication Date: September 15, 2011
* Individual store prices may vary.
or
Not Currently Available for Direct Purchase
Description
An award-winning expert on international affairs and military history reveals the astounding truth about war: Peacekeeping is working.
Read the newspapers, and you'll be convinced war is worse than it's ever been: more civilian deaths, more rapes, more armed conflicts all around the world. But as leading scholar and writer Joshua Goldstein shows in this vivid, dramatic book, the reality is just the opposite. The commonly quoted statistic that "a century ago 90 percent of war deaths were military, but nowadays 90 percent are civilian" is based on one error in a little-read, twenty-year-old report. The truth is that the military-civilian death ratio has remained at around 50-50 for centuries. Most amazingly, we are in the midst of a general decline in armed conflict that is truly extraordinary in human history.
"Winning the War on War" is filled with startling observations, including: 2010 had one of the lowest death rates from war, relative to population, of any year, ever. No national armies are currently fighting one another-all current wars are civil wars. UN peacekeeping actually works very well, and 67 percent of Americans support the UN, according to a recent poll.
Goldstein compiled evidence ranging from the histories of UN peacekeeping missions to the latest Swedish data on armed conflicts. He tells the stories of peacekeeping failures such as Bosnia and Rwanda, but also the less heralded success stories such as Mozambique and El Salvador. In this "boots on the ground" account, Goldstein shows why global peacekeeping efforts are working-how large-scale looting, sexual assault, and genocidal atrocities are being stopped-and how we can continue winning the war on war.
About the Author
Joshua S. Goldstein is a professor at the School of International Service at American University, winner of the International Studies Association "Book of the Decade" award, among others, and a research scholar at the University of Massachusetts, Amherst, where he lives.
Praise For Winning the War on War: The Decline of Armed Conflict Worldwide…
"Winning the War on War reveals the greatest untold story of the past two decades-that contrary to popular impressions, war has become substantially rarer and less dangerous... This book could change the understanding of policy makers, opinion leaders, and a wide readership." -Steven Pinker, professor of psychology, Harvard College; author of the bestseller The Blank Slate
Advertisement