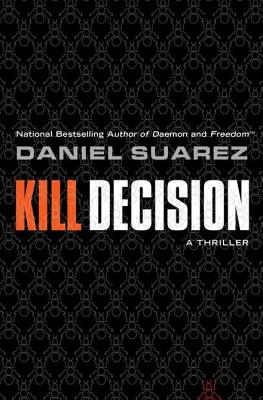 Kill Decision
Hardcover

* Individual store prices may vary.
Other Editions of This Title:
Digital Audiobook (7/18/2012)
Paperback (8/6/2013)
Description
The shocking techno-thriller that cements Daniel Suarez's status as the heir to Michael Crichton and Tom Clancy a terrifying, breathtaking, and all-too-plausible vision of the world's near future.
Unmanned weaponized drones already exist they re widely used by America in our war efforts in the Middle East. In "Kill Decision," bestselling author Daniel Suarez takes that fact and the real science behind it one step further, with frightening results.
Linda McKinney is a myrmecologist, a scientist who studies the social structure of ants. Her academic career has left her entirely unprepared for the day her sophisticated research is conscripted by unknown forces to help run an unmanned and thanks to her research, automated drone army. Odin is the secretive Special Ops soldier with a unique insight into the faceless enemy who has begun to attack the American homeland with drones programmed to seek, identify, and execute targets without human intervention.
Together, McKinney and Odin must slow this advance long enough for the world to recognize its destructive power, because for thousands of years the kill decision during battle has remained in the hands of humans and off-loading that responsibility to machines will bring unintended, possibly irreversible, consequences. But as forces even McKinney and Odin don t understand begin to gather, and death rains down from above, it may already be too late to save humankind from destruction at the hands of our own technology.
Praise For Kill Decision…
"Kill Decision really nails it...Daniel – wow – awesome."
—Brad Feld, Business Insider

"Perfectly blending nail-biting suspense with accessible science, bestseller Suarez (Daemon) establishes himself as a legitimate heir to Michael Crichton with this gripping present-day thriller."
— Publishers Weekly (starred review)

"This is the kind of mind-expanding novel that uses entertainment to make powerful, important points about alarming current trends; the novel as cautionary tale has rarely been better executed...Highly recommended."
— Tim O'Reilly

"Kill Decision reads like a Michael Crichton thriller..."
— Associated Press



"A confident thriller that leaves us wondering not whether its fictional premise will one day become reality, but when."
— Kirkus Review

"A plausible account of how, and more importantly, why, the real 'skynet' might be created."
—Tim O'Reilly, founder and CEO of O'Reilly Media, Inc.  



"Daniel Suarez came out of nowhere...he self-published his first techno-thriller, Dameon, an enthralling convincing tale about a murderous AI loose on the Net. Now he has a publisher and a sequel, Freedom™.  It's even better."
—Time on Freedom™

"Greatest. Techno-thriller. Period....Experts have long feared the Internet doomsday scenario; Daemon is arguably more terrifying."
—William O'Brien, former White House director of Cybersecurity and Communications Policy, on Daemon

"Daemon does for surfing the Web what Jaws did for swimming in the ocean."
— Chicago Sun-Times

"Daemon is the real deal-a scary look at what can go wrong as we depend increasingly on computer networks."
—Craig Newmark, Founder of Craigslist

"Freedom™ crackles with electrifying action scenes and bristles with intriguing ideas about a frightening, near-future world…. Daemon and Freedom™  combined form the cyberthriller against which all others will be measured."
— Publishers Weekly (starred review)
Dutton Books, 9780525952619, 390pp.
Publication Date: July 19, 2012
About the Author
Daniel Suarez is an independent systems consultant to Fortune 1000 companies. He has designed and developed enterprise software for the defense, finance, and entertainment industries. An avid gamer and technologist he lives in the Western Hemisphere.
or
Not Currently Available for Direct Purchase