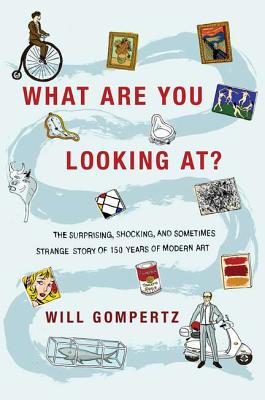 What Are You Looking At? (Hardcover)
The Surprising, Shocking, and Sometimes Strange Story of 150 Years of Modern Art
Dutton Books, 9780525952671, 432pp.
Publication Date: October 25, 2012
Other Editions of This Title:
Paperback (9/24/2013)
* Individual store prices may vary.
Description
For skeptics, art lovers, and the millions of us who visit art galleries every year and are confused "What Are You Looking At? "by former director of London's Tate Gallery Will Gompertz is a wonderfully lively, accessible narrative history of Modern Art, from Impressionism to the present day.
What is modern art? Who started it? Why do we either love it or loathe it? And why is it such big money? Join BBC Arts Editor Will Gompertz on a dazzling tour that will change the way you look at modern art forever. From Monet's water lilies to Van Gogh's sunflowers, from Warhol's soup cans to Hirst's pickled shark, hear the stories behind the masterpieces, meet the artists as they really were, and discover the real point of modern art.
You will learn: not all conceptual art is bollocks; Picasso is king (but Cezanne is better); Pollock is no drip; Dali painted with his moustache; a urinal changed the course of art; why your 5-year-old really couldn't do it. Refreshing, irreverent and always straightforward, "What Are You Looking At?" cuts through the pretentious art speak and asks all the basic questions that you were too afraid to ask. Your next trip to the art gallery is going to be a little less intimidating and a lot more interesting.
With his offbeat humor, down-to-earth storytelling, and flair for odd details that spark insights, Will Gompertz is the perfect tour guide for modern art. His book doesn t tell us if a work of art is good; it gives us the knowledge to decide for ourselves.
About the Author
WILL GOMPERTZ was a director at the Tate in London for seven years and is now the BBC arts editor, where he writes, presents, and produces programs about the arts. In the summer of 2009, he wrote and performed a one-man show at the Edinburgh Fringe called Double Art History, a light-hearted lecture on the story of modern art. Recently named one of the world s top fifty creative thinkers by "Creativity" magazine, he lives in Oxford."
Book Videos
or
Not Currently Available for Direct Purchase