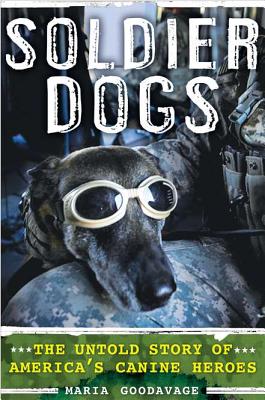 Soldier Dogs
Hardcover

* Individual store prices may vary.
Other Editions of This Title:
Digital Audiobook (3/14/2012)
Paperback (12/31/2012)
Hardcover, Large Print (8/1/2012)
MP3 CD (3/15/2012)
Compact Disc (3/15/2012)
Compact Disc (3/15/2012)
Audio Cassette (3/1/2012)
Description
A leading reporter offers a tour of military working dogs' extraordinary training, heroic accomplishments, and the lasting impacts they have on those who work with them.
People all over the world have been riveted by the story of Cairo, the Belgian Malinois who was a part of the Navy SEAL team that led the raid on Osama bin Laden's compound. A dog's natural intelligence, physical abilities, and pure loyalty contribute more to our military efforts than ever before. You don't have to be a dog lover to be fascinated by the idea that a dog-the cousin of that furry guy begging for scraps under your table-could be one of the heroes who helped execute the most vital and high-tech military mission of the new millennium.
Now Maria Goodavage, editor and featured writer for one of the world's most widely read dog blogs, tells heartwarming stories of modern soldier dogs and the amazing bonds that develop between them and their handlers. Beyond tales of training, operations, retirement, and adoption into the families of fallen soldiers, Goodavage talks to leading dog-cognition experts about why dogs like nothing more than to be on a mission with a handler they trust, no matter how deadly the IEDs they are sniffing, nor how far they must parachute or rappel from aircraft into enemy territory.
"Military working dogs live for love and praise from their handlers," says Ron Aiello, president of the United States War Dogs Association and a former marine scout dog handler. "The work is all a big game, and then they get that pet, that praise. They would do anything for their handler." This is an unprecedented window into the world of these adventurous, loving warriors.
Praise For Soldier Dogs…
"A moving portrait of the loyal, courageous, furry warriors who truly are an enlisted Man's Best Friend."

-People Magazine

"Soldier Dogs is a fascinating book about the valiant things that military dogs do as told through the words of the soldiers who fight beside them. It also shows you how military service dogs are created, told through the words of the trainers and scientists who know the process. It is written in an easy and entertaining style and will acquaint you with dozens of canine heroes ranging from Stubby, who fought in WWI, to Cairo, who was a member of the raiding party that took down Osama Bin Laden. It is a great read for anyone who appreciates dogs and heroes."
-Stanley Coren

"Inspiring personal stories of the many canine allies (and their handlers) who have dramatically enhanced military command units and examines how this indelible human-canine bond often transcends the atrocities of wartime violence."
-Kirkus Reviews



"Stories of spooked pups aboard battle-bound Hueys and dogs in the line of fire reveal surprisingly human-like response to war, and posit these military mutts as admirable—and capable—soldiers. "
-Publishers Weekly

"If the idea of dogs at war conjures up thoughts of harsh methods and unrelenting discipline, think again. Maria Goodavage's revealing and engaging books exposes the unexpected trust and affection that flows both ways between dog and handler. You may already care about dogs: This book will heighten your respect for them."
-John Bradshaw, author of Dog Sense
Dutton Adult, 9780525952787
Publication Date: March 15, 2012
About the Author
Maria Goodavage, a former reporter for "USA Today" and the "San Francisco Chronicle," is the editor and featured writer for one of the most widely read dog blogs in the world, "For the Love of Dog" at Dogster.com. She is the author of "The Dog Lover's Companion to California" and "The Dog Lover's Companion to the San Francisco Bay Area." She coproduced and wrote an award-winning children's video about dogs and other animals, starring the voice of Ed Asner. She lives with her family in San Francisco, and the four-legged guy on their team is a Lab named Jake.
Book Videos
or
Not Currently Available for Direct Purchase