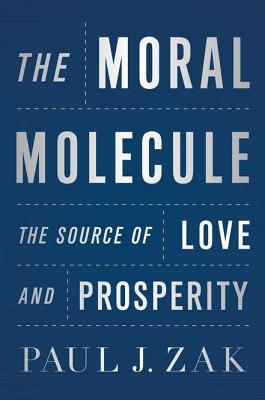 The Moral Molecule (Hardcover)
The Source of Love and Prosperity
Dutton Books, 9780525952817, 235pp.
Publication Date: May 10, 2012
Other Editions of This Title:
Paperback (11/26/2013)
MP3 CD (12/1/2016)
Compact Disc (5/1/2013)
MP3 CD (5/10/2012)
Compact Disc (5/10/2012)
Pre-Recorded Audio Player (5/10/2012)
MP3 CD (5/1/2013)
* Individual store prices may vary.
Description
A Revolution in the Science of Good and Evil
Why do some people give freely while others are cold hearted?
Why do some people cheat and steal while others you can trust with your life?
Why are some husbands more faithful than others and why do women tend tobe more generous than men?
Could they key tomoral behavior lie with a single molecule?
From the bucolic English countryside to the highlands of Papua New Guinea, from labs in Switzerland to his campus in Souther California, Dr. Paul Zak recounts his extraordinary stories and sets out, for the first time, hisrevolutionary theory of moral behavior. Accessibleand electrifying, "The Moral Molecule"reveals nothing less than the origins of our most human qualities empathy, happiness, andthe kindness of strangers.
About the Author
PAUL J. ZAK, Ph.D., is professor of economic psychology and management at Claremont Graduate University. As the founding director of Claremont's Center for Neuroeconomics Studies, he is at the vanguard of neuroeconomics, a new discipline that integrates neuroscience and economics. He has a popular "Pyschology Today" blog called "The Moral Molecule." He makes numerous media appearances, and his research has been featured in "The New York Times," "The Wall Street Journal," "USA Today," "Scientific American," "Fast Company," and many others.
Praise For The Moral Molecule: The Source of Love and Prosperity…
"The Moral Molecule is an engaging popular account of Mr. Zak's decade of intense research into how oxytocin evolved for one purpose—pair bonding and attachment in social mammals—but had the bonus effect of cementing a sense of trust among strangers."
--Michael Shermer, The Wall Street Journal

"One of the best popular science books I've read this year."
—Brian Clegg, Popular Science

"Explaining his use of cutting-edge research to undercut Gordon Gekko's infamous mantra ('Greed is good'), Zak is engaging, entertaining, and profound."
—Kirkus Reviews (starred review)

"Stimulating...he demonstrates the intriguing possibility that oxytocin orchestrates the generous and caring behavior we endorse as moral."
—Publishers Weekly

"What's great about reading this book is not just that you feel yourself relieved at shedding the notion that our behavior is purely selfinterested and not just that you get a clear idea of how this clearly important molecule works but that you're entertainingly taken through Mr. Zak's experiments, thus getting a terrific view of the scientific process."
— Library Journal

"Paul Zak's investigations into the best things in life are inspired, rigorous, and tremendous fun. We need more daring economists like him."
—Tyler Cowen, author of The Great Stagnation and An Economist Gets Lunch


"Paul Zak tells the remarkable story of how he discovered and explored the biochemistry of sympathy, love, and trust with the narrative skill of a novelist. Philosophy, economics, and biology have never been so entertaining."
—Matt Ridley, author of Genome and The Rational Optimist, on Zak's oxytocin research

"An ancient mammalian molecule prods us to bond with others. Paul Zak offers a most engaging account of this important discovery, bound to overthrow traditional thinking about human behavior, including economics and morality."
—Frans de Waal, author of The Age of Empathy

"Zak's scientific quest is to understand what makes people trust one another."
—Kayte Sukel, Big Think

"Zak is an expert on how trust is a key ingredient to the success of economies and trust is related to oxytocin. It is highly entertaining and thought provoking."
—Cyril Morong, The Dangerous Economist

"This is an important book. Empathy, cooperation, trusting, heroism, stinginess, skepticism, anger, tough mindedness: Paul Zak unpacks these and other deeply human feelings with his pioneering research into brain chemistry and his keen journalist eye--exposing the dignity (and treachery) within our common human nature. You will never think about lobsters, gossip, 'butt slapping' footballers, middle management, or the recent housing bubble fiasco the same way again. It's a 'must know' and a great read."
—Helen Fisher, author of Why We Love
or
Not Currently Available for Direct Purchase