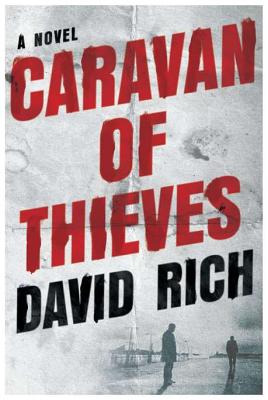 Caravan of Thieves
Hardcover

* Individual store prices may vary.
Description
From debut author David Rich, a spectacular crime thriller about a charming con artist, a complicated heist, and the son charged with constructing a fragile truth out of a lifetime of lies.
Rollie Waters is the smartest guy in any room. Working as an undercover marine, he knows all the angles, and he's never less than two steps ahead of trouble--a skill he learned from the con artist father who raised him, though he hasn't seen Dan in years. Like Dan, Rollie knows how to offer cheap gifts with one hand while stealing the family silver with the other. But, unlike Dan, Rollie is not a criminal.
Rollie's childhood was a mesh of perfectly believable lies stretched so thin that he barely knows who he is. It's only when he's working undercover, inhabiting a false identity, that Rollie is comfortable in his own skin. The danger of deep undercover work makes use of his talents and keeps him out of trouble. Most of the time.
After he's yanked out of his latest assignment and tossed in the brig, he's only partly surprised when the officials in charge mention one name: Dan Waters. U.S. government money a lot of money has gone missing, and they think Rollie's father took it. The only way to find Dan is to trace the frail tendrils of truth scattered among Rollie's childhood memories. To do that, he ll have to go deep into the undercover identity of a lifetime: his own.
Praise For Caravan of Thieves…
 "Caravan of Thieves busts right out of the chute and never stops bucking.  It's a rocket-ride and a terrific debut that will leave the reader shaken and gasping for air."
—C.J. Box, New York Times bestselling author of Force of Nature

"A stylish, gritty, breakneck tale, Caravan of Thieves had me guessing the whole way. David Rich's terse, hard-boiled prose keeps the story moving faster than a wanted criminal. And the ending is a stunner! Highly recommended!"
—Christopher Reich, New York Times bestselling author of Rules of Betrayal


 "First page through to the last, Caravan of Thieves was an incredibly entertaining escape and worth every minute."
—Taylor Stevens, New York Times bestselling author of The Informationist

"Caravan of Thieves has everything a reader could desire from a thriller—breakneck pacing, well-rendered action scenes, a vivid setting, a compelling and complex hero, and endless twists. As with the best thrillers, what lifts it above the pack is clean prose and depth of character, a sense that the sins of the past weigh heavily on the present. David Rich is off to a fine start, and will be a writer to watch."
—Michael Koryta, Edgar-nominated author of The Ridge


"A solid debut from a gifted storyteller.  Caravan of Thieves builds a labyrinth of deception spanning the deserts of the American Southwest to the deserts of Afghanistan – one part noir thriller, one part father-son tale, and one part adventure saga.  Prepare to be ensnared."
—T. Jefferson Parker, author of The Jaguar
Dutton Books, 9780525952886, 295pp.
Publication Date: August 30, 2012
About the Author
DAVID RICH has sold screenplays to most of the major studios and to many production companies in the United States and Europe. He wrote the feature film "Renegades," starring Kiefer Sutherland and Lou Diamond Philips. Forsaking Los Angeles for small-town Connecticut, David turned his attention to fiction. "Caravan of Thieves" is the result.
Book Videos
or
Not Currently Available for Direct Purchase