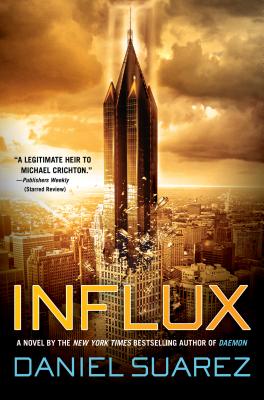 Influx
Hardcover

* Individual store prices may vary.
Other Editions of This Title:
Digital Audiobook (2/19/2014)
Paperback (2/3/2015)
Compact Disc (2/20/2014)
Description
What if our civilization is more advanced than we know?
The "New York Times" bestselling author of "Daemon" the cyberthriller against which all others will be measured ("Publishers Weekly") imagines a world in which decades of technological advances have been suppressed in an effort to prevent disruptive change.
Are smartphones really humanity's most significant innovation since the moon landings? Or can something else explain why the bold visions of the 20th century fusion power, genetic enhancements, artificial intelligence, cures for common diseases, extended human life, and a host of other world-changing advances have remained beyond our grasp? Why has the high-tech future that seemed imminent in the 1960s failed to arrive?
Perhaps it did arrive but only for a select few.
Particle physicist Jon Grady is ecstatic when his team achieves what they ve been working toward for years: a device that can reflect gravity. Their research will revolutionize the field of physics the crowning achievement of a career. Grady expects widespread acclaim for his entire team. The Nobel Prize. Instead, his lab is locked down by a shadowy organization whose mission is to prevent at all costs the social upheaval sudden technological advances bring. This Bureau of Technology Control uses the advanced technologies they have harvested over the decades to fulfill their mission.
They are living in our future.
Presented with the opportunity to join the BTC and improve his own technology in secret, Grady resists, and is instead thrown into a nightmarish high-tech prison built to hold rebellious geniuses like himself. With so many great intellects confined together, can Grady and his fellow prisoners conceive of a way to usher humanity out of its artificial dark age?
And can they hope to defeat an enemy who wields a technological advantage half a century in the making?
Praise For Influx…
Praise for Influx

"You'll hear a lot of reviewers compare Suarez to [Michael] Crichton, including me for his previous book Kill Decision. And Suarez deserved the honor in the truest sense...he had achieved a truly Crichton-level of storytelling. But with Influx, Suarez becomes the master, and Crichton is the one who is honored by the comparison." - Stephen L. Macknik, Scientific American
 
"[Influx is] done with the dazzling sophistication, the play of ideas, the hints of a new understanding almost within our grasp that characterize sci-fi in the cybertronic age." - The Wall Street Journal

"With this terrifying thriller, Suarez provides further support for the proposition that he's a worthy successor to the late Michael Crichton… Suarez once again mixes science and fiction perfectly."
—Publishers Weekly (starred review)

"The characters (even the not-strictly-human ones) are vivid, the pacing is perfect, the villain is capital-E evil, and the author's near-future world is so well developed that you completely buy even his wildest speculations. A magnificent tour de force."
—Booklist

"Influx is dark...it's fun...and it's a thinker. Just what I've come to expect from Daniel Suarez." - Geek Dad

"Influx as a whole is riveting. Fans of science fiction and thrillers will enjoy this engrossing combination of both genres." - ShelfAwareness

"It's a delicate balance, but one that Suarez manages with the skill and audacity of Philippe Petit. Don't know that name? Petit is the only tightrope walker ever to cross between the Twin Towers. Like the daring Frenchman, Suarez goes higher and takes bigger risks than many of his contemporaries or predecessors. It's a technique which allows and enables his work to stand out." - SF Site

Praise for Daniel Suarez:

"This is the kind of mind-expanding novel that uses entertainment to make powerful, important points about alarming current trends; the novel as cautionary tale has rarely been better executed. . . . Highly recommended."
—Tim O'Reilly on Kill Decision

"Perfectly blending nail-biting suspense with accessible science, bestseller Suarez (Daemon) establishes himself as a legitimate heir to Michael Crichton with this gripping present-day thriller."
—Publishers Weekly (starred review) on Kill Decision

"Greatest. Techno-thriller. Period. Experts have long feared the Internet doomsday scenario. Daemon is arguably more terrifying."
—William O'Brien, former White House director of Cybersecurity and Communications Policy, on Daemon

"Daemon does for surfing the web what Jaws did for swimming in the ocean."
—Chicago Sun-Times

"Suarez's fiction is closer to reality than most people think."
—Chris Anderson, author and editor-in-chief of Wired, on Kill Decision
Dutton Books, 9780525953180, 393pp.
Publication Date: February 20, 2014
About the Author
DANIEL SUAREZ is the author of the "New York Times" bestseller "Daemon," "Freedom ," and "Kill Decision." A former systems consultant to Fortune 1000 companies, Mr. Suarez has designed and developed software for the defense, finance, and entertainment industries. His fiction focuses on technology-driven change, and he is a past speaker at TED Global, MIT Media Lab, NASA Ames, the Long Now Foundation, and the headquarters of Google, Microsoft, and Amazon. An avid gamer and technologist, he lives in Los Angeles."
or
Not Currently Available for Direct Purchase