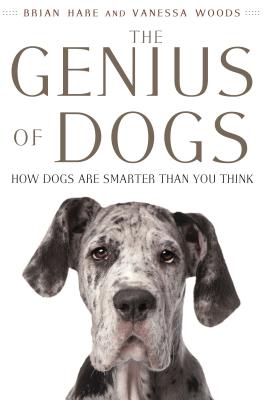 The Genius of Dogs
How Dogs Are Smarter Than You Think
Hardcover

* Individual store prices may vary.
Other Editions of This Title:
Digital Audiobook (2/4/2013)
Paperback (10/29/2013)
Description
Brian Hare, dog researcher, evolutionary anthropologist, and founder of the Duke Canine Cognition Center, and Vanessa Woods offer revolutionary new insights into dog intelligence and the interior lives of our smartest pets.
In the past decade, we have learned more about how dogs think than in the last century. Breakthroughs in cognitive science, pioneered by Brian Hare have proven dogs have a kind of genius for getting along with people that is unique in the animal kingdom.
Brian Hare's stunning discovery is that when dogs domesticated themselves as early as 40,000 years ago they became far more like human infants than their wolf ancestors. Domestication gave dogs a whole new kind of social intelligence. This finding will change the way we think about dogs and dog training indeed, the revolution has already begun.
Hare's seminal research has led him to work with every kind of dog from the tiniest shelter puppy to the exotic New Guinea singing dog, from his own childhood dog, Oreo, to the most fashionable schnoodle. "The Genius of Dogs" is nothing less than the definitive dog book of our time by the researcher who started a revolution.
Praise For The Genius of Dogs: How Dogs Are Smarter Than You Think…
"Many authors have tried to anecdotally capture the emotional bond between humans and dogs. Here at last is a book that digs deep into cognitive science to unravel the mysteries of the canine brain. Thoroughly researched and written in the likable voice of a brainy scientist sitting at your kitchen table, The Genius of Dogs is a fascinating look at what goes on between the ears of the animals we share our lives with. I found it entertaining, fast-moving, and filled with gee-whiz insights that gave me a new appreciation for the complex social intelligence of man's best friend."
—John Grogan, author of Marley & Me and The Longest Trip Home

"The Genius of Dogs is a fantastic book. It makes it very clear that there are different kinds of intelligence. All dog lovers should read this book."
—Temple Grandin, author of Animals Make Us Human and Animals in Translation

"The definitive dog book of our time by the researcher who started a revolution."
—Daniel J. Levitin, author of This is Your Brain on Music and The World in Six Songs

"A masterful account of the way science is revealing just how smart dogs can be. Fascinating and highly readable."
—John Bradshaw, University of Bristol, author of Dog Sense

"With the help of some wolves, Russian foxes, New Guinea singing dogs and a Labrador Retriever named Oreo, Brian Hare tells us about his fascinating search for an understanding of how dogs think and communicate."
—Stanley Coren, author of Do Dogs Dream and Born to Bark

"Based on Brian Hare's game-changing research, The Genius of Dogs brilliantly explains the canine mind and in doing so illuminates the natural history of all intelligence. This book will captivate anyone interested in dog, ape or human mentality."
—Richard Wrangham, Harvard University, author of Catching Fire

"This is the best book in existence, by far, for learning about the recent revolution in our understanding of the minds of dogs. And its fun, too."
—Mike Tomasello, Co-Director, Max Planck Institute for Evolutionary Anthropology

"The Genius of Dogs is not just about dogs, and not just about genius. It's an exciting detective story by two comparative biologists with amazing discoveries to report."
—Bernd Heinrich, author of Mind of the Raven

"A fascinating, riveting, utterly engaging romp through the mind of man's best friend. I promise: You will never look at your dog the same way again."
—Maria Goodavage, author of Soldier Dogs

"Hare's thoroughly researched, enjoyable work will find an appreciative audience. This is essential reading for dog lovers and those who enjoy psychology and social sciences relating to animal behavior, communication, and training." - Library Journal
Dutton Books, 9780525953197, 367pp.
Publication Date: February 5, 2013
About the Author
BRIAN HARE is a professor of Evolutionary Anthropology at Duke University, where he founded the Duke Canine Cognition Center. VANESSA WOODS is a research scientist at the center as well as an award-winning journalist and the author of "Bonobo Handshake." Hare and Woods co-founded Dognition.com, a service that helps you discover how your dog thinks. They are married and live in North Carolina.
or
Not Currently Available for Direct Purchase