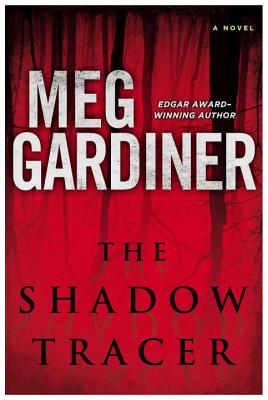 The Shadow Tracer
Hardcover

* Individual store prices may vary.
Other Editions of This Title:
Digital Audiobook (6/26/2013)
Mass Market (6/3/2014)
Compact Disc (6/3/2014)
MP3 CD (6/1/2014)
MP3 CD (4/8/2014)
Hardcover, Large Print (7/17/2013)
MP3 CD (6/27/2013)
Compact Disc (6/27/2013)
Description
An explosive stand-alone thriller from the Edgar Award winning writer Stephen King called the next suspense superstar
Can a person ever really disappear for good by going off the grid? And what happens when vanishing is no longer an option?
Sarah Keller is a single mother to five-year-old Zoe, living quietly in Oklahoma. She's also a skip tracer, an expert in tracking people who ve gone on the lam to avoid arrest, prosecution, or debt pinpointing their locations to bring them to justice.
When a school bus accident sends Zoe to the ER, their quiet life explodes. Zoe's medical tests reveal what Sarah has been hiding: Zoe is not her daughter. Zoe's biological mother Sarah's sister, Beth was murdered shortly after the child's birth. And Zoe's father is missing and presumed dead.
With no way to prove her innocence, Sarah must abandon her carefully constructed life and go on the run. Chased by cops, federal agents, and the group responsible for Beth's murder, Sarah embarks on a desperate journey. Can her knowledge as a skip tracer help her stay off the grid, remain one step ahead of her pursuers, and find a way to save her daughter?
Meg Gardiner is acclaimed for her richly drawn characters, propulsive plotting, relentless suspense, and shocking twists. "The Shadow Tracer "delivers on those fronts and more.
Praise For The Shadow Tracer…
Praise for THE SHADOW TRACER

"The novels that can be set into the 'fantastic' category may be slim, but this standalone mystery by Meg Gardiner certainly found a place in that elite group." —Suspense Magazine

"Edgar Award–winner Gardiner steadily ratchets up the suspense in this taut stand-alone tale." —Booklist

 "Gardiner will keep you up half the night with nonstop action and nary a pause for breath." - Kirkus (starred review)

"A standalone from the Edgar Award winner that should not be missed." - Library Journal

"Edgar-winner [Meg] Gardiner's second standalone boasts another of the strong female characters she's known for and enough pulse-pounding action to satisfy the most avid thriller fan."- Publishers Weekly

"The story hits the ground at 60 mph and keeps revving from there...the characters [are] equally vivid whether they're bad or good or somewhere in between. Combined with the blistering pace, The Shadow Tracer is a thriller that fans should not skip." - Shelf Awareness (starred review)
 

Praise for Ransom River:

"A chilly tale for a hot day at the beach."—USA Today

"Ransom River is everything you want in a blockbuster thriller: multiple plot twists, thoroughly creepy psychotic villains, danger at every turn. Gardiner has an enviable talent for pushing characters and plot elements to the point of straining credibility, but she never breaks the limits of plausibility."
—Associated Press

"'Thrill ride' is just too tame a description for Ransom River...The characters are emotionally complex, both the good and the bad. Gardiner has also created two of the creepiest siblings to be found outside of a Stephen King novel."
—Florida Times-Union

"Crisp writing and a breathless plot make [Ransom River] a must-read for both newcomers and fans of the author's Jo Beckett and Evan Delaney series."
– Booklist

"This is a tale that truly delves into the world of 'small town living,' and the wishes and dreams of most young people to get away from these surroundings as soon as possible. A great thriller that begins with the word 'go,' readers will be enthralled until the very last surprise is sprung. A definite keeper!"
– Suspense Magazine

"Gardiner continues to move from strength to strength; with a tightly crafted story and charismatic (albeit admirably flawed) new characters, Ransom River displays the talents of a top tier mystery writer at the top of her game."
—BookPage

 



Lori Roy, Edgar Award winning author of Until She Comes Home, Interviews Meg Gardiner

Lori: THE SHADOW TRACER, your most recent novel, highlights a subject that is suddenly front and center in our headlines—personal privacy. The topic is certainly resonating with readers as the novel has already been placed on many Summer Reading Lists and has accumulated numerous positive reviews for its non-stop suspense and countless twists and turns. Did you intentionally choose to explore the subject of personal privacy in THE SHADOW TRACER because of its growing presence in our national debate or has it been a long-standing interest?

Meg: Last year I read about the vast facility the NSA is building in Utah to store and analyze data. The place will need 65 megawatts just to run—its electricity costs alone will be $40 million per year. Reading that, I wondered: in today's hyper-connected world, how do you keep yourself from becoming a fly under glass? Surprise, surprise. Now everybody's wondering. Technology has made it vastly easier to track us than ever before—to know where we are, who we're with, and how we're spending our money. And face it: we like the goodies technology makes possible. Moreover, we often revel in obliterating our own privacy. (Celebrity Rehab, anyone? Selfies?) And the government has legitimate interests in security and law enforcement. But you know what? A stubborn part of me wants the ability to say: none of your damn business. So I thought: What if you needed, absolutely, to run and hide? Could you do it? What if you needed to run… with a little kid? What if the people chasing you had money, resources, and were obsessed with capturing you? What if you were being chased not just by criminals, but the FBI? From there, the story of Sarah Keller going on the run to protect her daughter Zoe came to life.

THE SHADOW TRACER introduces us to Sarah Keller—a single mother who tracks people for a living. When the hunter becomes the hunted and Sarah must go on the run to protect her daughter, she uses her tracking skills to avoid capture and vanishes into the vast landscape of New Mexico and Texas. As you developed your plot lines, how did this vast setting assist you as a writer and how did it challenge you?

The southwest is a challenging landscape that I have great affection for. I was born in Oklahoma, where Sarah's flight begins. I have family in Texas. (Heck, I'm in Texas right now.) Growing up, I traveled every summer to Roswell. My grandparents lived there. I loved New Mexico—White Sands National Monument and Carlsbad Caverns and the Bottomless Lakes and the town of Lincoln, birthplace of Billy the Kid. It was austere and rugged and exciting. The southwest reminds us that in the USA, it's still possible to find ourselves isolated in a desolate setting with scant means of escape. Put a character in that setting, and it challenges the writer to come up with creative solutions. (Or to kill people off.) In the book, the southwest becomes a crucible: hostile territory Sarah must cross to survive. She's one woman, scrambling for safety with only her wits, her skip tracing skills, and her meager savings to rely on. She's up against the FBI and a criminal clan that wants to bring Zoe into their fold. In writing the novel I tried to bring my childhood memories to life, and then to add hit men, U.S. Marshals, and car chases.

There is a terrifically suspenseful scene in THE SHADOW TRACER that takes place in an airplane graveyard. It's a wonderfully unique setting that you bring to life with precise detail. I have to wonder...where did you get the idea for this setting and have you ever visited such a place?

For years I drove past the airplane graveyard in Mojave, California, on my way to visit family in China Lake. The place was fascinating and forlorn: all those jets that had soared and circled the world, left grounded and rusting in the desert sunshine—sitting there waiting to be cannibalized by wrecking machinery. I did some research. Once you've watched video of a two-ton guillotine slicing up a B-52 bomber, you can't not put such a place in a thriller.

In the acknowledgments for THE SHADOW TRACER, you mention a couple of books you used while researching the novel. Did you do any other types of research in order to develop such a detailed understanding of the various methods to trace a person or for a person to "drop out" of society?

The books were valuable resources, written by former skip tracers. I got a taste of just how hard it is to vanish when I ordered them online. Instantly a dialogue box popped up: "Share that you bought How to Disappear with all your social networks?" Dropping out takes smarts and discipline. I researched news stories about people who had tried to disappear but failed—particularly people who faked their own deaths. (Hint: if you pretend to drown while kayaking, afterwards don't let your realtor snap your photo and put it on their website. No matter how satisfied you are with the Panamanian hideout you bought.) For the scene in the novel where Sarah Keller serves a subpoena, I drew on the experiences of my brother. He owns an attorney support service like the one Sarah works for. It's amazing to hear his tales of tracking down sneaks and fraudsters, and to realize how gutsy he has to be to confront them. My baby brother! Of course, it helps that he's now 6'3".

Your first five books were part of the Evan Delaney series. The next four novels introduced us to Jo Beckett. And most recently, you've written two stand-alone novels—RANSOM RIVER and THE SHADOW TRACER. Why did you choose to make the shift after nine series books?

I love writing about Evan and Jo. But I have stories to tell that don't belong to them. Sarah Keller had to be at the center of The Shadow Tracer. The book is about her world and her life. If the story wasn't hers, it would have lacked heart and guts. I want readers riding along with her as she makes her desperate run and tries to spirit Zoe to safety.

I'm often asked if my second book was easier to write than my first. People are generally surprised when I tell them it was much harder to write book #2. I'll ask you this same question. Was book #11 easier to write than book #1? Were some things easier, some harder?

Well, I wrote three or four book number ones before I got China Lake published. They were harder, because I had no idea what I was doing. They were awful. Thank goodness they never saw the light of day. Book #11 was both easier and harder. I know now that I can write a novel, and how to brainstorm and outline and draft and revise and do friendly battle with my editor so that I can finish it in a year. But creating a new world from scratch, building a heroine and her antagonists from the ground up, takes effort. Luckily, it's intense but it's insanely fun.

I often wonder if authors with many successful books to their credit ever go back and read their early works. Now that I have such a writer before me, I'll ask...Have you ever gone back and re-read the Edgar award-winning CHINA LAKE? If so, what thoughts did you have as you read it? If not, is there any particular reason you have not?

I reread China Lake to proofread the typeset pages before its U.S. publication. Every few pages I'd think: Huh. I wrote this? It's not so bad. But generally I don't reread my novels. I get the heebie-jeebies and want to start editing them again.

I once heard you refer to yourself as an "escaped lawyer." Would you care to elaborate on your shift from attorney to best-selling, award-winning novelist?

I practiced law with a firm in Los Angeles, doing commercial litigation. The work was challenging in the best way. Going to court was a thrill. But once I started my family, I didn't want to argue for a living. I switched to teaching legal writing at the University of California Santa Barbara. That was a kick. I would hold mock trials in class. In one case, a student was charged with murdering her boyfriend during a paintball game gone horribly awry. In another, a construction worker booted an enemy off the roof of a building onto a jutting shank of exposed rebar. God, that was horrible of me. You can see that by that point, I was already primed to write suspense novels. But I didn't get the chance until my husband took a job in the UK, and we moved to London. That was the year all my kids were finally in school. I thought: time to put up or shut up. So I sat down and started writing. And after several years and all those awful book number ones, I wrote China Lake.

While sitting poolside at a writers' conference a few weeks before my first novel came out, I sat at a round-table discussion and listened to you speak about your writing process. You talked about spending several weeks searching for one good idea before you put pen to paper. How do know when you've touched on the idea that will translate into a successful novel?

The idea needs to be exciting, and unsettling, and scary enough that when you talk about it, people think, God, don't let that happen to me. Once you can describe it in one breath, and have your listener inhale sharply, you're on the right track.

At last year's Edgar awards, we shared a champagne toast with several other folks from Penguin and Dutton. We sipped pink champagne that night. I have to ask...do you prefer pink champagne or the more traditional white?

As long as we're toasting one of your novels, it's all good.

Praise for Meg Gardiner:

"Meg Gardiner is as good as Michael Connelly and far better than Janet Evonovich…The next suspense superstar." 
—Stephen King

"Stephen King is absolutely right.  Meg Gardiner is an astonishing writer…I couldn't turn the pages fast enough."
—Tess Gerritsen, New York Times bestselling author

"Meg Gardiner makes every one of her characters leap alive off the page"
–Jeffery Deaver, New York Times bestselling author

"It cannot be overstated how talented Gardiner is. The action and thrills and twists never let up."
–Florida Times-Union

 
Dutton Books, 9780525953227, 358pp.
Publication Date: June 27, 2013
About the Author
MEGGARDINER is the author of ten previous novels including the Evan Delaney series, whose "China Lake" won the Edgar Award. Before becoming a writer, Meg practiced law and taught at the University of California. Originally from Santa Barbara, she now lives with her family in London."
or
Not Currently Available for Direct Purchase