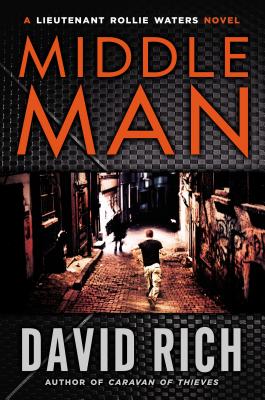 Middle Man: A Lieutenant Rollie Waters Novel (Hardcover)
A Lieutenant Rollie Waters Novel
Dutton, 9780525953234, 320pp.
Publication Date: August 29, 2013
* Individual store prices may vary.
or
Not Currently Available for Direct Purchase
Description
David Rich--whose acclaimed debut, "Caravan of Thieves," drew comparisons to Elmore Leonard, Robert Ludlum, and John le Carre--returns with a crime thriller featuring Lieutenant Rollie Waters.
Recruited into SHADE, the elite, covert group formed by the U.S. military, Rollie Waters must locate and retrieve the countless millions taken from Saddam's cache during the Iraq War and shipped home in the coffins of dead soldiers. But when a sniper attacks the team, Rollie is forced to go undercover to solve the riddle of the graves and to apprehend the puppet master behind the whole plot.
Rollie's own father, inveterate liar and charming con artist Dan Waters, was killed attempting to steal the first $25 million after stumbling across the conspiracy involving powerful military officers, would-be kings, and the very general who nearly destroyed Rollie during his last tour in Afghanistan.
Rollie's undercover quest takes him from Houston and the self-proclaimed king of Kurdistan, to the treacherous, labyrinthine streets of Erbil, Iraq, and into the arms of a stunning, enigmatic woman whose motives he can't discern. As a confirmed citizen of the fog, now more spy than soldier, Waters must uncover the man pulling the strings behind a backdrop of murder, deceit, and stolen fortune--before he disappears forever into the mist.
About the Author
DAVID RICH has sold screenplays to most of the major studios and to production companies in the United States and Europe. The author of "Caravan of Thieves," he lives in Connecticut.
Praise For Middle Man: A Lieutenant Rollie Waters Novel…
Praise for MIDDLE MAN

"Rollie Waters is as tough as Reacher, clever as Bourne, and cool as Bond.  I'm addicted."
-Howard Blum, Edgar Award Winning and New York Times bestselling author
 
"From the first bullet to the last, Middle Man is Ludlum-style action at its best. After reading it straight through, I'm now looking forward to Lieutenant Rollie Waters' next assignment."
-Ace Atkins, New York Times bestselling author of The Broken Places
 
"Middle Man is a rapid fire read, so make sure you're locked and loaded when you start because two-hundred and ninety-nine pages are going to fly by in this kinetic and compelling burst of a book." 
-Craig Johnson, the New York Times Bestselling author of the Walt Longmire Mysteries

"Rich is a film writer, with a firm grip on pacing, always ready to stop and flesh out characters and then to pull a knife and draw a little blood. Waters is the perfect edgy, flawed hero…Above average action-adventure with a touch of noir. This one is good fun." – Kirkus

"If action is what the reader is looking for, MIDDLE MAN will more than fill the bill...This is an action novel to end all action novels." - I Love a Mystery 

"The danger ramps up steadily…and the nimble Rich keeps the reader guessing." – Booklist

"Rich's screenwriting talents make [the plot] plausible as we follow a labyrinth of violence, deceit, and villainy in which the good guy wins, but the bad guy may reappear later. Lots of fun." - Library Journal

Praise for CARAVAN OF THIEVES

"Caravan of Thieves busts right out of the chute and never stops bucking.  It's a rocket-ride and a terrific debut that will leave the reader shaken and gasping for air."
—C.J. Box, New York Times bestselling author of Force of Nature

"David Rich's terse, hard-boiled prose keeps the story moving faster than a wanted criminal. And the ending is a stunner! Highly recommended!"
—Christopher Reich, New York Times bestselling author of Rules of Betrayal

"First page through to the last, Caravan of Thieves was an incredibly entertaining escape and worth every minute."
—Taylor Stevens, New York Times bestselling author of The Informationist

"As with the best thrillers, what lifts [Caravan of Thieves] above the pack is clean prose and depth of character, a sense that the sins of the past weigh heavily on the present. David Rich is off to a fine start, and will be a writer to watch."
—Michael Koryta, Edgar-nominated author of The Ridge

"A solid debut from a gifted storyteller."
—T. Jefferson Parker, author of The Jaguar

Advertisement