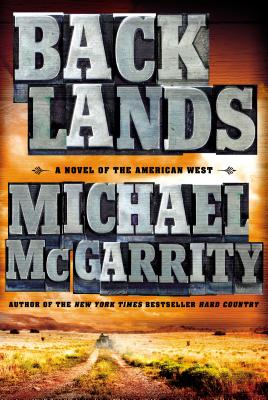 Backlands (Hardcover)
A Novel of the American West
Dutton Books, 9780525953241, 528pp.
Publication Date: May 6, 2014
* Individual store prices may vary.
Description
An expansive, epic tale like Philipp Meyer's "The Son," and in the wonderful storyteller vein of Larry McMurtry's "Lonesome Dove," McGarrity's "Backlands" showcases his keen eye for historical detail, awe-inspiring scenery, and the bitter harshness of life on the last vestiges of the twentieth-century frontier West.
Michael McGarrity returns with the second installment of his sweeping, richly authentic "New York Times" bestselling American West trilogy set in the raw, untrammeled New Mexico backlands during the Roaring Twenties, the Great Depression, and World War II.
"Hard Country," the first novel in the Kerney family trilogy and the debut prequel to his national bestselling Kevin Kerney crime novels, was critically acclaimed for its authentic, gritty realism; its sprawling, engrossing story; and its compelling, engaging characters. An instant hit on several national bestseller lists, "Hard Country" continues to attract an overwhelmingly positive response from critics, booksellers, and readers.
"Backlands" continues the story of Patrick Kerney; his ex-wife, Emma; and their young son, Matthew, shortly after the tragic battlefield death of their eldest son, CJ, at the end of World War I. Scarred by the loss of an older brother he idolized, estranged from a father he barely knows, and deeply troubled by the failing health of a mother he adores, eight-year-old Matthew is suddenly and irrevocably forced to set aside his childhood and take on responsibilities far beyond his years. When the world spirals into the Great Depression and drought settles like a plague over the nation, Matt must abandon his own dreams to salvage the Kerney ranch. Plunged into a deep trough of dark family secrets, hidden crimes, broken promises, and lies, Matt must struggle to survive on the unforgiving, sun-blasted Tularosa Basin.
About the Author
MICHAEL MCGARRITY is the New York Times bestselling author of Hard Country, the Anthony Award-nominated Tularosa, and eleven other bestselling Kevin Kerney crime novels. A former deputy sheriff for Santa Fe County, he also served as an instructor at the New Mexico Law Enforcement Academy and as an investigator for the New Mexico public defender s office. He lives in Santa Fe with his wife, Emily Beth."
Praise For Backlands: A Novel of the American West…
Praise for Michael McGarrity and Hard Country
 
"Any readers interested in the Western genre will be delighted by McGarrity's take on harsh frontier life, and loyal fans of detective Kevin Kerney will be excited to see this prequel."
 — Library Journal
 
"A well-rendered neoclassic tale of the Old West, worthy of a place alongside Lonesome Dove and Sea of Grass."
— Kirkus Reviews

"Hard Country is the evocation of real people in a real land. McGarrity is an accomplished storyteller, and he writes with clarity, perception, and authenticity. Those who read this novel will find it engaging, and they will come away with a deeper understanding and appreciation of the Old West and of the part it played in forging the American imagination."
— N. Scott Momaday, Pulitzer Prize winning author of House Made of Dawn, The Way to Rainy Mountain, In the Bear's House, and others.
 
"As anyone familiar with his excellent crime novels knows, Michael McGarrity really gets—and loves—the Southwest: Its colors, its rhythms, its blessings, its cussedness. Here McGarrity moves back in time to explore New Mexico's frontier past and in the process gives us something most unusual these days: An expansive, lyrical, period Western in the tradition of A.B. Guthrie, Jr. and Larry McMurtry. Savor this one—they don't make cowboy epics like this anymore." 
—Hampton Sides, bestselling author of Ghost Soldiers and Blood and Thunder
 
"Hard Country is aptly titled, and the reader will take a spectacular journey with real people settling the West. There is inescapable action of the gun, the earth, the sky, and the heart. This is a western that women will love."
 — Max Evans, author of The Rounders, The High Lo Country, Madam Millie, and others.
 
"Hard Country by Michael McGarrity is a 'western' in the sense that Lonesome Dove was a western. It transcends the genre, a great and true American novel of the West with immense power, beauty, and sweep. It is an unforgettable book. I loved it."
—Douglas Preston, author of Cities of Gold and The Monster of Florence
 
"A compelling and richly imagined epic told by a master storyteller.  Michael McGarrity has his finger on the pulse of the Old West and a knack for drawing the reader in.  He also has a marvelous way of illuminating the human heart in characters tough and determined enough to stake a claim on a wild and hard country.  I didn't want the story to end.  It is just that good."
 —Margaret Coel, author of Buffalo Bill's Dead Now

 
or
Not Currently Available for Direct Purchase