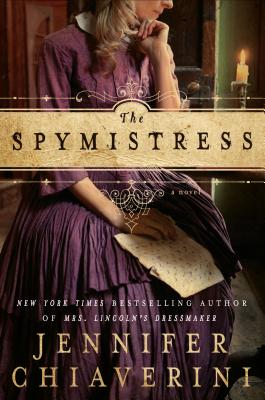 The Spymistress
Hardcover

* Individual store prices may vary.
Other Editions of This Title:
Digital Audiobook (9/30/2013)
Paperback, Large Print (4/2/2014)
Paperback (3/25/2014)
Compact Disc (10/1/2013)
Hardcover, Large Print (10/9/2013)
Description
"New York Times" bestselling author Jennifer Chiaverini is back with another enthralling historical novel set during the Civil War era, this time inspired by the life of a true Union woman as true as steel who risked everything by caring for Union prisoners of war and stealing Confederate secrets.
Born to slave-holding aristocracy in Richmond, Virginia, and educated by Northern Quakers, Elizabeth Van Lew was a paradox of her time. When her native state seceded in April 1861, Van Lew's convictions compelled her to defy the new Confederate regime. Pledging her loyalty to the Lincoln White House, her courage would never waver, even as her wartime actions threatened not only her reputation, but also her life.
Van Lew's skills in gathering military intelligence were unparalleled. She helped to construct the Richmond Underground and orchestrated escapes from the infamous Confederate Libby Prison under the guise of humanitarian aid. Her spy ring's reach was vast, from clerks in the Confederate War and Navy Departments to the very home of Confederate President Jefferson Davis.
Although Van Lew was inducted posthumously into the Military Intelligence Hall of Fame, the astonishing scope of her achievements has never been widely known. In Chiaverini's riveting tale of high-stakes espionage, a great heroine of the Civil War finally gets her due.
Praise For The Spymistress…
Praise for THE SPYMISTRESS

"Readers of historical and inspirational fiction will admire Van Lew's courage and commitment to her principles and the bravery of her ring of spies." - Booklist

"'The Spymistress' also does what good historical fiction does - it places you there in history, but also makes you want to find out more about the real person and continue your education." - Durham Herald-Sun 

Praise for Mrs. Lincoln's Dressmaker:

"History—and its colorful characters—come alive." – USA Today on Mrs. Lincoln's Dressmaker

"Required Reading . . . The story of First Lady Mary Todd Lincoln and Lizzie Keckley, a former slave who became Mrs. Lincoln's seamstress and confidante. After the president's assassination, Keckley created the Mary Todd Lincoln quilt and also a scandalous memoir. A new spin on the story." – New York Post on Mrs. Lincoln's Dressmaker

"Jennifer Chiaverini imagines the first lady's most private affairs through the eyes of an unlikely confidante." – Harper's Bazaar on Mrs. Lincoln's Dressmaker 

"Chiaverini has drawn a loving portrait of a complex and gifted woman . . . Mrs. Lincoln's Dressmaker helps to illuminate the path on which her long and remarkable life led her." – St. Louis Post-Dispatch on Mrs. Lincoln's Dressmaker

"An example of what Jennifer Chiaverini does so well in her enlightening new historical novel, Mrs. Lincoln's Dressmaker, occurs late in the book, when a newly widowed Mary Todd Lincoln shares a letter of condolence from Queen Victoria with her dressmaker, a former slave named Elizabeth Keckley. . . . Mrs. Lincoln's Dressmaker vividly imagines how the Civil War touched daily life in Washington." – Washingtonian on Mrs. Lincoln's Dressmaker

"Mrs. Lincoln's Dressmaker is a wonderful novel that covers many topics surrounding the events of the 1860s in Washington and the following decades… Any reader interested in President Lincoln, Civil War history, or historical fiction should love this book." –Bookreporter.com on Mrs. Lincoln's Dressmaker

"All the characters are brilliantly written, and readers will enjoy getting to know them. [Chiaverini] brings to life long-forgotten snapshots of America's past with style, grace and respect." – RT Book Reviews on Mrs. Lincoln's Dressmaker

"Taking readers through times of war and peace as seen through the eyes of an extraordinary woman, the author brings Civil War Washington to vivid life through her meticulously researched authentic detail. Chiaverini's characters are compelling and accurate; the reader truly feels drawn into the intimate scenes at the White House." – Library Journal on Mrs. Lincoln's Dressmaker

"Her thorough research into the time period is reflected abundantly throughout the novel." – Jackie's Art Quilts on Mrs. Lincoln's Dressmaker

"Chiaverini's characters are compelling and accurate." – Library Journal on Mrs. Lincoln's Dressmaker

Normal 0 false false false MicrosoftInternetExplorer4 Praise for Jennifer Chiaverini and the Elm Creek Quilts series:
"Chiaverini's themes of love, loss, and healing will resonate with many, and her characters' stories are inspiring." —Publishers Weekly

"Chiaverini has an impressive ability to bring a time and place alive." —Romantic Times Book Reviews

"Emotionally compelling." —Chicago Tribune on Sonoma Rose

"Jennifer Chiaverini has made quite a name for herself with her bestselling Elm Creek Quilts series. From the Civil War to the Roaring Twenties to contemporary settings, these novels have offered suspense, romance, and, at times, in-depth looks into the social, political, and cultural differences that helped shape a nation." —BookPage

"Chiaverini excels at weaving stories and at character development. We can relate to the residents of Elm Creek Valley because they remind us of folks we know—a cousin, an aunt, or a grandmother." —Standard-Examiner (Utah)
Dutton Books, 9780525953623, 355pp.
Publication Date: October 1, 2013
About the Author
JENNIFER CHIAVERINI is the author of the "New York Times" bestselling Elm Creek Quilts series and "Mrs. Lincoln s Dressmaker." A graduate of Notre Dame and the University of Chicago, she lives in Madison, Wisconsin, with her husband and two sons.

"
or
Not Currently Available for Direct Purchase