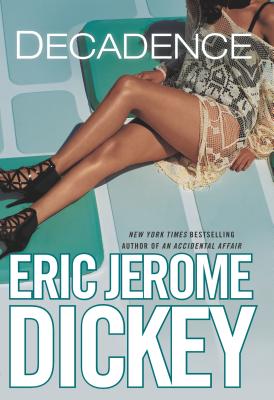 Decadence (Hardcover)
Dutton, 9780525953838, 368pp.
Publication Date: April 23, 2013
Other Editions of This Title:
Paperback (4/1/2014)
MP3 CD (4/23/2013)
Compact Disc (4/23/2013)
Compact Disc (4/1/2014)
MP3 CD (4/15/2014)
Hardcover, Large Print (5/15/2013)
MP3 CD (4/23/2013)
Compact Disc (4/23/2013)
* Individual store prices may vary.
Description
"New York Times" bestselling author Eric Jerome Dickey returns to the life of Nia Simone Bijou (of "Pleasure" fame) as she embarks on a quest to enhance her artistic gifts through heightened sensory experience, Hollywood-style.
Four years have passed since the events of "Pleasure," and Nia's success as a writer has grown, bringing her from Atlanta to Los Angeles. But she remains on a quest to quiet her inner storm, to draw on her well of emotions and explore them fully before leaving this season of her life and moving on to what could be the next stage: marriage and motherhood.
Drawn to an exclusive pleasure palace, where patrons try on roles as they actively shun their respective realities, Nia's ability to balance truth and fantasy becomes increasingly blurred. What has happened to the compartments she has so carefully created for the different aspects of her life? Will her relationship with the mysterious, often unavailable Prada survive the countless temptations? Will her successful literary career be given over to impulse indulgence? Does decadence know any bounds?
When Nia's past comes back to mingle with her present, and when her staid public persona clashes with her fantasy life of decadence, readers will be stunned by the outcome. Eric Jerome Dickey's newest tale of excess--and its sky-high costs--is a thrilling portrait of a glittering world.
About the Author
ERIC JEROME DICKEY is the "New York Times" bestselling author of nineteen novels and is also the author of a six-issue miniseries of graphic novels for Marvel Enterprises, featuring Storm (X-Men) and the Black Panther. Originally from Memphis, Tennessee, Dickey now lives on the road and rests in whatever hotel will have him.
Praise For Decadence…
"Eric Jerome Dickey brings to life the heartache of betrayal with the skill of a mastercrafter… Dickey's imagery, the word choices, the rhythm of the sentences, his ability to create a vibrant, tormented sea in which Nia and her support cast bob along make this book one for the keeper shelf." - USA Today, Happy Ever After
or
Not Currently Available for Direct Purchase