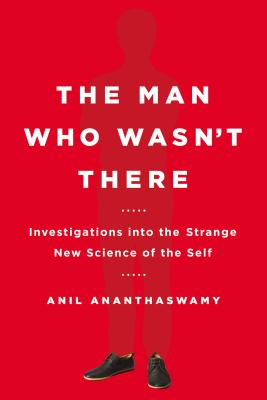 The Man Who Wasn't There
Investigations into the Strange New Science of the Self
Hardcover

* Individual store prices may vary.
Other Editions of This Title:
Digital Audiobook (8/3/2015)
Paperback (8/2/2016)
Description
*Nominated for the 2016 PEN/E.O. Wilson Literary Science Writing Award*
*An NBC News Notable Science Book of 2015*
*Named one of Publishers Weekly's Best Books of 2015*
*A Book of the Month for Brain HQ/Posit Science*
*Selected by Forbes as a Must Read Brain Book of 2015*
*On Life Changes Network's list of the Top 10 Books That Could Change Your Life of 2015*


In the tradition of Oliver Sacks, a tour of the latest neuroscience of schizophrenia, autism, Alzheimer's disease, ecstatic epilepsy, Cotard's syndrome, out-of-body experiences, and other disorders—revealing the awesome power of the human sense of self from a master of science journalism.

Anil Ananthaswamy's extensive in-depth interviews venture into the lives of individuals who offer perspectives that will change how you think about who you are. These individuals all lost some part of what we think of as our self, but they then offer remarkable, sometimes heart-wrenching insights into what remains. One man cut off his own leg. Another became one with the universe.

We are learning about the self at a level of detail that Descartes ("I think therefore I am") could never have imagined. Recent research into Alzheimer's illuminates how memory creates your narrative self by using the same part of your brain for your past as for your future. But wait, those afflicted with Cotard's syndrome think they are already dead; in a way, they believe that "I think therefore I am not." Who—or what—can say that? Neuroscience has identified specific regions of the brain that, when they misfire, can cause the self to move back and forth between the body and a doppelgänger, or to leave the body entirely. So where in the brain, or mind, or body, is the self actually located? As Ananthaswamy elegantly reports, neuroscientists themselves now see that the elusive sense of self is both everywhere and nowhere in the human brain.
Praise For The Man Who Wasn't There: Investigations into the Strange New Science of the Self…
Praise for The Man Who Wasn't There

"If you simply want to read a great science book, I can't recommend any more highly than this one."
—Forbes

"An agreeably written travelogue through this mysterious landscape at the frontiers of knowledge."
—The Wall Street Journal 

"You'll never see yourself—or others—the same way again."
—People

"The gallery of personal, often tender, portraits of patients is impressive and reminiscent of the writings of Oliver Sacks… A skilled science journalist, Ananthaswamy excels at making theoretical concepts and experimental procedures both comprehensible and compelling."
—Science

"In The Man Who Wasn't There, science writer Anil Ananthaswamy smartly explores the nature of the self by way of several mental conditions that eat away at patients' identities… Following in the steps of Oliver Sacks's "The Man Who Mistook His Wife for a Hat" (1985) and V. S. Ramachandran and Sandra Blakeslee's "Phantoms in the Brain" (1999), Ananthaswamy uses neuropsychology and narrative to take us inside the heads of people experiencing realities very different from our own."
—Washington Post

"Anil Ananthaswamy's exploration of the human 'self' is a blazingly original excursion through the brain—as well as a fascinating catalog of bizarre disorders."
—Entertainment Weekly

"Autobiographies hinging on conditions such as Asperger's syndrome and schizophrenia are proliferating, but there is little to fill the void between such accounts and the scientific literature. Linking experiences with experiments, and individuals with numbers, Ananthaswamy bridges that gap convincingly."
—Nature 

"When you think 'beach read," you probably don't think "neuroscience." But science journalist Ananthaswamy has a knack for making difficult topics accessible to everyone."
—Men's Journal 

 "It is an astonishing journey and an ambitious book, bringing together cutting-edge science and philosophy from West and East. You will not be quite the same self after reading it."
—New Scientist

"An excellent if unnerving book: 'you' turn out to be more fluid than 'you' thought."
—New Scientist, CultureLab

"A thought-provoking read… Ananthaswamy relays many interesting advances and, at the same time, challenges us to contemplate who we really are."
—Scientific American Mind

"[The Man Who Wasn't There] illuminates some of the most provocative questions at the boundary of science and philosophy."
—Columbus Dispatch

"Sophisticated science, sensitive storytelling and Nancy Drew-like curiosity are at the heart of science author and journalist Anil Ananthaswamy's The Man Who Wasn't There."
—San Jose Mercury News

"Science journalist Ananthaswamy skillfully inspects the bewildering connections among brain, body, mind, self, and society… Readers will be fascinated by Ananthaswamy's chronicles as he explores, with kindness and keen intelligence, the uncomfortable aberrations that reveal what it is to be human."
—Publishers Weekly (starred review)

"A provocative examination of deep questions."
—Kirkus

"If you like Oliver Sacks, you'll love this new work by Ananthaswamy….."
—Library Journal

"A faint-of-heart hypochondriac might wish to give Ananthaswamy's book a wide berth, but others should find it quite fascinating. From the man who insisted that he was brain dead (despite walking, talking, eating, and taking the bus) to autism, Alzheimer's, something called body integrity identity disorder (read the book), and more, Ananthaswamy demonstrates how what is perceived as the self can wiggle all over the map." 
—Booklist

"Despite the depth of scientific knowledge plumbed in the book, the language is simple and accessible in the tradition of the late, great neuroscientist Oliver Sacks (The Man Who Mistook His Wife for a Hat). The series of stories that illustrate the complexity of the brain and its creation of selfhood are imbued with emotion and compassion for the sufferers, even as their conditions are explained in scientific terms."
—India Currents
 
"A compelling and entertaining look at the last untapped mystery, the true final frontier: the nature of our selves. Science journalism at its best."
—Daniel J. Levitin, author of The Organized Mind and This Is Your Brain on Music
 
"Stunning… poetic and incisive.  Each of the patients is unique, special and incredible in revealing something special about the mind, whether healthy or fragile.  Ananthaswamy discovers the elusive nature of the very idea of self and makes sense out of it.  It is a remarkable achievement."
—Michael Gazzaniga, author of Who's in Charge? and Tales from Both Sides of the Brain
 
"Ananthaswamy's remarkable achievement is to make sense of these unhappy individuals' otherness, while holding on to their human sameness. You'll come away enlightened and chastened, asking searching questions about who you are."
—Nicholas Humphrey, Cambridge University, author of A History of the Mind
 
"Like Oliver Sacks, Ananthaswamy brings both erudition and sensitivity to his narrative so that we learn as much, and maybe more, from his subjects as we do from the scientists we meet along the way…. You'll emerge with renewed wonder about the simple experience of being you."
—Anil Seth, University of Sussex, Editor-in-Chief, Neuroscience of Consciousness
 
"A wide range of engrossing (and many just plain weird) stories elegantly weaving together insights from psychology, psychiatry, and neuroscience. An informative, exciting, and slightly creepy tour of some profound questions about human nature."
—David Poeppel, Director, Max-Planck Institute and Professor of Psychology and Neural Science, NYU
 
"In this lucid and personable analysis by Ananthaswamy, the self appears an illusion, which nevertheless feels very real to most of us. Since no organism can do without this mental anchor, nature has found a way to concoct one for us."
—Frans de Waal, author of The Bonobo and The Atheist

"It is an astonishing journey and an ambitious book, bringing together cutting-edge science and philosophy from West and East. You will not be quite the same self after reading it."
—Alun Anderson, New Scientist


Praise of Anil Ananthaswamy's The Edge of Physics:

"A thrilling ride!" —Sean Carroll, author of The Particle at the End of the Universe

"Displays a writer's touch for fascinating detail." —The Washington Post

"A wonder-steeped page-turner." —Seed
Dutton, 9780525954194, 320pp.
Publication Date: August 4, 2015
About the Author
ANIL ANANTHASWAMY is former deputy news editor and current consultant for New Scientist. He is a guest editor at UC Santa Cruz's renowned science-writing program and teaches an annual science journalism workshop at the National Centre for Biological Sciences in Bangalore, India. He is a freelance feature editor for the Proceedings of the National Academy of Science's "Front Matter" and has written for National Geographic News, Discover, and Matter. He has been a columnist for PBS NOVA's The Nature of Reality blog. He won the UK Institute of Physics' Physics Journalism award and the British Association of Science Writers' award for Best Investigative Journalism. His first book, The Edge of Physics, was voted book of the year in 2010 by Physics World.  He lives in Bangalore, India, and Berkeley, California.
Coverage from NPR