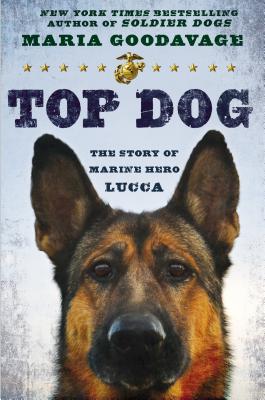 Top Dog: The Story of Marine Hero Lucca (Hardcover)
The Story of Marine Hero Lucca
Dutton Books, 9780525954361, 306pp.
Publication Date: October 23, 2014
* Individual store prices may vary.
or
Not Currently Available for Direct Purchase
Description
The "New York Times" bestselling author of "Soldier Dogs" returns with the incredible, true story of K-9 Marine hero Lucca, and the handlers who fought alongside her through two bloody wars in Iraq and Afghanistan.
In "Top Dog," Maria Goodavage takes readers into the life of Lucca K458, a decorated and highly skilled military working dog. An extraordinary bond develops between Lucca and Marine Corps dog handlers Chris Willingham and Juan Rodriguez, in what would become a legendary 400-mission career. A Specialized Search Dog, Lucca belongs to an elite group trained to work off-leash at long distances from her handler. She served alongside both Special Forces and regular infantry, and became so sought-after that platoons frequently requested her by name.
The book describes in gritty detail Lucca's adventures on and off the battlefields, including tense, lifesaving explosives finds and firefights, as well as the bravery of fellow handlers and dogs they served with. Ultimately we see how the bond between Lucca and her handlers overcame the endless brutalities of war and the traumas this violence ignites.
Here is a portrait of modern warfare with a heartwarming and inspiring conclusion that will touch dog lovers and the toughest military readers.
About the Author
MARIA GOODAVAGEis the author of the"New York Times"bestseller"Soldier Dogs"and a former reporter for "USA Today."She lives in San Francisco with her family and their dog."
Praise For Top Dog: The Story of Marine Hero Lucca…
Praise for Soldier Dogs:

"A moving portrait of the loyal, courageous, furry warriors who truly are an enlisted Man's Best Friend."
—People

"A fascinating window into a different kind of military life."
—Booklist

"A well-deserved salute to the military's 'paws-on-the-ground heroes.' " 
—Kirkus
 
"A must read — I say again must read — book if you have ever served anywhere they've had paws on the ground." 
—David Reeder, Military.com

"[Soldier Dogs] is written in an easy and entertaining style and will acquaint you with dozens of canine heroes ranging from Stubby, who fought in WWI, to Cairo, who was a member of the raiding party that took down Osama Bin Laden. It is a great read for anyone who appreciates dogs and heroes."
—Stanley Coren, author of How Dogs Think

"Inspiring personal stories of the many canine allies (and their handlers) who have dramatically enhanced military command units . . . [Soldier Dogs] examines how this indelible human-canine bond often transcends the atrocities of wartime violence." —Kirkus Reviews

"If the idea of dogs at war conjures up thoughts of harsh methods and unrelenting discipline, think again. Maria Goodavage's revealing and engaging book exposes the unexpected trust and affection that flows both ways between dog and handler. You may already care about dogs: This book will heighten your respect for them."
—John Bradshaw, author of Dog Sense
Advertisement