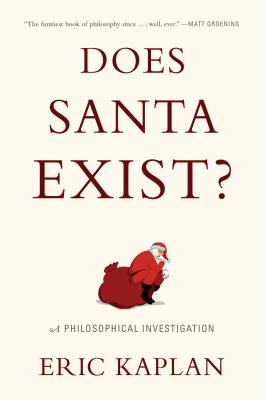 Does Santa Exist? (Hardcover)
A Philosophical Investigation
Dutton Books, 9780525954392, 275pp.
Publication Date: October 16, 2014
Other Editions of This Title:
Digital Audiobook (10/15/2014)
Paperback (10/27/2015)
MP3 CD (10/16/2014)
Compact Disc (10/16/2014)
* Individual store prices may vary.
Description
A humorous philosophical investigation into the existence of Santa from a co-executive producer ofThe Big Bang Theory
Metaphysics isn t ordinarily much of a laughing matter. But in the hands of acclaimed comedy writer and scholar Eric Kaplan, a search for the truth about old St. Nick becomes a deeply insightful, laugh-out-loud discussion of the way some things exist but may not really be there. Just like Santa and his reindeer.
Even after we outgrow the jolly fellow, the essential paradox persists: There are some things we dearly believe in that are not universally acknowledged as real. InDoes Santa Exist?Kaplan shows how philosophy giants Bertrand Russell and Ludwig Wittgenstein strove to smooth over this uncomfortable meeting of the real and unreal and failed. From there he turns to mysticism's attempts to resolve such paradoxes, surveying Buddhism, Taoism, early Christianity, Theosophy, and even the philosophers at UC Berkeley under whom he studied. Finally, this brilliant comic writer alights on surprise comedy as the ultimate resolution of the fundamental paradoxes of life, using examples fromThe Big Bang Theory, Monty Python's cheese shop sketch, and many other pop-culture sources.
Finally Kaplan delves deeper into what this means, from how our physical brains work to his own personal confrontations with life's biggest questions: If we re all going to die, what's the point of anything? What is a perfect moment? What can you say about God? Or Santa?
About the Author
ERIC KAPLAN is a co-executive producer of (and writer for) the CBS sitcomThe Big Bang Theory. Previously he wrote for the Late Show with David Letterman, Futurama (for which he won an Emmy Award), andFlight of the Conchords. Kaplan graduated from Harvard and is currently completing his PhD dissertation in philosophy at UC Berkeley."
Praise For Does Santa Exist?: A Philosophical Investigation…
"Eric Kaplan's Does Santa Exist? is the funniest book of philosophy since...well, ever."
--Matt Groening, creator of The Simpsons and Futurama and author of Life in Hell

"If you can put this book down, you should see a doctor.   Kaplan's message burrows into the mind, beats up a few beliefs and then leaves with a triumphant bang."
--Michael Gazzaniga, Professor of Psychology University of California Santa Barbara, Director of the SAGE Center for the Study of the Mind, and Founder of the Cognitive Neuroscience Society
 
"Exceptionally interesting, rigorous and I found it not only weirdly funny but deeply moving."
--Hubert Dreyfus, Professor of Philosophy, University of California Berkeley,   Fellow of the American Academy of Arts and Sciences
 
"This is truly a book that I wish I had written. Eric brings great clarity of thought to some of the deepest questions of the mind and our understanding of the world. And he's really funny."
--Daniel Levitin, New York Times Bestselling author of This is Your Brain on Music, Professor of Psychology and Behavioral Neuroscience at McGill University, Dean of Arts and Humanities, Minerva Schools at KGI
 
"Eric Kaplan is more than a talented comedy writer. He is a deep soul, an intellectual master, and a brilliant communicator of the subtleties of the intersections between faith and logic. He will have you laughing, thinking harder than you've ever thought, and falling in love with the process of intellectual exploration all over again. A masterpiece."
--Mayim Bialik, PhD (neuroscience, UCLA), actress known for her roles as Blossom Russo in Blossom and Dr. Amy Farrah Fowler in The Big Bang Theory
 
"I'm not sure I've ever read a more peculiar book. Fortunately, it's also smart, wise, charming, lucid, entertaining, big-hearted and maybe even profound."
--Kurt Andersen, New York Times Bestselling author of Heyday, host of Studio 360, and former editor of Harvard Lampoon

"Kaplan finds just the right balance between rigor and humor, seriousness and irreverence. You learn something (even about Santa), you laugh out loud, and you can't help but enjoy the mixture of philosophy and edgy jokes. This book is not just clever and a very engaging read, it's intelligent. I can't wait for his next piece, presumably on the Easter Bunny."
—David Poeppel, Professor of Psychology and Neural Science New York University
Book Videos
Coverage from NPR
or
Not Currently Available for Direct Purchase