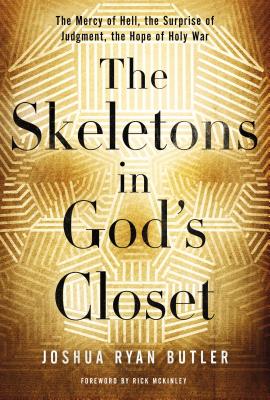 The Skeletons in God's Closet
The Mercy of Hell, the Surprise of Judgment, the Hope of Holy War
Paperback

* Individual store prices may vary.
Description
How can a loving God send people to hell? Isn't it arrogant to believe Jesus is the only way to God? What is up with holy war in the Old Testament?
Many of us fear God has some skeletons in the closet. Hell, judgment, and holy war are hot topics for the Christian faith that have a way of igniting fierce debate far and wide. These hard questions leave many wondering whether God is really good and can truly be trusted.
The Skeletons in God's Closet confronts our popular caricatures of these difficult topics with the beauty and power of the real thing. Josh Butler reveals that these subjects are consistent with, rather than contradictory to, the goodness of God. He explores Scripture to reveal the plotlines that make sense of these tough topics in light of God's goodness. From fresh angles, Josh deals powerfully with such difficult passages as:
The Lake of Fire
Lazarus and the Rich Man
The Slaughter of Canaanites in the Old Testament
Ultimately, The Skeletons in God's Close uses our toughest questions to provoke paradigm shifts in how we understand our faith as a whole. It pulls the "skeletons out of God's closet" to reveal they were never really skeletons at all.
Thomas Nelson, 9780529100818, 356pp.
Publication Date: October 14, 2014
About the Author
Josh Butler serves as pastor of local and global outreach at Imago Dei Community, a church in the heart of Portland, Oregon. Josh oversees the church's city ministries in areas like foster care, human trafficking and homelessness; and develops international partnerships in areas like clean water, HIV-support and church planting. Josh is also a worship leader who enjoys writing music for the life of the church.