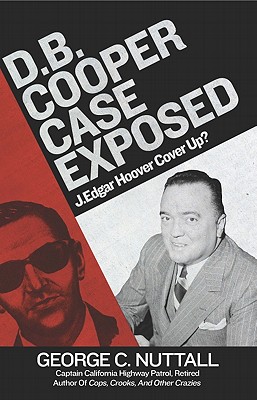 D.B. Cooper Case Exposed (Paperback)
J. Edgar Hoover Cover Up?
Vantage Press, 9780533163908, 284pp.
Publication Date: November 1, 2010
* Individual store prices may vary.
Description
In 1971, a man calling himself Dan Cooper hijacked a jetliner, demanded $200,000 in cash and four parachutes, and bailed out somewhere over Oregon, never to be seen again. He became a folk hero to hippies, survivalists, libertarians, and anarchists, who admired the man who had, apparently, beat the system. However, his jump, in brutally cold weather and in the midst of a major storm, left one question unanswered: where was he?George C. Nuttall, with his best friend, also a trained policeman and investigator, began to poke around in the mystery of Cooper's disappearance. The resulting book, D.B. Cooper Case Exposed: J. Edgar Hoover Cover-Up? is a record of his investigations, which turn up some results implicating far more powerful people than D.B. Cooper, whoever he was.
About the Author
George C. Nuttall spent his adult life working in law enforcement, first with the San Diego Police Department, and then the California Highway Patrol (CHP). In 1983 he retired from the CHP after having achieved the rank of Captain, and having worked and trained extensively with both the FBI and acted as the CHP coordinator for the Secret Service. This is Mr. Nuttall's second book, his first book is a memoir of his career entitled "Cops, Crooks, and Other Crazies."
Praise For D.B. Cooper Case Exposed: J. Edgar Hoover Cover Up?…
"Nuttall's investigation turns up some interesting findings: the absence of radar tracking the highjacked jet, conflicting reports from witnesses aboard the plane, a lackluster search for Cooper in the wrong location, and the tardy release of serial numbers on Cooper's ransom money." Publishers Weekly Select March 28, 2011
or
Not Currently Available for Direct Purchase