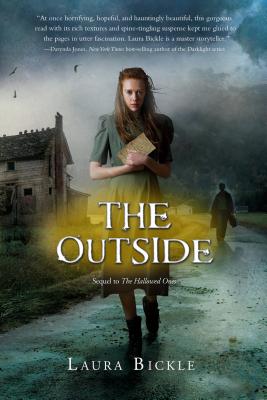 The Outside
Hardcover

* Individual store prices may vary.
Other Editions of This Title:
Paperback (9/9/2014)
MP3 CD (6/28/2016)
Description
After a plague of vampires was unleashed in the world, Katie was kicked out of the safe haven of her Amish community for her refusal to adhere to the new rules of survival. She enters an outside world of unspeakable violence with only her two friends and a horse by her side.
     And yet through this darkness come the shining ones: luminescent men and women with the power to deflect vampires and survive the night. But can they be trusted, and are they even people at all?
     In this sequel to The Hallowed Ones, it's up to one Amish girl to save her family, her community, and the boy she loves . . . but what will she be asked to sacrifice in return?
Praise For The Outside…
PRAISE FOR THE OUTSIDE   * "Top-notch. . . . A horror story with heart and soul." —Kirkus, starred review   "At once horrifying, hopeful, and hauntingly beautiful, this gorgeous read with its rich textures and spine-tingling suspense kept me glued to the pages in utter fascination. Laura Bickle is a master storyteller. Brava! Just superbly done!" —Darynda Jones, New York Times Bestselling author of Third Grave Dead Ahead and The Darklight Series     PRAISE FOR THE HALLOWED ONES   "This is a book to make you fear the shadows—a horrifying and gruesome tale of faith, and things that blink red eyes in the night. I began reading in the daylight, and read on into the late hours, leaning close, biting my lip. I could not look away; I was obsessed. Katie is an unbreakable soul." —Lauren DeStefano, New York Times Bestselling author of the Chemical Garden Trilogy   "What an eerily believable, unique story! I can't stop thinking about it--or shivering." —Melissa Marr, New York Times bestselling author of the Wicked Lovely Books   "Tight pacing, suspenseful scenes, Wow! moments of tension, and exposure into a world I knew little about, The Hallowed Ones is an exciting, terse read. . . . Laura Bickle's debut novel for young adults has quickly become my favorite dystopian novel of 2012. . . . It left me wanting more, so much more." —readergirlsblog.com   "Readers will find it hard to put down this suspenseful, scary, compulsively readable adventure." —Kirkus Reviews   "Katie's an original character, and her thoughtful rebellion makes her an interesting addition to supernatural fictions's gallery of strong heroines." —Bulletin —
Clarion Books, 9780544000131, 320pp.
Publication Date: September 3, 2013
About the Author
Laura Bickle is the author of The Hallowed Ones and The Outside. Her professional background is in criminal justice and library science. When she's not patrolling the stacks at the public library, she's dreaming up stories about the monsters under the stairs, and writing contemporary fantasy novels under the name Alayna Williams. Laura lives in Ohio with her husband and five mostly-reformed feral cats. Visit her website at www.laurabickle.com.
or
Not Currently Available for Direct Purchase