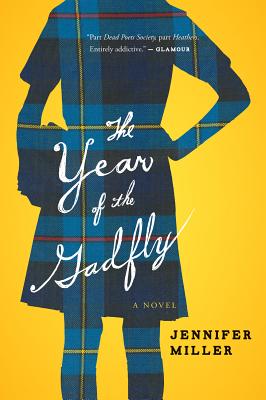 The Year of the Gadfly (Paperback)
Mariner Books, 9780544002029, 384pp.
Publication Date: May 28, 2013
Other Editions of This Title:
Hardcover (5/8/2012)
* Individual store prices may vary.
Description
"Do you know what it took for Socrates' enemies to make him stop pursuing the truth?"
"Hemlock."

Storied, fiercely competitive Mariana Academy was founded with a serious honor code; its reputation has been unsullied for decades. Now a long-dormant secret society, Prisom's Party, threatens its placid halls with vigilante justice, exposing students and teachers alike for even the most minor infraction.

Iris Dupont, a budding journalist whose only confidant is the chain-smoking specter of Edward R. Murrow, feels sure she can break into the ranks of The Devil's Advocate, the Party's underground newspaper, and there uncover the source of its blackmail schemes and vilifying rumors. Some involve the school's new science teacher, who also seems to be investigating the Party. Others point to an albino student who left school abruptly ten years before, never to return. And everything connects to a rare book called Marvelous Species. But the truth comes with its own dangers, and Iris is torn between her allegiances, her reporter's instinct, and her own troubled past.

The Year of the Gadfly is an exhilarating journey of double-crosses, deeply buried secrets, and the lifelong reverberations of losing someone you love. Following in the tradition of classic school novels such as A Separate Peace, Prep, and The Secret History, it reminds us how these years haunt our lives forever.
About the Author
JENNIFER MILLER, the author of Inheriting the Holy Land: An American's Search for Hope in the Middle East, holds a BA from Brown University, an MS in journalism from Columbia, and an MFA in fiction writing from Columbia. Her work has been published inthe New York Times, Marie Claire, Men's Health, the Christian Science Monitor, Salon.com, and others.
Praise For The Year of the Gadfly…
"Part Dead Poet's Society. Part Heathers. Entirely addictive."
--Glamour

"A smoldering mystery set in a New England prep school... The author skillfully ratchets up the tension as Iris (and the reader) finds it harder and harder to tell who the good guys are... A gripping thrill ride that's also a thoughtful coming-of-age story."
--Kirkus Reviews"In this engrossing novel, a would-be journalist unearths scandalous secrets at her prep school with the help of a famous reporter's ghost."
--O Magazine"A coming of age page-turner."
—Library Journal"Hysterical and moving, The Year of the Gadfly fuses Special Topics in Calamity Physics with Portnoy's Complaint for girls. This book is an imaginative delight."
—Gary Shteyngart, author of Super Sad True Love Story"A dark, whirling, and compelling read. The Year of the Gadfly is a hilarious and heartbreaking story about friendship, acceptance, and trust — the way our search for them shapes our youth and how that search can haunt us forever."
—Jennifer Close, author of Girls in White Dresses"This novel has so much going for it: the feisty, heartbroken heroine, the ghost of Edward R. Murrow, and a fascinating love story between an albino girl and a gifted young scientist. In a brilliant portrayal of the dark underbelly of adolescence, Miller explores a time when both our identity and our future are at stake, and shows how rare it is to leave that landscape unscathed."
—Ann Napolitano, author of Within Arm's Reach and A Good Hard Look "It's hard to resist any novel whose young journalist heroine hallucinates that she's in conversation with Edward R. Murrow. But Jennifer Miller has also written a book with the feel of real life—part science experiment, part mystery story, part a coming-of-age narrative sorting out the truth about one's friends and enemies."
—David Ignatius, author of Bloodmoney "Jennifer Miller is a writer of exceptional promise, with instincts that are equally astute for insight into character, innovative structure, memorable phrasing, and startling plot turns that compel the reader to read on. In The Year of the Gadfly, her literary gifts are on virtuoso display; readers will be drawn deeply into this narrative and never want to leave it!"
—Carol Goodman, author of The Lake of the Dead Languages and The Seduction of Water