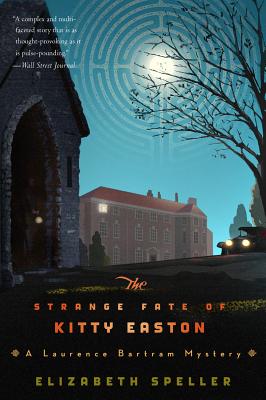 The Strange Fate of Kitty Easton (Paperback)
Mariner Books, 9780544002036, 416pp.
Publication Date: June 11, 2013
Other Editions of This Title:
MP3 CD (6/26/2012)
Compact Disc (6/26/2012)
Hardcover (6/26/2012)
Paperback (4/1/2012)
Hardcover (5/1/2011)
Pre-Recorded Audio Player (7/1/2012)
* Individual store prices may vary.
Description
"Leisurely and absorbing . . . a series to be savoured."—The Guardian (UK)

When Great War veteran Laurence Bartram arrives in Easton Deadall, he is struck by the beauty of the crumbling manor, venerable church, and memorial to the village's soldiers. But despite this idyllic setting, Easton Deadall remains haunted by tragedy. In 1911, five-year-old Kitty Easton disappeared from her bed and has not been seen since.
While Lawrence is visiting, a young maid vanishes in a sinister echo of Kitty's disappearance. And when a body is discovered in the manor's ancient church, Laurence is drawn into the grounds' forgotten places, where deadly secrets lie in wait.

"Speller's follow-up to her acclaimed debut, The Return of Captain John Emmett, is a well-crafted mystery with intriguing historical details and measured pacing that creates suspense. Fans of Jacqueline Winspear's Maisie Dobbs series and readers who enjoy well-drawn characters in historicals will add this to their wish list."—Library Journal
About the Author
ELIZABETH SPELLER studied Classics at Cambridge. She has written for various publications, and has taught at the universities of Cambridge, Birmingham, and Bristol. She divides her life between Gloucestershire and Greece.
Praise For The Strange Fate of Kitty Easton…
Laurence Bartram is a British architectural scholar, a veteran of World War I, and a man who has lost his wife, infant son, and much of his hold on life. Speller, who introduced Bartram in her first novel, thewidely acclaimed The Return of Captain John Emmett (2011), picks up the theme of the great losses that devastated England in the wake of the Great War. The novel is set in a Wiltshire village, the aptly namedEaston Deadall, which the war has totally cleared of young, able-bodied men, leaving only widows,children, and old men hanging on. Invited to the village to give his advice on a projected maze tocommemorate the war dead, Bartram is drawn into the tragedy that hangs over the Easton family aspalpably as the atmosphere in Poe's House of Usher. Lady Easton's five-year-old daughter, Kitty,disappeared in 1911, and no body or evidence has yet been found. Shortly after Bartram's arrival, akitchen maid goes missing. And then a body is found in the Saxon church next to the manor. Whether Bartram is examining the intricate bestiary of a Saxon arch, the extravagance of the Victorian house itself,or the geometry of the planned maze, he brings a sense of how his interest in architecture, somethingoutside the doom of the Great War, may yet save him. An intriguing leas character and fascinating subject matter, skilfully realized.
--
Booklist, STARRED review
Laurence Bartram, a veteran of the Great War, is called by an old army comrade, William Bolitho, to Easton Deadall, a small manor house in the west of England, to help out with architectural work. Bolitho will be installing a memorial window in the manor's church in honor of the men the Easton family and its village sacrificed in World War I. Lydia, the widowed lady of the manor, is still haunted by the disappearance of her five-year-old daughter, Kitty, 13 years earlier. As Laurence unravels the mysteries of the ancient church, he also learns more about the greater mysteries that surround the village and the Easton family's dark secrets. VERDICT Speller's follow-up to her acclaimed debut, The Return of Captain John Emmett, is a well-crafted mystery with intriguing historical details and measured pacing that creates suspense. Fans of Jacqueline Winspear's Maisie Dobbs series and readers who enjoy well-drawn characters in historicals will add this to their wish list.--Library Journal