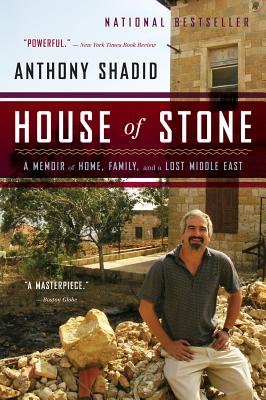 House of Stone (Paperback)
A Memoir of Home, Family, and a Lost Middle East
Mariner Books, 9780544002197, 315pp.
Publication Date: February 5, 2013
Description
"Wonderful . . . One of the finest memoirs I've read." -- Philip Caputo, Washington Post
In the summer of 2006, racing through Lebanon to report on the Israeli invasion, Anthony Shadid found himself in his family's ancestral hometown of Marjayoun. There, he discovered his great-grandfather's once magnificent estate in near ruins, devastated by war. One year later, Shadid returned to Marjayoun, not to chronicle the violence, but to rebuild in its wake.
So begins the story of a battle-scarred home and a journalist's wounded spirit, and of how reconstructing the one came to fortify the other. In this bittersweet and resonant memoir, Shadid creates a mosaic of past and present, tracing the house's renewal alongside the history of his family's flight from Lebanon and resettlement in America around the turn of the twentieth century. In the process, he memorializes a lost world and provides profound insights into a shifting Middle East. This paperback edition includes an afterword by the journalist Nada Bakri, Anthony Shadid's wife, reflecting on his legacy.
"A poignant dedication to family, to home, and to history . . . Breathtaking." -- San Francisco Chronicle
"Entertaining, informative, and deeply moving . . . House of Stone will stand a long time, for those fortunate enough to read it." -- Telegraph (London)
Praise For House of Stone: A Memoir of Home, Family, and a Lost Middle East…
"Six pages into this book, I said to myself, if Anthony Shadid continues like this, this book will be a classic. And page by page, he did continue, and he wrote a honest-to-God, hands-down, undeniable and instant classic. This is a book about war, and terrible loss, and a troubled region, and his own tattered family history, yes, but it's written with the kind of levity and candor and lyricism we associate with, say, Junot Diaz — and that makes the book, improbably, both a compulsive read and one you don't want to end. I have no idea how Shadid pulled all this off while talking about the history of modern Lebanon, how he balanced ribald humor and great warmth with the sorrow woven into a story like this, but anyway, we should all be grateful that he did."
— Dave Eggers, author of Zeitoun and What Is the What
  "Anthony Shadid's beautifully rendered memoir is a rich account of a man's gradual immersion into the world of the Middle East and the culture of the Levant, a kingdom almost unrecognizable today, where the rooms and hallways of his great-grandfather's house tell stories that will linger with every reader for decades." — André Aciman, author of
Out of Egypt
  "
House of Stone
is poignant, aching, and at times laugh-out-loud funny . . . Shadid's writing is so lyrical it's like hearing a song." — David Finkel, author of the Pulitzer Prize-winning
The Good Soldier
  "
House of Stone
is a haunting, beautifully realized piece of writing." — Nick Flynn, author of
The Ticking Is the Bomb
  "What a beautiful introduction to a world that I knew so little about.
House of Stone
is engaging, poignant, and funny." — Abraham Verghese, author of
Cutting for Stone
"I was captivated, instantly, by Anthony Shadid's lushly evocative prose. Crumbling Ottoman outposts, doomed pashas, and roving bandits feel immediate, familiar, and relevant. Lose yourself in these pages, where empires linger, grandparents wander, and a battered Lebanon beckons us home. Savor it all. If Márquez had explored nonfiction, Macondo would feel as real as Marjayoun."
— Dave Cullen, author of Columbine
"Evocative and beautifully written, House of Stone . . . should be read by anyone who wishes to understand the agonies and hopes of the Middle East."
— Kai Bird, Pulitzer Prize-winning historian and author of Crossing Mandelbaum Gate
"In rebuilding his family home in southern Lebanon, Shadid commits an extraordinarily generous act of restoration for his wounded land, and for us all."
— Annia Ciezadlo, author of Day of Honey
"Few books provide such a subtle, yet powerful insight into the tragedy of today's Middle East."
— Amin Maalouf, author of Origins: A Memoir
"A riveting, soulful, and candid journey . . ."
— Robin Wright, author of Rock the Casbah
Advertisement