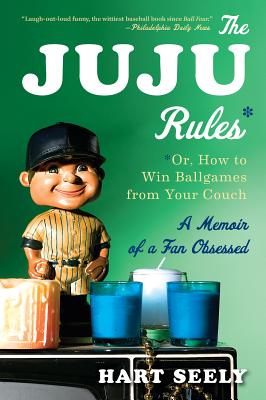 The Juju Rules (Paperback)
Or, How to Win Ballgames from Your Couch: A Memoir of a Fan Obsessed
Mariner Books, 9780544002203, 288pp.
Publication Date: March 26, 2013
Other Editions of This Title:
Hardcover (4/17/2012)
* Individual store prices may vary.
Description
Did you know there is a secret to winning ballgames? It's not the players, managers, money, or luck. It's juju, and no one knows it better than Hart Seely, who may be the world's biggest Yankees fan and juju practitioner. In this uproarious, unforgettable fan confessional, Hart Seely explores how his career and life are inextricably bound to the fate of his beloved franchise, showing that an extreme love can be a powerful passion in the best way.
About the Author
Hart Seely is an award-winning reporter for the Post-Standard newspaper in Syracuse. His humor pieces have appeared in The New Yorker, The New York Times, National Lampoon, The New Republic, Village Voice, Slate, Spy and NPR. He has written or edited five books, including  O Holy Cow: The Selected Verses of Phil Rizzuto and Pieces of Intelligence: The Existential Poetry of Donald Rumsfeld.  Seely lives in Syracuse with his wife, Janice, and three children. There, from his living room, he wins baseball games for the New York Yankees.