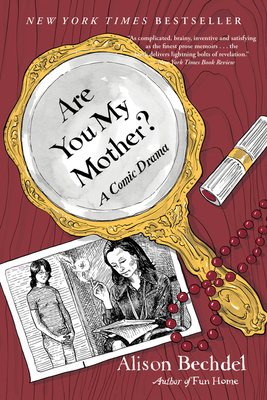 Are You My Mother?
A Comic Drama
Paperback

* Individual store prices may vary.
Other Editions of This Title:
Hardcover (5/1/2012)
Description
From the New York Times bestselling author of Fun Home, Are You My Mother?: A Comic Drama is a brilliantly told graphic memoir of Alison Bechdel becoming the artist her mother wanted to be.

A New York Times, USA Today, and Time Best Book of the Year

Alison Bechdel's Fun Home was a pop culture and literary phenomenon. Now, a second thrilling tale of filial sleuthery, this time about her mother: voracious reader, music lover, passionate amateur actor. Also a woman, unhappily married to a closeted gay man, whose artistic aspirations simmered under the surface of Bechdel's childhood . . . and who stopped touching or kissing her daughter good night, forever, when she was seven.

Poignantly, hilariously, Bechdel embarks on a quest for answers concerning the mother-daughter gulf. It's a richly layered search that leads readers from the fascinating life and work of the iconic twentieth-century psychoanalyst Donald Winnicott, to one explosively illuminating Dr. Seuss illustration, to Bechdel's own (serially monogamous) adult love life. And, finally, back to Mother — to a truce, fragile and real-time, that will move and astonish all adult children of gifted mothers.
Praise For Are You My Mother?: A Comic Drama…
"In Are You My Mother?, Alison Bechdel poses an infinity of thought-provoking questions about women, literature, feminism, family bonds, psychology and the complicated relationship between therapist and patient...The book is a page turner, thanks in part to Bechdel's lovely and subtle illustrations. Bechdel's examination of her relationship with her mother also touches on the universal push and pull between mothers and children...The book's transcendent ending is Bechdel's expression of love for her own 'good enough mother.'"—USA Today "Sad, funny, sprawling graphic memoir...An intensely personal, specific story, but Bechdel's imaginative narrative techniques make it easily as compelling as any fiction...Its stylistic flexibility accomodates more layers than any straight documentary or prose memoir could support...This work is her link in the long chain connecting her foremothers and their daughters and all of the other women who shaped her."—The Atlantic "A staggering achievement...Although Bechdel utilizes all the features of the graphic-novel form, she is so intelligent and perceptive that this story of self-discovery (an abused term, but never more apt) would still be compelling if told only in prose...Are You My Mother? is a masterwork that gracefully documents the torture that sensitive people can put themselves through while searching for the casual movers of their lives."—The Daily Beast "Are You My Mother? is a tremendously intimate work, more so even than Fun Home. Taken together, the two books are a practical guide to the complicated, unspoken negotiations that take place between children and their parents, those sphinxlike beings who give us life and then promptly deal us near fatal psychic wounds.Watching Bechdel dig into the underworld of her subconscious is paradoxically uplifting. The courage and rigor with which she examines her life make readers feel as if their own secrets might not be quite so unspeakable."—Lev Grossman, Time Magazine "...Magnificent... Whatever issues Bechdel has with her mother, one always has the sense that she likes her as much as she loves her. That affection — and the real sense one gets of her mother reading these pages, running her finger over the tenderly drawn panels of their history — gives this book an urgency and an intimacy that Fun Home, in retrospect, lacked... Bechdel's triumph is not just that she's emerged from her tunnel, with weary but clear eyes, but that she's brought her mother with her. Grade: A"—Entertainment Weekly "...Are You My Mother is as complicated, brainy, inventive and satisfying as the finest prose memoirs...The tragedy and comedy are so entwined, so gloriously balanced, the reader can't help being fascinated. The book delivers lightening bolts of revelation...I haven't encountered a book about being an artist, or about the punishing entanglements of mothers and daughters, as engaging, profound or original as this one in a long time. In fact, the book made such a deep impression on me that after reading it I walked around for days seeing little bits and snatches of my life as Alison Bechdel drawings."—The New York Times Book Review "Are You My Mother is a work of the most humane kind of genius, bravely going right to the heart of things: why we are who we are. It's also incredibly funny. And visually stunning. And page-turningly addictive. And heartbreaking."—Jonathan Safran Foer, author of Extremely Loud and Incredibly Close and Everything is Illuminated "Many of us are living out the unlived lives of our mothers. Alison Bechdel has written a graphic novel about this; sort of like a comic book by Virginia Woolf. You won't believe it until you read it—and you must!"—Gloria Steinem "This book is not so much the sequel to Ali —
Mariner Books, 9780544002234, 304pp.
Publication Date: April 2, 2013
About the Author
ALISON BECHDEL's cult following for her early comic strip Dykes to Watch Out For expanded wildly for her family memoirs, the New York Times bestselling and Time magazine #1 Book of the Year graphic memoir Fun Home, adapted into a Tony Award-winning musical, and Are You My Mother? Bechdel has been named a MacArthur Fellow and Cartoonist Laureate of Vermont, among many other honors. The Secret to Superman Strength is her third graphic memoir.