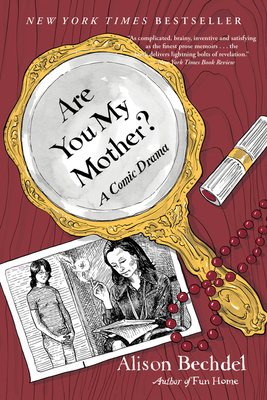 Are You My Mother?
A Comic Drama
Paperback

* Individual store prices may vary.
Other Editions of This Title:
Hardcover (5/1/2012)
Hardcover (5/1/2012)
Description
From the best-selling author of Fun Home, Time magazine's No. 1 Book of the Year, a brilliantly told graphic memoir of Alison Bechdel becoming the artist her mother wanted to be.

Alison Bechdel's Fun Home was a pop culture and literary phenomenon. Now, a second thrilling tale of filial sleuthery, this time about her mother: voracious reader, music lover, passionate amateur actor. Also a woman, unhappily married to a closeted gay man, whose artistic aspirations simmered under the surface of Bechdel's childhood . . . and who stopped touching or kissing her daughter good night, forever, when she was seven. Poignantly, hilariously, Bechdel embarks on a quest for answers concerning the mother-daughter gulf. It's a richly layered search that leads readers from the fascinating life and work of the iconic twentieth-century psychoanalyst Donald Winnicott, to one explosively illuminating Dr. Seuss illustration, to Bechdel's own (serially monogamous) adult love life. And, finally, back to Mother—to a truce, fragile and real-time, that will move and astonish all adult children of gifted mothers.
Praise For Are You My Mother?: A Comic Drama…
"Are You My Mother is a work of the most humane kind of genius, bravely going right to the heart of things: why we are who we are. It's also incredibly funny. And visually stunning. And page-turningly addictive. And heartbreaking."—Jonathan Safran Foer, author of Extremely Loud and Incredibly Close and Everything is Illuminated
"Many of us are living out the unlived lives of our mothers. Alison Bechdel has written a graphic novel about this; sort of like a comic book by Virginia Woolf. You won't believe it until you read it—and you must!"—Gloria Steinem
"This book is not so much the sequel to Alison Bechdel's captivating memoir Fun Home, as the maternal yin to its paternal yang. Bravely worrying out the snarled web of missed connections that bedevil her relationship with her remarkable mother from the very start, Bechdel deploys everyone from Virginia Woolf to D.W. Winnicott (the legendary psychoanalytic theorist who comes to serve as her quest's benign fairy godfather) to untie the snares of a fraught past. She arrives, at long last, at something almost as shimmering as it is simple: a grace-flecked accommodation and an affirming love."—Lawrence Weschler, author of Everything that Rises: A Book of Convergences and Uncanny Valley: Adventures in the Narrative
"A psychologically complex, ambitious, illuminating successor to the author's graphic-memoir masterpiece." —Kirkus Reviews, starred review
"[Bechdel's] lines and angles are sharper than in Fun Home, and yet her self-image and her views of family members, lovers, and analysts are thorough, clear, and kind. Mothers, adult daughters, literati, memoir fans, and psychology readers are among the many who will find this outing a rousing experience . . . This may be the most anticipated graphic novel of the year." —Booklist, starred review
"A fiercely honest work about the field of combat that is family." —Publishers Weekly, starred review
"Are You My Mother? offers an improbably profound master class in how to live an examined life . . . More moving and illuminating than Fun Home." —Elle
"The best writers, whether they are creating fiction or nonfiction, are trying to find out what makes people human for better and for worse. A taut, complex book within several books, Bechdel's investigation of her relationship with her mother and the work of pioneering psychoanalyst Donald Winnicott offers the most articulate answer you're likely to ingest. You'll feel like Alice climbing your way out the jagged rabbit hole to limbo." —Library Journal
Mariner Books, 9780544002234, 304pp.
Publication Date: April 2, 2013
About the Author
ALISON BECHDEL's cult following for her early comic strip Dykes to Watch Out For expanded wildly for her family memoirs, the New York Times bestselling and Time magazine #1 Book of the Year graphic memoir Fun Home, adapted into a Tony Award-winning musical, and Are You My Mother? Bechdel has been named a MacArthur Fellow and Cartoonist Laureate of Vermont, among many other honors. The Secret to Superman Strength is her third graphic memoir.