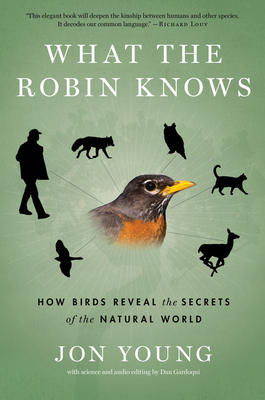 What the Robin Knows (Paperback)
How Birds Reveal the Secrets of the Natural World
Mariner Books, 9780544002302, 272pp.
Publication Date: May 21, 2013
Other Editions of This Title:
Hardcover (5/8/2012)
* Individual store prices may vary.
Description
"Jon Young knows birds, and you will too after reading his marvelous book. You'll discover a universal bird language that will speak to you wherever you go outdoors. Every nature lover should read this book."—Joseph Cornell, author of Sharing Nature with Children and John Muir: My Life with Nature

A lifelong birder, tracker, and naturalist, Jon Young is guided by three basic premises: the robin, junco, and other songbirds know everything important about their environment, be it backyard or forest; by tuning in to their vocalizations and behavior, we can acquire much of this wisdom for our own pleasure and benefit; and the birds' companion calls and warning alarms are just as important as their songs. Deep bird language is an ancient discipline, perfected by Native peoples the world over, and science is finally catching up. This groundbreaking book unites the indigenous knowledge, the latest research, and the author's own experience of four decades in the field to lead us toward a deeper connection to the animals and, in the end, a deeper connection to ourselves.

"Jon Young is one of the heroes of the new nature movement . . . This elegant book will deepen the kinship between humans and other species. It decodes our common language."—Richard Louv, author of The Nature Principle and Last Child in the Woods

"A brilliant work, born of a lifetime of listening, teaching, and tracking what really matters . . . Jon Young's work replenishes our humanity."—David Abram, author of Becoming Animal and The Spell of the Sensuous
About the Author
Jon Young is on the leading edge of animal tracking and understanding bird language. He has been exploring animal communication for 35 years and was mentored by the famous tracker Tom Brown Jr. as well as a tribal elder in Africa. Jon developed the 8 Shields Cultural Mentoring System, a model that has influenced more than 100 nature programs in communities in the U.S., Canada, and Europe and is also creator of the Shikari Method for data collection, which is used by the USFWS. Jon has given over 1,000 public presentations and has mentored numerous students of his own. Married, with six children, Jon lives in Santa Cruz, California.