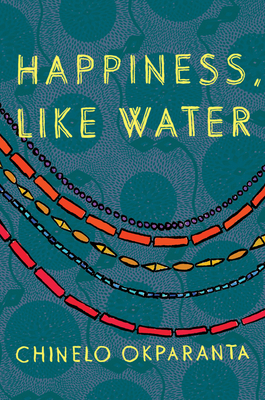 Happiness, Like Water
Paperback

* Individual store prices may vary.
Description
A triumphant collection of stories centered on Nigerian women as they build lives out of love and longing, the struggle to stay and the mandate to leave, by an award-winning writer who "is a certainly a voice to watch, and clearly deserves a place on any bookshelf beside fellow Nigerian authors Achebe and Adichie" (Bustle). What does happiness look like for the women in this acclaimed debut collection? Here is a cast of characters, in their Nigerian homeland and abroad, who whose world is marked by lush landscapes, historical legend and lively folktales, and the search for identity at all costs. You'll meet mothers who will go to the ends of the earth for their children and daughters who will love whomever they want—even if that means risking everything, even their own lives. Spanning generations, transcending social strata, and crossing the boundaries between duty and desire, the stories in this collection are rendered with "such strength and intimacy, such lucidity and composure, that in each and every case the truths of their lives detonate deep inside the reader's heart, with the power and force of revelation" (Paul Harding). ¶ "The work of a sure and gifted new writer."—Julie Otsuka
Praise For Happiness, Like Water…
2014 New York Public Library Young Lions Award Finalist
2014 Rolex Mentors and Protégés Arts Initiative Finalist in Literature
2014 Lambda Awards General Lesbian Fiction Finalist
2013 Society of Midland Authors Award Finalist
2013 Frank O'Connor International Short Story Award, Long-listed
2013 Caine Prize in African Writing Finalist
Editors' Choice, New York Times Book Review
The Guardian's Best African Fiction of 2013
2012 United States Artists Fellowship Nominated Author

"Full of movement…These tales will break your heart open. Okparanta guides you through her stories with lovely, surreal, haunting clarity."
—New York Daily News "Okparanta is an unpretentious writer, but her ambition comes through in the lives she renders—young Nigerian women divided between home and a new world."
—Vogue.com

"The stories in Okparanta's first collection are quiet, often unnervingly so, in the manner of a stifled shriek…One character notes the silences that fall between her and her mother, 'as if we no longer valued spoken words, as if spoken words were gaudy finishes on a delicate piece of art, unnecessary distractions from the masterpiece, whose substance was more meaningfully experienced if left unornamented.' If this is Okparanta's goal – the distillation of experience into something crystalline, stark but lustrous – she is well on her way there."
—New York Times Book Review

"Chinelo Okparanta was chosen as one of Granta's six new voices for 2012, and it's easy to see why. Her short story collection, Happiness, Like Water (Mariner), is a triumph of a book. The ten stories are all short but powerful, tracing the lives of women from Okparanta's native Nigeria…Ultimately Okparanta's collection is not so much a statement about Nigerian women as it is a depiction of a few women who happen to be Nigerian going through universal issues in their own, unique social contexts. It's a book about Nigeria, about America, and about women everywhere told in short sentences and simple, matter-of-fact language that manages to be incredibly emotionally evocative nonetheless. Okparanta is a certainly a voice to watch, and clearly deserves a place on any bookshelf beside fellow Nigerian authors Achebe and Adichie."
—Bustle.com "The stories are quiet and understated and lucid and gather up their power almost without the reader realizing it, then they break your heart, just like that. Such subtle and open and strong writing."
—The Millions

"This promising young author delivers an affecting collection, revolving around African women, at home and abroad, contemplating religion and love."—Time Out New York

"Okparanta pays great attention to detail, making it easy to get caught up in the problems of these women who must fend for themselves. . . She writes with compassion and strength for these nameless, faceless women who are unable to defend their own actions."—Bust

"Bittersweet. . .[Happiness, Like Water] is an extremely promising debut: the handling of tone and perspective is assured; the prose lucid and elegant throughout."—Financial Times (UK)

"The unsparing stories of Happiness, Like Water show Okparanta to be a champion of young, frequently misunderstood female protagonists whose voices are too often stifled."
—Daily Beast

"Okparanta skillfully introduces readers to a new world held back by old-world traditions"
—Publishers Weekly

"Nigeria, the vibrancy of its heart, the soul of its people, is captured in these stories."
—Kirkus "[Okparanta] confirms her place as a writer to watch with the remarkable debut collection Hapiness, Like W —
Mariner Books, 9780544003453, 208pp.
Publication Date: August 13, 2013
About the Author
CHINELO OKPARANTA was born and raised in Port Harcourt, Nigeria. Her debut short story collection, Happiness, Like Water, was nominated for the Nigerian Writers Award, long-listed for the Frank O'Connor International Short Story Award, and was a finalist for the New York Public Library Young Lions Fiction Award, as well as the Etisalat Prize for Literature. Her first novel, Under the Udala Trees, was nominated for numerous awards, including the Kirkus Prize and Center for Fiction First Novel Prize, and was a New York Times Book Review Editor's Choice. She has published work in The New Yorker, Granta, Tin House, the Kenyon Review, AGNI, and other venues, and was named one of Granta's Best of Young American Novelists. She received her MFA from the Iowa Writers' Workshop, and she is currently Associate Professor of English and Creative Writing at Swarthmore College.
Coverage from NPR