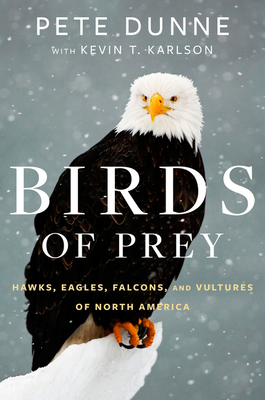 Birds of Prey
Hawks, Eagles, Falcons, and Vultures of North America
Hardcover

* Individual store prices may vary.
Description
A visually stunning, comprehensive resource on North America's birds of prey

Always a popular group of birds, raptors symbolize freedom and fierceness, and in Pete Dunne's definitive guide, these traits are portrayed in hundreds of stunning color photographs showing raptors up close, in flight, and in action—fighting, hunting, and nesting.   These gorgeous photographs enhance the comprehensive, authoritative text, which goes far beyond identification to cover raptor ecology, behavior, conservation, and much more.   In returning to his forte and his first love, Pete Dunne has crafted a benchmark book on raptors: the first place to turn for any question about these highly popular birds, whether it's what they eat, where they live, or how they behave.
Praise For Birds of Prey: Hawks, Eagles, Falcons, and Vultures of North America…
"Exhaustively researched and complemented by a stunning collection of photos, the real highlight of this book is Pete Dunne's writing. He weaves together personal anecdotes, historical accounts, and technical information to create something greater than the sum of all of its parts: a beautiful, authoritative, and engagingly written guide to the natural history of North American hawks."
—David Sibley, author of The Sibley Guide to Birds


"Books about raptors used to fall into two major categories: field guides versus nature writing. No more! Pete Dunne's new book skillfully conjoins those two genres. Like a good field guide, Birds of Prey is authoritative and utilitarian; and like our finest nature writing, Dunne's prose is lyrical, sensitive, and full of feeling." —Ted Floyd, editor, Birding


"What do you get when you combine Pete Dunne's clear and evocative writing on birds of prey research with stunning raptor photographs selected and arranged by Kevin Karlson? A superb raptor book!" —Bill Clark, coauthor of the Peterson Field Guide to Hawks of North America


"Pete Dunne mixes humorous anecdotes and whimsical analogies into the life history accounts of our North American birds of prey, intertwining history from our early ornithologists with current knowledge. The stunning quality of the color images found throughout this lavishly illustrated book, which span behavioral as well as ID postures, are the product of this generation's most elite bird photographers." —Brian K. Wheeler, author of Raptors of Eastern North America and Raptors of Western North America
Mariner Books, 9780544018440, 320pp.
Publication Date: April 25, 2017
About the Author
PETE DUNNE forged a bond with nature as a child and has been studying hawks for more than forty years. He has written fifteen books and countless magazine and newspaper columns. He was the founding director of the Cape May Bird Observatory and now serves as New Jersey Audubon's Birding Ambassador. He lives in Mauricetown, New Jersey.

KEVIN T. KARLSON is an accomplished birder, tour leader, and wildlife photographer. He is a coauthor of The Shorebird Guide and two other books. He lives near Cape May, New Jersey.