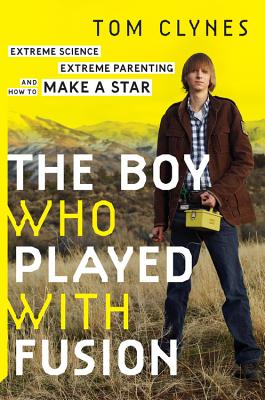 The Boy Who Played with Fusion (Hardcover)
Extreme Science, Extreme Parenting, and How to Make a Star
Eamon Dolan/Houghton Mifflin Harcourt, 9780544085114, 320pp.
Publication Date: June 9, 2015
Other Editions of This Title:
Digital Audiobook (6/8/2015)
Paperback (6/14/2016)
Compact Disc (6/9/2015)
Compact Disc (6/9/2015)
MP3 CD (6/9/2015)
* Individual store prices may vary.
Description
How an American teenager became the youngest person ever to build a working nuclear fusion reactor 

By the age of nine, Taylor Wilson had mastered the science of rocket propulsion. At eleven, his grandmother's cancer diagnosis drove him to investigate new ways to produce medical isotopes. And by fourteen, Wilson had built a 500-million-degree reactor and become the youngest person in history to achieve nuclear fusion. How could someone so young achieve so much, and what can Wilson's story teach parents and teachers about how to support high-achieving kids?

In The Boy Who Played with Fusion, science journalist Tom Clynes narrates Taylor Wilson's extraordinary journey—from his Arkansas home where his parents fully supported his intellectual passions, to a unique Reno, Nevada, public high school just for academic superstars, to the present, when now nineteen-year-old Wilson is winning international science competitions with devices designed to prevent terrorists from shipping radioactive material into the country. Along the way, Clynes reveals how our education system shortchanges gifted students, and what we can do to fix it.
About the Author
TOM CLYNES writes regularly for National Geographic and Popular Science, where he is a contributing editor. His work has also appeared in Men's Journal, Nature, New York, the Sunday Times Magazine (London), the Washington Post, and many other publications. He is also the author of the book Wild Planet!
Praise For The Boy Who Played with Fusion: Extreme Science, Extreme Parenting, and How to Make a Star…
"Here is the amazing story of an unbelievable boy — somebody who seems more like a figure out of fiction (science fiction, to be specific) than reality. But the story is true, the boy is true, and the science is true. And the world that opens up to us through his story is both fascinating and slightly terrifying...but in a good way. You won't be able to walk away from this tale." --Elizabeth Gilbert, author of Eat, Pray, Love and The Signature of All Things


"Imagine if cartoon whiz-kid Jimmy Neutron were real and had a brainchild with MacGyver and his adolescence got told as a rollicking bildungsroman about American prodigies and DIY nuclear reactors—well, that's this book."  --Jack Hitt, author of Bunch of Amateurs.                              


"Clynes guides us on an engrossing journey to the outer realms of science and parenting, "The Boy Who Played with Fusion" is a fascinating exploration of "giftedness" and all its consequences. --Paul Greenberg, author of Four Fish and American Catch


Popular Science contributing editor Clynes (Music Festivals From Bach to Blues: A Travellers Guide, 1996, etc.) uses the story of Taylor Wilson—who, at age 14, became "one of only thirty-two individuals on the planet to build a working fusion reactor, a miniature sun on Earth"—to illustrate the potential for improving our educational system. "What does it take to identify and develop the raw material of talent and turn it into exceptional accomplishment? How do we parent and educate extraordinarily determined and intelligent children and help them reach their potential?" These are the questions the author seeks to answer in this enlightening book. Clynes first learned about Taylor in 2010 when he was interviewing members of a small community of "nuclear physics enthusiasts." At the time, Taylor was attending the Davidson Academy, an experimental secondary school in Reno that offered students the opportunity to attend classes at the University of Nevada-Reno. Taylor enrolled in physics seminars and had successfully completed a project to build a tabletop fusion reactor that allowed him to study the properties of different materials. The family had moved to Reno so that Taylor could take advantage of the Davidson opportunity. His father was a successful entrepreneur who had fostered Taylor's developing interest in science, beginning at age 6, with his fascination with rocket propulsion. Although he had no technical training himself, Wilson enlisted the help of more knowledgeable friends from the community to help his son safely pursue experiments with rockets. Clynes chronicles Taylor's development since their first meeting, during which time he invented a prototype for a "hundred-thousand-dollar tabletop nuclear fusion device that could produce medical isotopes as precisely as the multimillion-dollar cyclotron or linear accelerator facilities could," as well as a highly sensitive, low-dose device for identifying nuclear terrorists. Clynes makes a persuasive case for allowing gifted children the freedom and resources to pursue their interests.  ---KIRKUS Reviews
or
Not Currently Available for Direct Purchase