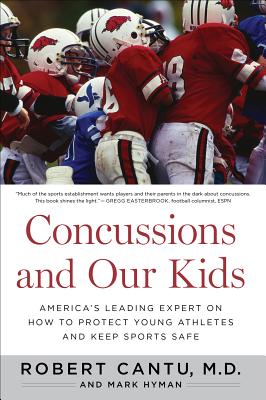 Concussions and Our Kids (Paperback)
America's Leading Expert on How to Protect Young Athletes and Keep Sports Safe
Mariner Books, 9780544102231, 208pp.
Publication Date: September 24, 2013
Other Editions of This Title:
Hardcover (9/18/2012)
* Individual store prices may vary.
Description
See the movie "Concussion." But first read the classic book from the acclaimed concussion doctor who's changing how America thinks about safety in youth sports. 

"This is an important, cutting-edge work by the premier specialist in his field. If you watch sports, or if you have a young athlete in your family, you need to read this book." —Dan Shaughnessy, author of The Curse of the Bambino

From Washington to Quebec, from offices at the NFL to the New York Times, from the NHL players' union to the soccer fields of Anytown, U.S.A., people are talking about concussions. At the center of this crisis—and one of the key reasons for this increased awareness—is Dr. Robert Cantu, the country's leading expert on athletic brain trauma and a pioneer in the study of the link between concussions and progressive brain disease in athletes.

Concussions and Our Kids is the first prescriptive book of its kind to address the issue of head trauma in sports and to offer guidelines for playing sports safely. Described as "the single most important issue in sports today," concussions are widespread and devastating. Dr. Cantu has treated thousands of patients, from pro athletes to peewee players, and his groundbreaking research is changing how sports are played. Parents, coaches, and players can learn from this combination manifesto/manual, helping to reduce concussions now and prevent more brain trauma down the road.

"A well-researched, riveting story that every coach and parent of a young athlete should read." —Christine Brennan, USA Today sports columnist and author of Best Seat in the House
About the Author
ROBERT CANTU, M.D. is the Chief of Neurosurgery, Chairman Department of Surgery and Director Service of Sports Medicine at Emerson Hospital as well as the Clinical Professor of Neurosurgery and co-director of Boston University's Center for the Study of Traumatic Encephalopathy. He also serves as special advisor to the National Football League.
Mark Hyman, MD, is the Director of the Cleveland Clinic Center for Functional Medicine, the chairman of the Institute for Functional Medicine, and founder and medical director of The UltraWellness Center. He is the #1 New York Times bestselling author of The Blood Sugar Solution 10-Day Detox Diet, The Blood Sugar Solution, The Blood Sugar Solution Cookbook, Ultrametabolism, The Ultramind Solution, The Ultrasimple Diet, and coauthor of The Daniel Plan and Ultraprevention.