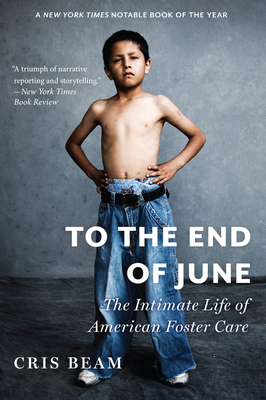 To the End of June (Paperback)
The Intimate Life of American Foster Care
Mariner Books, 9780544103443, 336pp.
Publication Date: September 2, 2014
Other Editions of This Title:
Compact Disc (2/20/2018)
MP3 CD (2/20/2018)
Hardcover (8/13/2013)
* Individual store prices may vary.
Description
A New York Times Notable Book

"Casts a searing eye on the labyrinth that is the American foster care system." — NPR's On Point

Who are the children of foster care? What, as a country, do we owe them? Cris Beam, a foster mother herself, spent five years immersed in the world of foster care looking into these questions and tracing firsthand stories. The result is To the End of June, an unforgettable portrait that takes us deep inside the lives of foster children in their search for a stable, loving family.

Beam shows us the intricacies of growing up in the system—the back-and-forth with agencies, the rootless shuffling between homes, the emotionally charged tug between foster and birth parents, the terrifying push out of foster care and into adulthood. Humanizing and challenging a broken system, To the End of June offers a tribute to resiliency and hope for real change.

"[A] powerful . . . and refreshing read." — Chicago Tribune

"A sharp critique of foster-care policies and a searching exploration of the meaning of family." — Publishers Weekly, starred review

"Heart-rending and tentatively hopeful." — Salon

About the Author
Cris Beam is the author of several award-winning books, including To The End of June: The Intimate Life of American Foster Care, and Transparent: Love, Family and Living the T with Transgender Teenagers. Her journalism has been featured in several national magazines and on public radio. Beam teaches creative writing at Columbia, NYU, and Bayview Women's Correctional Facility and lives in New York City.
 
 
Praise For To the End of June: The Intimate Life of American Foster Care…
A New York Times Notable Book
An NPR Best Book of 2013
One of New York Magazine's 10 Best Books of the Year
A Chicago Tribune Noteworthy Best Book of 2013
Boston Globe Top Nonfiction of 2013
A Publishers Weekly Best Book of 2013
A 2014 ALA Notable Book

"A triumph of narrative reporting and storytelling, as well as a thorough and nuanced analysis of an American institution deeply in need of reform. . . . Beam writes about social outcasts without stereotyping them. She gives them a much-needed voice and does what too many adults in the foster-care system can't, or won't: She advocates for them."
—New York Times Book Reivew

"Beam invites the reader inside the system for sometimes uncomfortably close but always compassionate visits with parents, children and workers. . . .She takes comfort in the 'countless academics and organizers and families with countless good ideas.' It's this conclusion—rather than the admission that she doesn't have the answer, even with her many lenses on the system both inside and out—that makes this a challenging and refreshing read."
—Chicago Tribune

"Heart-rending and tentatively hopeful"
—Salon

"Informative, poignant, passionate, and persuasive . . . Almost certain to generate a sense of urgency in readers to fix a broken system that has sometimes managed to fly beneath the radar."
—Huffington Post

"Beam's intimate immersion into this system, as both a parent and an author, has brought great empathy and insight into a world most people never contemplate. Beam's book will likely change hearts and minds, and hopefully social policy."—Bay Area Reporter

"In this compassionate, rigorous book, Beam describes the failures of foster care, often by way of the moments of light and hope that are inscribed in its brokenness. It is her largeness of heart, manifest on every page, that makes her arguments impossible to ignore, and that informs the deeply engaging stories she so eloquently narrates."
—Andrew Solomon, author of Far From the Tree

"Packed with messy humanity, To the End of June is an urgent and necessary book. It would break your heart were it not for the recurring tales of good people trying to do the right thing, and an undercurrent of rage at what life has served up these kids. Cris Beam brings careful listening, unflinching poise, and her own experience as a foster mother to this account of how the state tries to step up when parents can't."
—Ted Conover, author of Pulitzer-finalist Newjack and Coyotes

"To the End of June is a clear-eyed and heartfelt look at foster care in America. It will astound you and appall you. Cris Beam has written an extraordinary book about ordinary people trying to save kids' lives. She has cast a ray of light into a dark and hidden place."
—Tim Weiner, National Book Award-winning author of Legacy of Ashes