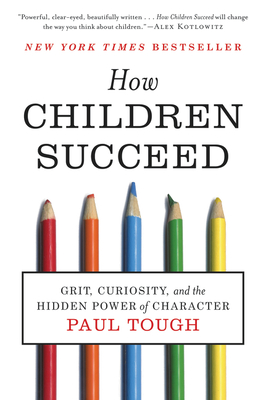 How Children Succeed
Grit, Curiosity, and the Hidden Power of Character
Paperback

* Individual store prices may vary.
Other Editions of This Title:
Digital Audiobook (1/20/2020)
Hardcover (9/4/2012)
Description
"A persuasive wake-up call."—People

A NEW YORK TIMES BESTSELLER

From the award-winning journalist Paul Tough, a provocative and profound examination of childhood success and character—an insightful study that reveals the power to transform young people's lives.

Why do some children succeed while others fail? The story we usually tell about childhood and success is the one about intelligence: success comes to those who score highest on tests, from preschool admissions to SATs. In How Children Succeed, Paul Tough argues that success has more to do with character—skills like perseverance, curiosity, optimism, and self-control. In this groundbreaking study, Tough introduces us to key researchers and educators, who, for the first time, are using the tools of science to peel back the mysteries of character. Through their stories—and the stories of the children they are trying to help—Tough reveals how character has the power to transform young people's lives. This provocative and profoundly hopeful book will not only inspire and engage readers—it will also change our understanding of childhood itself.
Praise For How Children Succeed: Grit, Curiosity, and the Hidden Power of Character…
"Drop the flashcards - grit, character, and curiosity matter even more than cognitive skills. A persuasive wake-up call."
—People Magazine "In this absorbing and important book, Tough explains why American children from both ends of the socioeconomic spectrum are missing out on these essential experiences. … The book illuminates the extremes of American childhood: for rich kids, a safety net drawn so tight it's a harness; for poor kids, almost nothing to break their fall."
—Annie Murphy Paul, The New York Times Book Review "An engaging book that casts the school reform debate in a provocative new light. … [Tough] introduces us to a wide-ranging cast of characters — economists, psychologists, and neuroscientists among them — whose work yields a compelling new picture of the intersection of poverty and education."
—Thomas Toch, The Washington Monthly "Mr. Tough's new book, How Children Succeed: Grit, Curiosity and the Hidden Power of Character, combines compelling findings in brain research with his own first-hand observations on the front lines of school reform. He argues that the qualities that matter most to children's success have more to do with character – and that parents and schools can play a powerful role in nurturing the character traits that foster success. His book is an inspiration. It has made me less of a determinist, and more of an optimist."
—Margaret Wente, The Globe and Mail "How Children Succeed is a must-read for all educators. It's a fascinating book that makes it very clear that the conventional wisdom about child development is flat-out wrong."
—School Leadership Briefing "I loved this book and the stories it told about children who succeed against big odds and the people who help them. … It is well-researched, wonderfully written and thought-provoking."
—Siobhan Curious, Classroom as Microcosm "How to Succeed takes readers on a high-speed tour of experimental schools and new research, all peppered with anecdotes about disadvantaged youths overcoming the odds, and affluent students meeting enough resistance to develop character strengths."
—James Sweeney, Cleveland Plain Dealer "[This] wonderfully written new book reveals a school improvement measure in its infancy that has the potential to transform our schools, particularly in low-income neighborhoods."
—Jay Mathews, Washington Post "Nurturing successful kids doesn't have to be a game of chance. There are powerful new ideas out there on how best to equip children to thrive, innovations that have transformed schools, homes, and lives. Paul Tough has scoured the science and met the people who are challenging what we thought we knew about childhood and success. And now he has written the instruction manual. Every parent should read this book – and every policymaker, too."
— Charles Duhigg, author of The Power of Habit "I wish I could take this compact, powerful, clear-eyed, beautifully written book and put it in the hands of every parent, teacher and politician. At its core is a notion that is electrifying in its originality and its optimism: that character — not cognition — is central to success, and that character can be taught. How Children Succeed will change the way you think about children. But more than that: it will fill you with a sense of what could be."
—Alex Kotlowitz, author of There Are No Children Here "Turning the conventional wisdom about child development on its head, New York Times Magazine editor Tough argues that non-cognitive skills (persistence, self-control, curiosity, conscientiousness, grit and self-confidence) are the most critical to success i —
Mariner Books, 9780544104402, 256pp.
Publication Date: July 2, 2013
About the Author
PAUL TOUGH is the author of Helping Children Succeed and How Children Succeed, which spent more than a year on the New York Times hardcover and paperback bestseller lists and was translated into twenty-eight languages. He is also the author of Whatever It Takes: Geoffrey Canada's Quest to Change Harlem and America. He is a contributing writer to the New York Times Magazine and a regular contributor to the public radio program This American Life. You can learn more about his work at paultough.com and follow him on Twitter: @paultough.