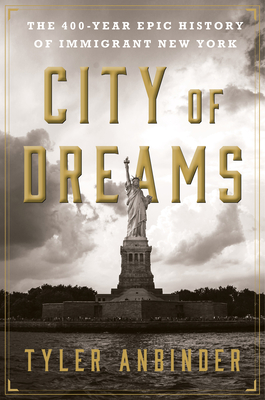 City of Dreams (Hardcover)
The 400-Year Epic History of Immigrant New York
Houghton Mifflin Harcourt, 9780544104655, 768pp.
Publication Date: October 18, 2016
Other Editions of This Title:
Paperback (10/10/2017)
* Individual store prices may vary.
Description
A defining American story of millions of immigrants, hundreds of languages, and one great city

New York has been America's city of immigrants for nearly four centuries. Growing from Peter Minuit's tiny settlement of 1626 to one with more than three million immigrants today, the city has always been a magnet for transplants from all over the globe. It is only fitting that the United States, a "nation of immigrants," is home to the only world city built primarily by immigration. More immigrants have entered the United States through New York than through all other entry points combined, making New York's immigrant saga a quintessentially American story.

City of Dreams is the long-overdue, inspiring, and defining account of New York's both famous and forgotten immigrants: the young man from the Caribbean who relocated to New York and became a Founding Father; an Italian immigrant who toiled for years at railroad track maintenance before achieving his dream of becoming a nationally renowned poet; Russian-born Emma Goldman, who condoned the murder of American industrialists as a means of aiding downtrodden workers; Dominican immigrant Oscar de la Renta, who dressed first ladies from Jackie Kennedy to Michelle Obama. Over ten years in the making, Tyler Anbinder's story is one of innovators and artists, revolutionaries and rioters, staggering deprivation and soaring triumphs. Today's immigrants are really no different from those who have come to America in centuries past—and their story has never before been told with such breadth of scope, lavish research, and resounding spirit.
About the Author
TYLER ANBINDER is a professor of history and former chair of the History Department at George Washington University. His first book, Nativism and Slavery, won the Avery Craven Prize of the Organization of American Historians. His second book, Five Points, won the New York City Book Prize of 2001. He served as a consultant to Martin Scorsese for Gangs of New York. His ancestors came to New York from southwest Germany, Poland, Ukraine, and Russia.
Praise For City of Dreams: The 400-Year Epic History of Immigrant New York…
"In publishing as in politics, timing is everything. Tyler Anbinder's sweeping City of Dreams: The 400-Year Epic History of Immigrant New York scores big on both counts. A richly textured guide to the history of our immigrant nation's pinnacle immigrant city has managed to enter the stage during an election season that has resurrected this historically fraught topic in all its fierceness."
—New York Times Book Review

"The story of how those waves of millions cascaded upon American shores is told brilliantly, even unforgettably…while this is a New York story, it really is an American story, one that belongs to all of us."
—Boston Globe

"Mr. Anbinder has provided a valuable service by crafting a single volume that focuses solely on New York as a gateway, a haven and a crucible that forged the fates of millions of immigrants who in turn shaped the destiny of our nation."
—Wall Street Journal

"City of Dreams is a rich, rewarding history of New York's master narrative: the expansive story of the city's immigrant past and present. It's a necessary book for any reader — New Yorker or not — curious to know the astonishing sweep of transforming migrations that have made the city the polyglot extravaganza that it is."
—PHILIP ROTH

"A masterful achievement, City of Dreams is the definitive account of the American origin story, as told through our premier metropolis. Bold, exhaustive, always surprising, Anbinder's book is a wonderful reminder of how we came to be who we are."
—TIMOTHY EGAN, author of The Immortal Irishman

"At last! A history of New York's immigrant experience from Peter Minuit right up to the present day, meticulously researched and wonderfully well-written. City of Dreams will captivate readers and historians alike."
—KEVIN BAKER, author of The Big Crowd

"Enlightening, impressive, and thorough, City of Dreams is a monumental endeavor: a great resource that fills in many historical blanks, and a riveting saga with something for everyone. And in these times of so much divisiveness and xenophobia, a necessary book, too. Tyler Anbinder reminds us that the dreams that brought my Dominican family to Nueva York are the very bedrock and foundation of this country."
—JULIA ALVAREZ, author of How the García Girls Lost Their Accents

"Like the City of New York itself, Tyler Anbinder's City of Dreams is a marvel — a work of astonishing breadth and depth that weaves many threads into a compelling whole. Anbinder's vibrant narrative stretches from the Dutch of New Amsterdam to the Fujianese of Sunset Park, from the Draft Riots to the Crown Heights riot, depicting waves of immigrants who have overcome persistent nativism to transform the city, the nation, and themselves."
—T.J. STILES, author of the Pulitzer Prize-winning biographies Custer's Trials and The First Tycoon

"A tale of tragedy and triumph that comes with political teeth...Anbinder is a master at taking a history with which many readers will be familiar—tenement houses, temperance societies, slums—and making it new, strange, and heartbreakingly vivid. The stories of individuals, including those of the entrepreneurial Steinway brothers and the tragic poet Pasquale D'Angelo, are undeniably compelling, but it's Anbinder's stunning image of New York as a true city of immigrants that captures the imagination." 
—Publishers Weekly, starred review

"This thoroughgoing work offers a host of immigrant sagas that were integral to the creation of the New York City cauldron...[Anbinder] impressively conveys the sense of a city truly forged by the people who were determined to live and work there... An endlessly fascinating kaleidoscope of American history. A fantastic historical resource." 
—Kirkus Reviews, starred review

"Full of fascinating, rock-solid history and provides compelling texture behind the larger trends... balanced and excellent." 
—Booklist, starred review
 
or
Not Currently Available for Direct Purchase