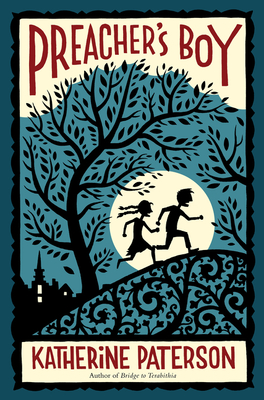 Preacher's Boy
Paperback

* Individual store prices may vary.
Other Editions of This Title:
Digital Audiobook (1/31/2013)
Description
It's 1899 in a small town in Vermont, and the turn of the century is coming fast. According to certain members of the church where Robbie's father is the preacher, the end of the century might even mean the end of the world. But Robbie has more pressing worries. He's sure his father loves his simple-minded brother, Elliot, better than him, and he can no longer endure the tiresome restrictions of Christianity. He decides to leave the fold and decides to live life to the fullest. His high-spirited and often hot-headed behavior does nothing to improve his father's opinion of him, nor does it improve the congregation's flagging opinion of his father. Not until the consequences of his actions hurt others does Robbie put a stop to the chain of events he has set off and begin to realize his father might love him after all.
Praise For Preacher's Boy…
Paterson is arguably the premier author among children's book writers today, and Preacher's Boy is another in a long list of titles (but not so long as to dilute her talent) that shows why. In this story, she takes a serious philosophical topic--what God wants from us and what we want from God--and shapes its profundity with irony and wit. It is the turn of the twentieth century, and Robbie, son of a preacher, is tired of trying to please God. Moreover, although Robbie's father is kind and gentle, it's not that easy to do what he wants, either. So when a fire-and-brimstone minister suggests that the world may be ending soon, Robbie decides that whatever time is left will be more fun without God in the equation. Like Huckleberry Finn (of whom there are many overtones), Robbie is willing to take his chances with eternity for the opportunity to do what he wants. But before long, Robbie has put his mentally disabled brother in danger, almost choked another boy to death in a fury, and masterminded a harebrained kidnapping hoax that might result in a man's execution. At every turn, Paterson splendidly balances Robbie's moral choices with pure entertainment, especially as it twists the plot. And though there are a couple of stereotypical characters, including a dirty vagabond girl and her drunkard father, even they are elevated because Paterson writes about them with humor and compassion. As the public demands more books with moral issues at their core, here's one that envelops readers with its principled reflections, instead of pounding them over their heads.
Booklist, ALA

Paterson (Celia and the Sweet, Sweet Water, 1998, etc.) rings out the 20th century with this ruminative tale of a 10-year-old freethinker, set in a small Vermont town at the very end of the century. Hearing a revivalist preacher's dark hints of impending doom, Robbie decides to become ``a heathen, a Unitarian, or a Democrat, whichever was most fun,'' because he ``ain't got the knack for holiness.'' As it turns out, he's not very good at sinning either, bending a few commandments by stealing food for a pair of vagrants, Violet and her abusive, alcoholic pa, Zeb, and feeling a stab of envy over the love his parents lavish on his simple-minded older brother, Elliot. He has a brush with serious evil, nearly drowning a rival who throws his clothes into a pond; the experience leaves him profoundly shocked at himself, and he ultimately earns redemption, in his own eyes, by saving Zeb from a charge of attempted murder. Despite some violence, the tone is generally light; if some situations are contrived, more thoughtful readers will look beyond them to the larger moral questions underlying Robbie's attitudes and choices.... Nourishing for mind and spirit both.
Kirkus Reviews

"Paterson, so adept at capturing a sense of time and place, returns once again to mine the richness of small-town Vermont during the 19th century. Here, she reflects on the approach of the previous century as she follows the adventures of energetic, mischievous Robbie Hewitt, a preacher's son with a bit of a temper, from Decoration Day in May, 1899, to the eve of January 1, 1900. . . . Paterson tells a multilayered coming-of-age story of loyalty, courage, and the enduring values of family. With warmth, humor, and her powerful yet plain style, Paterson draws empathetic and memorable characters. Readers share the anticipation and the joy of Robbie and his father as they welcome the 20th century at the book's end." School Library Journal, Starred

"Paterson captures the essence of an adolescent's fundamental questions of God and existence in this finely honed novel. . . . Once again placing universal conflict in a historical context, Paterson gives a compassionate, absorbing rendering of an adolescent boy trying to break free from social and religious constraints." Publishers Weekly, Starred —
Clarion Books, 9780544104907, 176pp.
Publication Date: October 22, 2013
About the Author
Katherine Paterson's international fame rests not only on her widely acclaimed novels but also on her efforts to promote literacy in the United States and abroad. A two-time winner of the Newbery Medal (Bridge to Terabithia and Jacob Have I Loved) and the National Book Award (The Great Gilly Hopkins and The Master Puppeteer), she has received many accolades for her body of work, including the Laura Ingalls Wilder Medal, the Hans Christian Andersen Medal, the Astrid Lindgren Memorial Award, and the Governor's Award for Excellence in the Arts, given by her home state of Vermont. She was also named a Living Legend by the Library of Congress. She served as the National Ambassador for Young People's Literature in 2010-2011.Ms. Paterson is vice president of the National Children's Book and Literacy Alliance (www.thencbla.org), which is a not-for-profit education and advocacy organization. The NCBLA's innovative projects actively promote literacy, literature, libraries, and the arts.  She is both an Alida Cutts Lifetime Member of the United States Board on Books for Young People (www.usbby.org) and a lifetime member of the International Board on Books for Young People (www.ibby.org).She and her husband, John, live in Montpelier, Vermont. They have four children and seven grandchildren. For more information, visit www.terabithia.com.

or
Not Currently Available for Direct Purchase