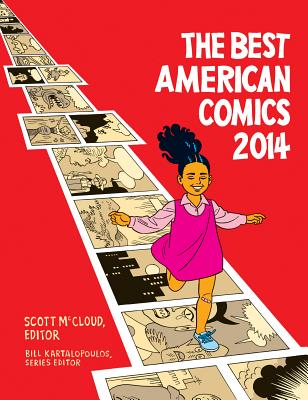 The Best American Comics 2014 (The Best American Series ®) (Hardcover)
Houghton Mifflin Harcourt, 9780544106000, 400pp.
Publication Date: October 7, 2014
* Individual store prices may vary.
Description
"It's the perfect book to pick up to restore your faith in comics or help show infinite diversity in infinite combinations on display on paper using the world's greatest artform." — Comics Bulletin
The Best American Comics showcases the work of both established and up-and-coming contributors and highlights both fiction and nonfiction — from graphic novels, pamphlet comics, newspapers, magazines, minicomics, and the Web — to make a unique, stunning collection. Frank Miller (Sin City, 300) called guest editor Scott McCloud "just about the smartest guy in comics."
About the Author
Scott McCloud has been writing, drawing, and examining comics since 1984. His works have won the Eisner and Harvey awards, and have been translated into more than sixteen languages. He is well known for his non-fiction books about comics, Understanding Comics, Reinventing Comics, and Making Comics and for creating the light-hearted science fiction/superhero comic book series Zot!
BILL KARTALOPOULOS is the publisher/editor of Rebus Books and the programming coordinator for SPX: The Small Press Expo. He was a cofounder and the programming director for the Brooklyn Comics and Graphics Festival. He is a member of the Executive Committee for the International Comic Arts Forum (ICAF), a contributing editor for Print magazine, and has worked as an assistant to Art Spiegelman for several years. He lives and works in Brooklyn.
Praise For The Best American Comics 2014 (The Best American Series ®)…
"Keeps raising the bar for comics as an art form." --USA Today

"A wide-ranging journey of 35 comics and interstitial text pieces that thoroughly engage the lifetime comics reader and the uninitiated alike...One splendidly eclectic trek, with McCloud as our especially articulate Sherpa." --The Washington Post
"A gorgeous book that does right by its subject matter...With its smart format and context, 'The Best American Comics 2014' not only manages to unite clashing styles under one roof, it also makes an intimidatingly vast world of gorgeous, often challenging art accessible to a general audience." --The Denver Post
"This edition may be the best one yet...[McCloud] constructs this collection in an interesting and thoughtful way that makes these excerpts of some of the year's best comics fit together in a cohesive manner." --Miami Herald
"If there's one thing Scott McCloud is better at than making comics, it'sexplaining comics, which makes him the best possible editor for this year's Best American Comics. McCloud's volume is surprising, delightful, diverse, brave and endlessly wonderful." --Boing, Boing
"The Best American Comics 2014 is the best edition of The Best American Comics to ever be published...The best book I've ever read in the whole Best American series. It's informative, funny, surprising, and a satisfying reading experience on its own. This should be the book that every Best American guest editor aspires to emulate in years to come." --The Stranger
"Whether you want a laugh, intrigue, romance, or just plain weird, there's something for everyone in this hardcover book." --The Awesomer

"McCloud could be the medium's foremost deep thinker...There is much to be gained from his comprehensive embrace of the form and his nuanced, knowledgeable, and friendly essays preceding each of the themed sections...A master class in how to find the universally accessible in the intimately personal and transform images into emotions...Every page drives home the point that, if you can add only one book to your adult graphic-novel collection this year, this has got to be it." --Booklist, starred review

"The latest annual roundup is more ambitious and conceptually audacious than is usual for any "Best American" series...The spirit of discovery makes this a good launching point for readers interested in the genre's variety and limitless possibility." --Kirkus

"Ever-essential...the widest-ranging comics collection of its kind...selected pieces are varied and absolutely vital...McCloud's entertaining and conversational introductions to each section educate and enlighten...offers readers the opportunity to discover new styles and a sense of the range of genres in the graphic novel world." --Publishers Weekly
or
Not Currently Available for Direct Purchase