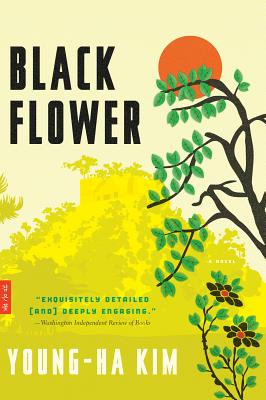 Black Flower (Paperback)
Mariner Books, 9780544106390, 320pp.
Publication Date: October 29, 2013
Other Editions of This Title:
Hardcover (10/30/2012)
MP3 CD (7/19/2016)
* Individual store prices may vary.
Description
"'Can a nation disappear forever?' . . . [In] a tale of collective loss, political revolution and the individual quest for self-determination . . . Kim brings us the souls caught up on the ground of this larger drama." — Minneapolis Star Tribune

In 1904, facing war and the loss of their nation, more than a thousand Koreans leave their homes for the promise of land in unknown Mexico. After a long sea voyage, these emigrants — thieves and royals, priests and soldiers, orphans and entire families — discover that they have been sold into indentured servitude.

Aboard the ship, the orphan Ijeong fell in love with a nobleman's daughter; separated when the hacendados claim their laborers, he vows to find her. Then, after years of working in the punishing heat of the henequen fields, the Koreans are caught in the midst of a Mexican revolution. A tale of star-crossed love, political turmoil, and the dangers of seeking freedom in a new world, Black Flower is an epic story based on a little-known moment in history.

"Kim is at the leading edge of a new breed of South Korean writers." — Philadelphia City Paper

"Spare and beautiful." — Publishers Weekly, starred review

"Readers who remember the historical fiction of Thomas B. Costain, Zoé Oldenbourg and Anya Seton will appreciate [Kim's] extensive research and empathic imagination." — Kirkus Reviews


About the Author
YOUNG-HA KIM is the author of seven novels—four published in the United States, including the acclaimed I Have the Right to Destroy Myself and the award-winning Black Flower—and five short-story collections. He has won every major Korean literature award, and his works have been translated into more than a dozen languages. He lives in Seoul, South Korea. 
Praise For Black Flower…
"Kim stumbled upon a little-known piece of history during a conversation on a trans-Pacific flight. This history was so fascinating, he wanted to base a novel on it. This is that novel. From the broad sweep of history to insightful and convincing individual instances of self-discovery, this book develops on many levels and shines a light on issues of gender, class, religious and racial conflicts, and the ways that disparate cultures clash and sometimes meld... Readers who remember the historical fiction of Thomas B. Costain, Zoe Oldenbourg and Anya Seton will appreciate the extensive research and empathic imagination that went into this novel." —Kirkus
"This sprawling epic novel dips heavily into the concurrent Mexican revolution and the treatment of the Mayans. Spare and beautiful, Kim's novel offers a look at the roots of the little-known tribulations of the Korean diaspora in Mexico."
—Publishers Weekly, boxed review
 "[
Black Flower
] shines light on how immigrants coped during a terrible historical moment." —
Booklist
 "Kim Young-ha takes a small moment of Korean history, when 1,033 Koreans embarked as contracted laborers in Mexico on April 4, 1905, and transforms this moment into a powerful, sweeping epic that resonates across continents and oceans, bridging East and West . . . Kim seamlessly weaves the history and the social structure of Mexico into the story of the Koreans, a story of exploitation and greed, while he also shows the resiliency and dignity of the Korean characters who adapt to the harsh conditions and cope as best they can . . . The scope and breadth of Kim Young-ha's talent is evident on every page of this breathtaking novel . . . This novel engages, informs, and in a paraphrase of Kafka, breaks the frozen sea within us." —
List Magazine