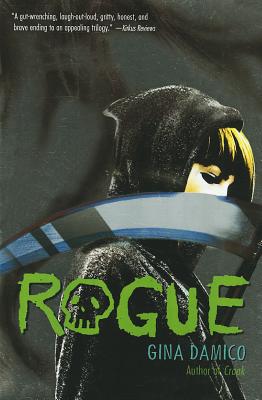 Rogue
Paperback

* Individual store prices may vary.
Description
Lex, a teenage Grim Reaper, has the power to Damn souls, and it's getting out of control. Her boyfriend, Driggs, is dead . . . sort of. She's a fugitive, on the run from the maniacal new mayor of Croak and the townspeople who want to see her pay the price for her misdeeds. Uncle Mort rounds up the Junior Grims to flee Croak once again, but this time they're joined by Grotton, the most powerful Grim of all time. Their new mission is clear: Fix his mistakes, or the Afterlife will cease to exist, along with all the souls in it.
     The gang heads for Necropolis, the labyrinth-like capital city of the Grimsphere. There, they discover that the Grimsphere needs a reboot. To do that, the portals to the Afterlife must be destroyed . . . but even that may not be enough to fix the damage. Things go from bad to worse, and when at last the fate of the Afterlife and all the souls of the Damned hang in the balance, it falls to Lex and her friends to make one final, impossible choice.
Praise For Rogue…
PRAISE FOR ROGUE "A gut-wrenching, laugh-out-loud, gritty, honest and brave ending to an appealing trilogy."
—Kirkus

"Fans of Croak and Scorch will be dying to get their hands on this third and final book about Lex and her teenage grim-reaper friends and relations."
—VOYA, 3Q 4P J S   "The final installment of Damico's morbid and humorous 'Croak' trilogy . . . snarky comments between characters, humorous pop culture references, and quirky Afterlife denizens keep the story from being too heavy."
—School Library Journal

PRAISE FOR CROAK "Go ahead and die laughing, knowing that the safe transport of your mortal soul will be the summer job of a sweetheart teen with godlike power and discipline problems. A lot of books make me wish I could live within their pages, but I wouldn't mind dying in this one."
—Adam Rex, author of Fat Vampire

"Creepy and hilarious."
—VOYA, 4Q, 5P

PRAISE FOR SCORCH "An amusing blend of whimsy and humor with serious drama and blood."
—Kirkus Reviews

"Characters are always as clever as we wish we were. . . . An irresistible blend of impending doom, irreverent humor, hormone-fueled make-out sessions, and creative world-building make this sequel stronger than its predecessor and will leave readers dying for the next book."
—School Library Journal —
Clarion Books, 9780544108844, 336pp.
Publication Date: September 10, 2013
About the Author
Gina Damico is the author of Hellhole, Wax, and the grim-reapers-gone-wild books of the Croak trilogy. She has also dabbled as a tour guide, transcriptionist, theater house manager, scenic artist, movie extra, office troll, retail monkey, yarn hawker and breadmonger. A native of Syracuse, New York, she now lives in Los Angeles with her husband, two cats, one dog, and an obscene amount of weird things purchased from yard sales. Visit her website at www.ginadami.co.
or
Not Currently Available for Direct Purchase