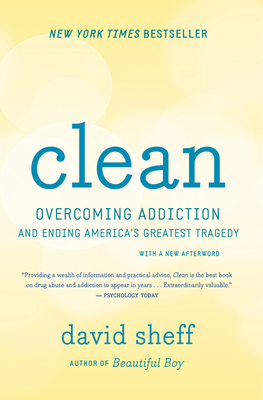 Clean
Overcoming Addiction and Ending America's Greatest Tragedy
Paperback

* Individual store prices may vary.
Other Editions of This Title:
Digital Audiobook (4/1/2013)
MP3 CD (10/1/2014)
Compact Disc (1/7/2014)
Description
A myth-shattering look at drug abuse and addiction treatment, based on cutting-edge research
Addiction is a preventable, treatable disease, not a moral failing. As with other illnesses, the approaches most likely to work are based on science — not on faith, tradition, contrition, or wishful thinking. These facts are the foundation of Clean. The existing addiction treatments, including Twelve Step programs and rehabs, have helped some, but they have failed to help many more. To discover why, David Sheff spent time with scores of scientists, doctors, counselors, and addicts and their families, and explored the latest research in psychology, neuroscience, and medicine. In Clean, he reveals how addiction really works, and how we can combat it.
"A guide for those affected by addiction, but also a manifesto . . . for America as it confronts its drug problem. [Sheff] has performed a vital service by compiling sensible advice on a subject for which sensible advice is in short supply." — New York Times Book Review
"As a journalist, father, and clear-eyed chronicler of addiction, David Sheff is without peer." — Sanjay Gupta, M.D., chief medical correspondent, CNN
Praise For Clean: Overcoming Addiction and Ending America's Greatest Tragedy…
"Clean will change not only how you look at drug abuse, but also what you think should be done about it. This book is essential reading about one of our most important social problems." — Eric Schlosser, author of Fast Food Nation and Reefer Madness  "In Beautiful Boy, David Sheff gave voice to the silent — the millions of addicts and their families. Now in Clean, he offers them a path toward healing. Our nation is sinking into an epidemic. This book offers realistic hope for recovery from addiction for those who suffer the disease." — Drew Pinsky, M.D., host of Dr. Drew  "How do we prevent kids from using drugs, and how do we effectively treat addiction? Clean cuts through the technical jargon and marketing nonsense to summarize our best knowledge on these topics. The case studies illuminate the challenging process of treatment and the remarkable changes that occur with recovery. Clean is a major contribution to our understanding of this disease and how to fight it." — Richard A. Rawson, Ph.D., professor and associate director, Integrated Substance Abuse Programs, Geffen School of Medicine, University of California at Los Angeles  "Clean is an important exposé of a failed system; by replacing it, we will save countless lives, help people get clean and stay clean, and help the U.S. end its catastrophic war on drugs." — Sir Richard Branson, founder and chairman, Virgin Group, and member of the Global Commission on Drug Policy  "David Sheff is one of our strongest and most compassionate voices on the profound costs of addiction to the family and to society. Clean should be read by anyone affected by the number-one public health issue in America, which means it should be ready by everybody." — Christopher Kennedy Lawford, author of Recover to Live and Symptoms of Withdrawal  "David Sheff has written the most important book about addiction in a decade. Clean is a blueprint for thinking clearly — and empathetically — about America's costliest and most misunderstood public health crisis." — Benoit Denizet-Lewis, author of America Anonymous  "Indisputably important."  —  Library Journal "Gripping and vibrant."  — Publishers Weekly  "Intelligent and thought-provoking views into the complexities of addiction and recovery."  — Kirkus Reviews "Providing a wealth of information and practical advice, Clean is the best book on drug abuse and addiction to appear in years… Clean busts a mountain of myths… An extraordinarily valuable book." – Glenn C. Altschuler, Cornell University, and Patrick M. Burns, Cornell University, reviewing for The Huffington Post   —
Mariner Books, 9780544112322, 400pp.
Publication Date: January 7, 2014
About the Author
DAVID SHEFF is the author of several books, including the #1 New York Times best-selling memoir Beautiful Boy. His writing has appeared in the New York Times, the New York Times Magazine, Rolling Stone, Playboy, Wired, and many other publications. His ongoing research and reporting on the science of addiction earned him a place on Time magazine's list of the World's Most Influential People. Sheff and his family live in the San Francisco Bay Area. Visit David at DavidSheff.com, and on Twitter @david_sheff.