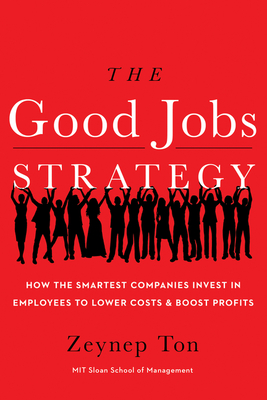 The Good Jobs Strategy
How the Smartest Companies Invest in Employees to Lower Costs and Boost Profits
Hardcover

* Individual store prices may vary.
Other Editions of This Title:
Digital Audiobook (1/13/2014)
Other (2/8/2022)
MP3 CD (6/2/2015)
Compact Disc (1/14/2014)
Description
Almost one in four American working adults has a job that pays less than a living wage. Conven­tional wisdom says that's how the world has to work. Bad jobs with low wages, minimal benefits, little training, and chaotic schedules are the only way companies can keep costs down and prices low. If companies were to offer better jobs, cus­tomers would have to pay more or companies would have to make less.
 
But in The Good Jobs Strategy, Zeynep Ton, a professor at the MIT Sloan School of Management, makes the compelling case that even in low-cost settings, leaving employees behind—with bad jobs—is a choice, not a necessity. Drawing on more than a decade of research, Ton shows how operational excellence enables companies to of­fer the lowest prices to customers while ensuring good jobs for their employees and superior results for their investors.
 
Ton describes the elements of the good jobs strategy in a variety of successful companies around the world, including Southwest Airlines, UPS, Toyota, Zappos, and In-N-Out Burger. She focuses on four model retailers—Costco, Merca­dona, Trader Joe's, and QuikTrip—to demonstrate the good jobs strategy at work and reveals four choices that have transformed these compa­nies' high investment in workers into lower costs, higher profits, and greater customer sat­isfaction.
 
Full of surprising, counterintuitive insights, the book answers questions such as: How can offering fewer products increase customer sat­isfaction? Why would having more employees than you need reduce costs and boost profits? How can companies simultaneously standardize work and empower employees?
 
The Good Jobs Strategy outlines an invaluable blueprint for any organization that wants to pur­sue a sustainable competitive strategy in which everyone—employees, customers, and investors—wins.
 
Praise For The Good Jobs Strategy: How the Smartest Companies Invest in Employees to Lower Costs and Boost Profits…
"In this brilliantly conceived and written book, Zeynep Ton shows that companies that view their workforce as an asset to be maximized rather than a cost to be minimized, have both happier workers and better business results. This book is a 'must read' for anyone that wants to think creatively about how they manage their workforce." —Marshall Fisher, professor at The Wharton School and co-author of The New Science of Retailing
 
"Using years of research and analysis, Zeynep Ton has proven what great leaders know instinctively—an engaged, well-paid  workforce that is treated with dignity and respect creates outsized returns for investors. She demonstrates that the race to the bottom in retail employment doesn't have to be the only game being played. In fact, The Good Jobs Strategy shows that smart business leaders can create great shareholder value while creating good jobs." —José Alvarez, senior lecturer at Harvard Business School and former president and CEO of Stop & Shop
 
"Stop the presses. Tear out the front page. Employers can increase profits by paying their employees more and treating them better. Raising wages and improving working conditions is not just a matter of public policy. The private sector itself can make a huge difference.  Everyone who cares about good jobs—and especially every CEO—needs to read this highly informative and thoroughly readable book." —Peter Edelman, professor of law at Georgetown Law Center and author of So Rich, So Poor: Why It's So Hard to End Poverty in America
 
"In The Good Jobs Strategy, Zeynep Ton offers insights into how successful companies utilize operational excellence to thrive, and she reminds us that the spirit and culture of an organization—that sparkle in the eye—comes only from fully engaged employees." —Michael Eskew, former CEO of UPS —
Harper Business, 9780544114449, 240pp.
Publication Date: January 14, 2014
About the Author
ZEYNEP TON has been a professor at MIT's Sloan School of Management since 2011. Previously she was on the faculty of the Harvard Business School, where she was given an award for excellence in teaching in 2010.