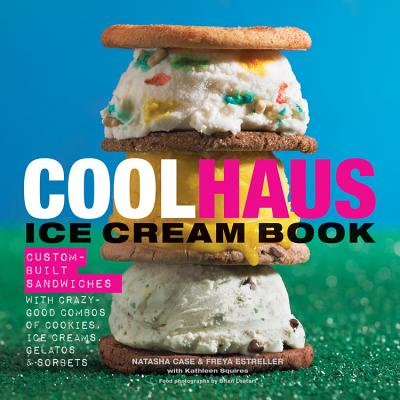 Coolhaus Ice Cream Book: Custom-Built Sandwiches with Crazy-Good Combos of Cookies, Ice Creams, Gelatos, and Sorbets (Hardcover)
Custom-Built Sandwiches with Crazy-Good Combos of Cookies, Ice Creams, Gelatos, and Sorbets
Rux Martin/Houghton Mifflin Harcourt, 9780544120044, 240pp.
Publication Date: May 20, 2014
Description
From abeat-up postal van turned food truck, Coolhaus has rocketed to a national brand. Yahoo called it the best ice cream in America. Theinventive sandwiches, named after famous architects, are sold in supermarkets across the country, as well as from trucks in Los Angeles, New York, Austin, and Dallas.Coolhaus hasdrawn accolades from the "New York Times," "Every Day with Rachael Ray," "Time," and "Good Morning America," to name a few, and from suchcelebrities as Will Ferrell, Jimmy Kimmel, and Alex Guarnaschelli.
Now the owners part with the recipes for their coolest creations, like the BuckMINTster Fuller (Dirty Mint ChipIce Cream with Chocolate ChipCookies) and the Frank Behry (Strawberry Gelato with Snickerdoodles). Daring flavors range from classic (Cookies and Sweet Cream), to boozy (Bourbon Manhattan), to vegan (Lychee Martini), and even savory (Fried Chicken and Waffle).
Sandwiched among the treats are tips on ice cream making, profiles of major and up-and-coming architects, and amusing tales ofthe owners forays into the ice cream business.
About the Author
Natasha Case is a Los Angeles native. She attended UC Berkeley for undergraduate studies, where she majored in architecture and double minored in city and regional planning and Italian studies. Natasha furthered these studies at UCLA, where she pursued a master of architecture and, after graduating, worked as an architectural intern at Walt Disney Imagineering in hotel and master planning. During this time, she started baking cookies and making ice cream and naming the ice cream sandwich combinations after famous architects and architectural movements. She handed them out to her peers, who found them to be tasty comic relief in spite of recent layoffs and discussion of further impending cutbacks. She had also just met Freya, who was helping her make the product behind the scenes and was putting numbers to the concept as a business model. Natasha works today as the CEO of Coolhaus, creating new product opportunities, building new relationships, and innovating ideas that keep Coolhaus on top of its game as zealous expansion continues. Freya Estreller is cofounder and co-owner of Coolhaus. She was born and raised in Los Angeles, CA, and has a BA in sociology with a minor in business from Cornell University. Prior to founding Coolhaus, she worked in real estate development, design, and finance, helping to build and/or renovate more than three hundred housing units on the East and West Coasts. She currently splits her time between Los Angeles, New York City, and Austin (where all the trucks are!), has a mini schnauzer named Hamilton, whom she fiercely loves, and is thankful every day for getting to live her entrepreneurial dream. Kathleen Squires is a food writing veteran whose work has spanned book, blog, newsprint, and magazine. Her work has appeared in Saveur, the Wall Street Journal, Cooking Light, Zagat.com, Gourmet, New York magazine, National Geographic Traveler, Real Simple, Budget Travel, Time Out New York, the New York Daily News, the New York Post, the New York Observer, Metro, Paper, and many other publications. She lives in New York City."
Coverage from NPR
Advertisement