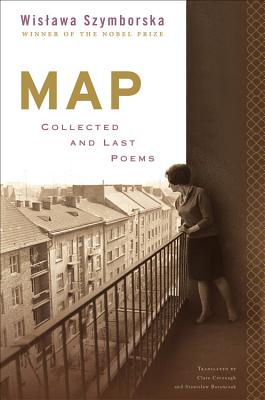 Map
Collected and Last Poems
Hardcover

* Individual store prices may vary.
Other Editions of This Title:
Paperback (4/12/2016)
Description
A new collected volume from the Nobel Prize–winning poet that includes, for the first time in English, all of the poems from her last Polish collection
One of Europe's greatest recent poets is also its wisest, wittiest, and most accessible. Nobel Prize–winner Wislawa Szymborska draws us in with her unexpected, unassuming humor. Her elegant, precise poems pose questions we never thought to ask. "If you want the world in a nutshell," a Polish critic remarks, "try Szymborska." But the world held in these lapidary poems is larger than the one we thought we knew.

Carefully edited by her longtime, award-winning translator, Clare Cavanagh, the poems in Map trace Szymborska's work until her death in 2012. Of the approximately two hundred and fifty poems included here, nearly forty are newly translated; thirteen represent the entirety of the poet's last Polish collection, Enough, never before published in English.
Map is the first English publication of Szymborska's work since the acclaimed Here, and it offers her devoted readers a welcome return to her "ironic elegance" (The New Yorker).
Praise For Map: Collected and Last Poems…
New York Times Editor's Choice
New York Times Paperback Row

"Both plain-spoken and luminous…Szymborska's skepticism, her merry, mischievous irreverence and her thirst for the surprise of fresh perception make her the enemy of all tyrannical certainties. Hers is the best of the Western mind—free, restless, questioning."--New York Times Book Review

"Vast, intimate, and charged with the warmth of a life fully imagined to the end, there's no better place for those unfamiliar with her work to begin."--Megan O'Grady, Vogue

"An extraordinary and vital summation of Szymborska's decidedly modest output...Not only is Szymborska a major poet of the last half century but Map, as a reading experience, is wonderful, illuminating and enriching, a reminder that poetry can be direct, unadorned and still deeply moving...Weigh the mastery of Wisława Szymborska, read Map, read any of her poems this year, the 20th anniversary of her Nobel Prize, if only for a short while."—Literary Hub

"Listening to Clare Cavanagh speak of translation as an art is a reminder that translators must be as adept as poets at working with words...Map is not only impressive because of Szymborska's precise, intimate, and observationally funny poems...but because of Cavanagh and Baranczak's tireless dedication in bringing them to English without sacrificing their forms."--Jacob Victorine, Publishers Weekly Profile

"Nobel laureate Szymborska's gorgeous posthumous collection, translated and edited by her confidant, Cavanagh, with Baranczak, includes more than 250 poems, selected from 13 books, dating back to 1952, as well as previously unreleased poems from as far back as 1944. This revered Polish poet, who came to fame well after the poet Charles Simic first handed her work to an editor, interweaves insights into the suffering experienced during WWII and the Cold War brutalities of Stalin with catchy, realistic, colloquial musings on obvious and overlooked aspects of survival. Her poems are revelatory yet rooted in the everyday. She writes about living with horrors, and about ordinary lives: people in love, at work, enjoying a meal. Throughout, Szymborska considers loss and fragility, as when former lovers walk past each other and an aging professor is no longer allowed his vodka and cigarettes. She writes, too, of the imprecision of memory, and in the title poem, the discovery that maps "give no access to the vicious truth." This is a brilliant and important collection."— Mark Eleveld, Booklist, starred review

"Szymborska (1923–2012), winner of the 1996 Nobel Prize in Literature, has her vast and impressive poetic repertoire on full display in this posthumously published volume. Ordered chronologically, the book reveals her development over seven decades, including a gradual departure from end rhyme and the sharpening of her wit. As multitudinous as Whitman, she conveyed deep feeling through vivid, surreal imagery and could revive clichéd language by reconnecting it to the body in startling ways: "Listen,/ how your heart pounds inside me." To say that Szymborska wore many hats as a poet is an understatement: odes, critiques, and persona poems are just a few of the forms her writing took. Yet, despite their diversity, the constants of her poems were nuance and observational humor: 'Four billion people on this earth,/ but my imagination is still the same.' Also apparent is Szymborska's rare ability to present an epiphany in a single line, and her bravery in writing toward death: 'But time is short. I write.' Ever the student, she obsessively explored the histories and processes of writing, never far from penning another Ars Poetica. 'Everything here is small, near, accessible,' Szymborska writes in the title poem—a maxim about the way the reader feels within her lines."--Publishers Weekly, starred and boxed review
Houghton Mifflin Harcourt, 9780544126022, 464pp.
Publication Date: April 7, 2015
About the Author
WISLAWA SZYMBORSKA (1923–2012) was born in Poland and worked as a poetry editor, translator, and columnist. She was awarded the Nobel Prize in Literature in 1996.
STANSILAW BARANCZAK, born in Poland in 1946, was a poet, literary critic, scholar, editor, translator and lecturer. He received numerous honors and awards, including a Guggenheim Felllowship, and translated many seminal works—including the work of William Shakespeare, E.E. Cummings, and Emily Dickinson—from English into Polish.
CLARE CAVANAGH, professor of Slavic and comparative literature at Northwestern, has received a PEN Translation Award for her work, with Stanislaw Baranczak, on Szymborska's poetry.
or
Not Currently Available for Direct Purchase