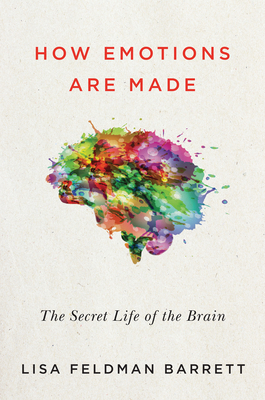 How Emotions Are Made
The Secret Life of the Brain
Hardcover

* Individual store prices may vary.
Other Editions of This Title:
Digital Audiobook (3/6/2017)
Paperback (3/13/2018)
MP3 CD (3/6/2018)
Compact Disc (3/6/2018)
Compact Disc (3/7/2017)
Description
A new theory of how the brain constructs emotions that could revolutionize psychology, health care, law enforcement, and our understanding of the human mind

Emotions feel automatic, like uncontrollable reactions to things we think and experience. Scientists have long supported this assumption by claiming that emotions are hardwired in the body or the brain. Today, however, the science of emotion is in the midst of a revolution on par with the discovery of relativity in physics and natural selection in biology—ans this paradigm shift has far-reaching implications for us all.
  
Leading the charge is psychologist and neuroscientist Lisa Feldman Barrett, whose theory of emotion is driving a deeper understanding of the mind and brain, and shedding new light on what it means to be human. Her research overturns the widely held belief that emotions are housed in different parts of the brain and are universally expressed and recognized. Instead, she has shown that emotion is constructed in the moment, by core systems that interact across the whole brain, aided by a lifetime of learning. This new theory means that you play a much greater role in your emotional life than you ever thought. Its repercussions are already shaking the foundations not only of psychology but also of medicine, the legal system, child-rearing, meditation, and even airport security.
  
Why do emotions feel automatic? Does rational thought really control emotion? How does emotion affect disease? How can you make your children more emotionally intelligent? How Emotions Are Made answers these questions and many more, revealing the latest research and intriguing practical applications of the new science of emotion, mind, and brain. 
Praise For How Emotions Are Made: The Secret Life of the Brain…
"Barrett's is a singular book, remarkable for the freshness of its ideas and the boldness and clarity with which they are presented."
—Scientific American

"Chock-full of startling, science-backed findings...an entertaining and engaging read."
—Forbes

"Fascinating...a thought-provoking journey into emotion science."
—The Wall Street Journal

"Fascinating... If you want to read emotions better, read this book."
—Harper's Bazaar

"I have never seen a book so devoted to understanding the nature of emotions...the book is down-to-earth and a delight to read. With a high level of knowledge and articulate style, Barrett delivers a prime example of modern prose in digestible chunks."
—Seattle Book Review, 5 Stars

"Most of us make our way through the world without thinking a lot about what we bring to our encounters with it. Lisa Feldman Barrett does—and what she has to say about our perceptions and emotions is pretty mind-blowing."
—Elle

"Drawing on neuroscience and experimental psychology to overturn the assumption that emotions are innate and universal, this book describes them as 'goal-based' concepts designed to help us categorize experience...Upbringing has the biggest influence, but we can all reshape our mental makeup and learn new concepts. The latter part of the book considers how doing so can affect our health, the law, and our relationship with the natural world. As Barrett frequently repeats, 'You are an architect of your experience.'"
—The New Yorker, "Briefly Noted"

"A neuroscientist offers an enjoyable guide to a revolutionary scientific theory of emotion and its practical applications."
—Shelf Awareness

"Prepare to have your brain twisted around as psychology professor Barrett takes it on a tour of itself... Her enthusiasm for her topic brightens every amazing fact and theory about where our emotions come from...each chapter is chockablock with startling insights. ...Barrett's figurative selfie of the brain is brilliant."
— Booklist, STARRED

"A well-argued, entertaining disputation of the prevailing view that emotion and reason are at odds...Highly informative, readable, and wide-ranging."
—Kirkus Reviews, STARRED review

"Barrett (psychology, Northeastern Univ.) presents a new neuroscientific explanation of why people are more swayed by feelings than by facts. She offers an unintuitive theory that goes against not only the popular understanding but also that of traditional research: emotions don't arise; rather, we construct them on the fly. Furthermore, emotions are neither universal nor located in specific brain regions; they vary by culture and result from dynamic neuronal networks. These networks run nonstop simulations, making predictions and correcting them based on the environment rather than reacting to it. Tracing her own journey from the classical view of emotions, Barrett progressively builds her case, writing in a conversational tone and using down-to-earth metaphors, relegating the heaviest neuroscience to an appendix to keep the book accessible. Still, it is a lot to take in if one has not been exposed to these ideas before. VERDICT The theories of emotion and the human brain set forth here are revolutionary and have important implications. For readers interested in psychology and neuroscience as well as those involved in education and policy."
—Library Journal, STARRED review

"This meticulous, well-researched, and deeply thought out book reveals new insights about our emotions—what they are, where they come from, why we have them.  For anyone who has struggled to reconcile brain and heart, this book will be a treasure; it explains the science without short-changing the humanism of its topic."—Andrew Solomon, best-selling author of Far From the Tree and The Noonday Demon
 
"A brilliant and original book on the science of emotion, by the deepest thinker about this topic since Darwin."—Daniel Gilbert, best-selling author of Stumbling on Happiness

"Ever wonder where your emotions come from? Lisa Barrett, a world expert in the psychology of emotion, has written the definitive field guide to feelings and the neuroscience behind them."—Angela Duckworth, best-selling author of Grit

"We all harbor an intuition about emotions: that the way you experience joy, fear or anger happens automatically and is pretty much the same in a Kalahari hunter-gatherer.  In this excellent new book, Lisa Barrett draws on contemporary research to offer a radically different picture: that the experience of emotion is highly individualized, neurobiologically idiosyncratic, and inseparable from cognition.  This is a provocative, accessible, important book."—Robert Sapolsky, author of Why Zebras Don't Get Ulcers and A Primate's Memoir

"Everything you thought you knew about what you feel and why you feel it turns out to be stunningly wrong. Lisa Barrett illuminates the fascinating new science of our emotions, offering real-world examples of why it matters in realms as diverse as  health, parenting, romantic relationships and national security."
—Peggy Orenstein, author of Girls & Sex

"After reading How Emotions Are Made, I will never think about emotions the same way again. Lisa Barrett opens up a whole new terrain for fighting gender stereotypes and making better policy."—Anne-Marie Slaughter, author of Unfinished Business
 
"What if everything you thought you knew about lust, anger, grief, and joy was wrong? Lisa Barrett is one of the psychology's wisest and most creative scientists and her theory of constructed emotion is radical and fascinating. Through vivid examples and sharp, clear prose, How Emotions are Made defends a bold new vision of the most central aspects of human nature." ​—Paul Bloom, author of Against Empathy and How Pleasure Works

"Lisa Barrett writes with great clarity about how your emotions are not merely about what you're born with, but also about how your brain pieces your feelings together, and how you can contribute to the process. She tells a compelling story."—Joseph LeDoux, author of Anxious and Synaptic Self

"How Emotions Are Made offers a grand new conception of emotions—what they are, where they come from, and (most importantly) what they aren't.  Brain science is the art of the counterintuitive and Lisa Barrett has a remarkable capacity to make the counterintuitive comprehensible.  This book will have you smacking your forehead wondering why it took so long to think this way about the brain."—Stuart Firestein, author of Failure: Why Science is So Successful and Ignorance: How It Drives Science

"How Emotions Are Made is a provocative, insightful, and engaging analysis of the fascinating ways that our brains create our emotional lives, convincingly linking cutting edge neuroscience studies with everyday emotions. You won't think about emotions in the same way after you read this important book."—Daniel L. Schacter, author of The Seven Sins of Memory

"Lisa Barrett masterfully integrates discoveries from affective science, neuroscience, social psychology, and philosophy to make sense of the many instances of emotion that you experience and witness each day. How Emotions are Made will help you remake your life, giving you new lenses to see familiar feelings—from anxiety to love—anew."—Barbara Fredrickson, author of Positivity and Love 2.0

"How Emotions are Made is a tour de force in the quest to understand how we perceive, judge and decide. It lays the groundwork to address many of the mysteries of human behavior. I look forward to how this more accurate view of emotion will help my clients in athletics and trading."
—Denise K. Shull, MA, Founder and CEO of The ReThink Group

"With How Emotions Are Made, Lisa Feldman Barrett has set the terms of debate for emotion theory in the 21st century.  In clear, readable prose, she invites us to question both lay and expert understandings of what emotions are—and she musters an impressive body of data to suggest new answers.  Barrett's theory of how we construct emotions has major implications for law, including the myth of dispassionate judging.  Her 'affective science manifesto for the legal system' deserves to be taken seriously by theorists and practitioners alike."
—Terry Maroney, Professor of Law and Professor of Medicine, Health and Society, Vanderbilt University

"Every lawyer and judge doing serious criminal trials should read this book. We all grapple with the concepts of free will, emotional impulses, and criminal intent, but here these topics are exposed to a new scrutiny and old assumptions are challenged. The interface of law and brain science is suddenly the area we ought to be debating."
—Baroness Helena Kennedy, QC House of Lords, U.K.

"Extraordinarily well written, Lisa  Barrett's How Emotions are Made chronicles a paradigm shift in the science of emotion.  But more than just a chronicle, this book is a brilliant work of translation, translating the new neuroscience of emotion into understandable and readable terms.  Since that science has profound implications in areas as disparate as police shootings and TSA profiling, the translation is critical for scientists and citizens, lawmakers and physicians.  (For example, what if there is no meaningful scientific difference between premeditated murder, the product of rational thought, which we consider most culpable, and the lesser offense of manslaughter, a 'crime of passion?') Emotions do not reside in dedicated brain areas, constantly at war with areas charged with cognition or perception, as Pixar caricatured it in Inside out, let alone the brain described by Descartes or Plato or other philosophers.   Nor does the brain passively retrieve data from "outside" to which it reacts. The brain constructs the reality it perceives, and the emotions it (and we) experience, using  core brain systems, not specialized circuits. And it does so in concert with other brains, with the culture surrounding it.  The implications of this work ('only' challenging two thousand year old assumptions about the brain) and its ambitions are nothing short of stunning.  Even more stunning is how extraordinarily well it succeeds."—Nancy Gertner, Senior Lecturer on Law, Harvard Law School, and former U.S. federal judge for the United States District Court of Massachusetts
Mariner Books, 9780544133310, 448pp.
Publication Date: March 7, 2017
About the Author
LISA FELDMAN BARRETT, PhD, is a University Distinguished Professor of Psychology at Northeastern University. She received a National Institutes of Health Director's Pioneer Award for her groundbreaking research on emotion in the brain, and is an elected member of the Royal Society of Canada. Barrett is the author of How Emotions are Made and Seven and a Half Lessons About the Brain.
or
Not Currently Available for Direct Purchase