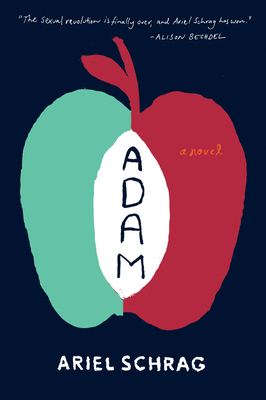 Adam
Paperback

* Individual store prices may vary.
Other Editions of This Title:
Digital Audiobook (11/18/2019)
MP3 CD (11/19/2019)
Description
NOW A MAJOR MOTION PICTURE. A sweet and subversive coming-of-age novel by award-winning memoirist and screenwriter Ariel Schrag.

When Adam Freedman—a skinny, awkward, inexperienced teenager from Piedmont, California—goes to stay with his older sister Casey in New York City, he is hopeful that his life is about to change. And it sure does.

It is the summer of 2006. Gay marriage and transgender rights are in the air, and Casey has thrust herself into a wild lesbian subculture. Soon Adam is tagging along to underground clubs, where there are hot older women everywhere he turns. It takes some time for him to realize that many in this new crowd assume he is trans—a boy who was born a girl. Why else would this baby-faced guy always be around?

Then Adam meets Gillian, the girl of his dreams—but she couldn't possibly be interested in him. Unless passing as a trans guy might actually work in his favor . . .

Ariel Schrag's scathingly funny and poignant debut novel puts a fresh spin on questions of love, attraction, self-definition, and what it takes to be at home in your own skin.

"An insightful, funny, and unexpected love story."—Aimee Mann

"[An] audacious coming-of-age novel."—Miami Herald

"Compulsively readable."—Bookforum

"Hilarious...Schrag's riotous, poignant debut novel will leave you reeling."—SF Weekly
Praise For Adam…
"The book is sincere, dirty (but not in an excessive way), and downright hilarious. Schrag somehow manages to walk the increasingly thin tightrope of being respectful and yet brutally honest about transgender issues...While this book will surely be on the summer reading list for anybody with a family member or dear friend that fits under the LGBT umbrella, it could and should be enjoyable to anybody who picks it up. After all, its core message is universal. Surviving our teenage years is no small task." --The Daily Beast "[Ariel Schrag] the lesbian graphic memoirist, a successor to Alison Bechdel, breaks out..." --Boris Kachka,Vulture, "8 Books You Need to Read This June" "This hilarious, frank look at a young man pretending to be a trans-man in order to get a girl is transgressive and brutally honest—the rare book that pulls no punches for anyone."--Brooklyn Magazine, "25 Best Brooklyn Books of the Decade" "Colorful and smart, [ADAM] understands that the struggle to discover one's identity is somehow both ubiquitous and unique. With deep empathy and wit and humanity, Schrag has accomplished the seemingly impossible challenge of making the experience of marginalization and isolation feel universal." --Grantland, "June Book Recommendations: Young Adult for Adults" "Ariel Schrag is one of the most talented human beings alive...Schrag's writing is sharp and stylish but also effortlessly graceful; you almost don't notice how great her sentences are because they flow straight into your brain, situating themselves there like some better, funnier version of your own thoughts." --Emily Gould, The Millions "Compulsively readable, Adam sometimes seems like a YA novel, only with way more explicit sex. The book is also philosophical, presenting at its core, a question about gender, desire, and subjectivity: is sexual identity defined by who you have sex with, or who you think you're having sex with….The gimmick at the center of Adam is a good one, and the complicated issues it provokes are profound." -- Bookforum "While the book is funny, it's also quietly revolutionary—Schrag writes honestly about gender identity and sexuality in a way that's extremely rare, maybe unprecedented." --Gothamist, "Notable New Yorkers Share Their Summer Reading Recs" "A completely original story, Adam tells a coming-of-age tale that is both modern and timeless, and one that both blurs the boundary between 'young adult' and 'adult' fiction."--Mashable, "24 Must-Read Books for Summer 2014" "Not only is Adam a wonderful book, it is quite possibly the best entry in the coming-of-age category since Adam Wilson's Flatscreen...Adam is one glorious buildup to something that you know can't be a fairytale ending, and Schrag pulls it off in one funny, oddly sweet, and unique novel that nails a plot that just about anybody else would totally butcher." --Flavorwire, "Best Book of the Week" "Ariel Schrag's story about a teenager who goes to spend the summer in New York with his sister is unlike any coming-of-age story you'll read anytime soon. Funny and tender... Anybody familiar with Schrag's comics won't be disappointed with her work as a novelist; if you haven't read her other work, let Adam be your introduction and read everything else you can find of hers from there." -- Flavorwire, "10 Must Read Books for June" "The story is heartfelt and hilarious, and explores concepts of gender and sexuality that aren't really explored in other YA books. At least, none that I've read in recent memory. Definitely pick this one up. It'll stick with you. "  --BookRiot, "Best Books We Read in —
Harper Perennial, 9780544142930, 320pp.
Publication Date: June 10, 2014
About the Author
ARIEL SCHRAG is the author of the novel Adam and the graphic memoirs Awkward, Definition, Potential, and Likewise. Potential was nominated for an Eisner Award and Likewise was nominated for a Lambda Literary Award. Schrag has written for TV series on HBO and Showtime. She lives in Brooklyn, NY.