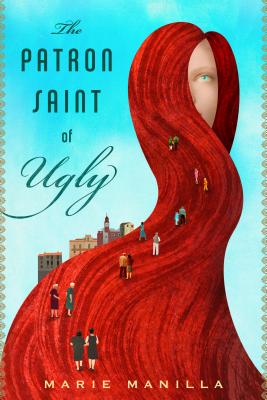 The Patron Saint of Ugly
Paperback

* Individual store prices may vary.
Other Editions of This Title:
Digital Audiobook (6/16/2014)
Description
Born in Sweetwater, West Virginia, with a mop of flaming red hair and a map of the world rendered in port-wine stains on every surface of her body, Garnet Ferrari is used to being an outcast. With her sharp tongue, she has always known how to defend herself against bullies and aggressors, but she finds she is less adept at fending off the pilgrims who have set up a veritable tent city outside her hilltop home, convinced that she is Saint Garnet, healer of skin ailments and maker of miracles.
Her grandmother, the indelible Nonna Diamante, believes that Garnet's mystical gift can be traced back to the family's origins in the Nebrodi Mountains of Sicily, and now the Vatican has sent an emissary to Sweetwater to investigate. Garnet, wanting nothing more than to debunk this "gift" and send these desperate souls packing, reaches back into her family's tangled past and unspools for the Church a tale of love triangles on the shores of the Messina Strait; a sad, beautiful maiden's gilded-cage childhood in blueblood Virginia; and the angelic, doomed boy Garnet could not protect.
Saint or not, Garnet learns that the line between reality and myth is always blurred, and that the aspects of ourselves we are most ashamed of can prove to be the source of our greatest strength, and even our salvation.
Praise For The Patron Saint of Ugly…
"Wildly imaginative."
—Entertainment Weekly
"I have read 2014's Best Novel and it is The Patron Saint of Ugly. Created, crafted and chronicled by the magnificent Marie Manilla, this written work of art will capture your mind, tug your heart-strings and enrich your very essence."
—Buried Under Books

"The Patron Saint of  Ugly  draws us deep into a world of everyday miracles, where grandmothers can transform themselves into nereids and granddaughters can heal the wounds of their family's tangled past. This book is a divinely feminist celebration of the sacred synergy that exists between women."
—Feminism + Religion

"Beautifully written, filled with detailed prose meant to be savored, Manilla's latest is a captivating reminder of the blurred line between myth and reality."
—Booklist

"A cleareyed, touching fable of a girl learning the hard truths about herself and others."
—Kirkus

"Manilla's second novel is clever, funny, heartbreaking, and heartwarming, all at once. . . A lovely, hopeful tale."
—Publishers Weekly

"A rich and complex novel…[that] lures the reader into a world where magic and serendipitous fortune hold hands with sadness, guilt, and family tragedy…There is not a scene rendered that is pale or slim on visual imagery. Each place and talisman is depicted with a vivid sense of color and emotion."--Michaela Hansen, Front Porch Journal

"Marie Manilla's novel is a boisterous dazzler, thick with humor and steeped in a rich mythology. The Patron Saint of Ugly packs a hard emotional punch without ever losing its charm or its hopeful heart."
—Joshilyn Jackson, bestselling author of Someone Else's Love Story and Gods in Alabama

"The Patron Saint of Ugly is a vastly entertaining story of a reluctant saint, her indelible nonna, and their family's long history of love, trickery and transcendence. I can't imagine any reader not enjoying Manilla's sparkling tale, or the girl who tells it."
—Whitney Otto, author of How to Make an American Quilt

"With The Patron Saint of Ugly, Marie Manilla has written more than a novel: she's written what we used to call a tale. It's all here, folks, the whole world. How does Manilla write about God and history and love and loss and make it all so miraculously readable? How does she make this book so much fun, even as it breaks your heart? Beats me, but she did it. Plus which, anyone who can mention Buddy Holly and Pius XII in the same sentence is my hero."
—Daniel Wallace, author of Big Fish

"The Patron Saint of Ugly is steeped in magic — it will make you laugh, fill you with wonder and break your heart all at once. A rich and energetic tale of love, family, and the hazy lines between reality and myth."
—Zoe Ferraris, author of Finding Nouf
Mariner Books, 9780544146242, 352pp.
Publication Date: June 17, 2014
About the Author
MARIE MANILLA is a graduate of the Iowa Writers' Workshop, and her fiction has appeared in the Chicago Tribune, Prairie Schooner, and Mississippi Review, among other journals. 
The Patron Saint of Ugly has been described as magical realism—literature grounded in the real world, but which also contains mythical or magical elements. What are some of the mythical or magical elements in The Patron Saint of Ugly?
The novel has also been described as southern gothic, which makes use of folklore and oral history to explore southern regions that have seen better days. Southern gothic characters are often slightly off-kilter—physically or emotionally, or morally bankrupt. There is frequently an innocent character who serves as a redeemer or sacrificial lamb. Do you see any of these elements in The Patron Saint of Ugly?
One recurring thread is that various characters long to have their hearts' desires fulfilled. What are the hearts' desires of the primary characters, whether they are explicitly stated or not? Does everyone have his or her heart's desired fulfilled? If so, how is it fulfilled—or not?
Another overarching question is whether Garnet is "sainted" or merely "stained." Manilla includes evidence suggesting that Garnet is indeed responsible for the healings, but there is also evidence that environmental factors are at work. What is your conclusion, and does it ultimately matter? If Garnet is not a miracle worker, what has she gained by the novel's end? What have the pilgrims gained? Or Nonna?
In evil-eye lore, beautiful children, particularly boys, are susceptible to the envy of jettatura. How is beauty both a blessing and a curse in The Patron Saint of Ugly, to children and adults, male and female? In which characters is this particularly explored, and how?
The novel is delivered as a series of tapes Garnet makes for an archbishop, thus we get most of the story from her point of view. Given her irreverent attitude, it's possible that not everything she tells the archbishop is true. In addition, Nonna often corrects Garnet's narration, and in fact steals the tape recorder to make her own tape to set the record straight, as does Aunt Betty. Is it possible that Garnet is an unreliable narrator, and that not everything she tells readers is true? If so, how might this change your reading of the book?
In addition to tapes, The Patron Saint of Ugly includes letters, newspaper clippings, a noir short story, a 60 Minutes transcript, two pages filled with the letter z. Why might Manilla have included these artifacts? What do they add to the novel?
The present day of the novel is 1975, with dips back in time to when Nonna was a girl in Sicily, and when Garnet's parents met in the 1940s. Why do you think Manilla set it in the past rather than the twenty-first century? Why did Manilla choose to end the book with a future 2025 New York Times article? How would the ending change if the article were not included?
The Patron Saint of Ugly grapples with issues of gender, class, religion, and race. How do you see these subjects explored?
The Patron Saint of Ugly is a faith journey not only for Garnet, but for the reader as well. Each reader will determine whether or not Garnet is a saint based on how far he or she is willing to go. As a reader, how far were you willing to go?