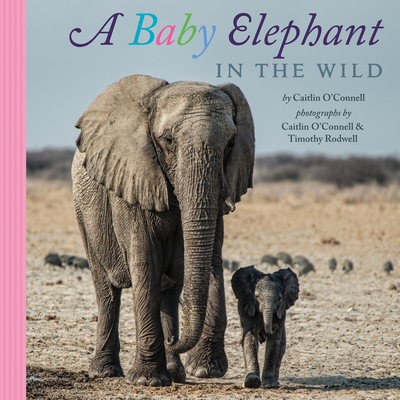 A Baby Elephant in the Wild (Hardcover)
HMH Books for Young Readers, 9780544149441, 40pp.
Publication Date: March 18, 2014
* Individual store prices may vary.
Description
Last summer, the Sibert Honor–winning duo Caitlin O'Connell and Timothy Rodwell witnessed the birth—and growth—of a baby elephant. In this intimate account for preschool through elementary readers, find answers to questions such as: What do newborn elephants look like? How big are they? What threatens them in the wild? Do they bully each other? Are they stalked by lions? What happens if they don't get enough food or water? Are they at risk of extinction?
With irresistible photographs and a text that places the reader in the wonder of the savannah, this is a book to treasure for all animal lovers.
About the Author
Dr. Caitlin O'Connell is a Consulting Assistant Professor in the Department of Otolaryngology, Head & Neck Surgery at Stanford University School of Medicine and a world renowned expert on elephants and vibrotactile sensitivity. She is the author of the internationally acclaimed nonfiction science memoir, The Elephant's Secret Sense (2007, Free Press). Her narrative nonfiction photo book An Elephant's Life (2011, Lyons Press) uses a graphic novel approach to revealing subtle and intimate aspects of elephant society. Her co-authored nonfiction children's book, The Elephant Scientist (2011, Houghton Mifflin Children's Books) won five awards, including the Robert F. Sibert Honor and Horn Book Honor for 2012. A Baby Elephant In The Wild (2014, Houghton Mifflin Harcourt Books for Young Readers) is a Junior Library Guild Select, and Elephant Don: The Politics Of A Pachyderm Posse (University of Chicago Press) came out in 2015. Her debut novel was Ivory Ghosts (Random House).  O'Connell is the co-founder and CEO of the nonprofit organization, Utopia Scientific (www.utopiascientific.org), dedicated to research and science education. She is also co-director of Triple Helix Productions, with a mandate to develop more accurate science content for the media. She has written five screenplays with science themes and has just finished her first co-authored novel to inspire girls with an interest in physics. She has taught Science Writing for Stanford University and The New York Times Knowledge Network. Visit her author website at www.caitlineoconnell.com.
Also visit her elephant blog: elephantskinny.tumblr.com. And be sure to watch an award-winning documentary about her research on the Smithsonian Channel: www.smithsonianchannel.com/sc/web/show/3373743/elephant-king.
The photographers Caitlin O'Connell, Ph.D., and Timothy Rodwell, M.D., Ph.D., M.P.H., are scientists and professional photographers that have blended art and science to help make science more accessible and engaging. Their photography has appeared in National Geographic, National Wildlife Magazine, Discover, Science News, Africa Geographic, and many other international magazines, scientific journals, and newspapers. Caitlin is on the faculty in the Stanford School of Medicine and Timothy is an assistant professor at the University of California, San Diego School of Medicine.
Praise For A Baby Elephant in the Wild…
"[O'Connell's] accounts of elephant growth, social behavior, and environmental and human challenges are both detailed enough to satisfy demanding young naturalists and easy for younger readers to understand."
—Kirkus

"O'Connell's account of baby Liza's development is straightforward and unsentimental yet filled with detailed and fascinating scientific information about the lifelong ties among elephants that will resonate with readers' own feelings about family."
—Horn Book Magazine

"Nicely illustrated with photographs, this book invites children to observe a family of elephants in the Namibian scrub desert over a period of months...A valuable addition to library collections on elephants."
—Booklist

"This is a beautiful story told with care and compassion. It is obvious that the author has great respect for these animals and hopes to inspire the same feeling in her readers."
—School Library Journal

"A solid and useful introduction to basic facts of African elephant life for elementary-aged readers"
—Bulletin