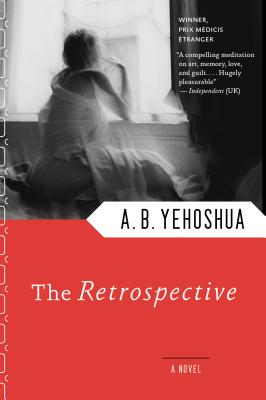 The Retrospective (Paperback)
Mariner Books, 9780544157989, 352pp.
Publication Date: March 25, 2014
Other Editions of This Title:
Hardcover (3/5/2013)
Paperback (2/1/2013)
* Individual store prices may vary.
Description
A New York Times Book Review Editors' Choice
Winner, 2012 Prix du Meilleur Livre Étranger

"The greatest Hebrew novelist." — Jewish Review of Books

An aging Israeli film director has been invited to the pilgrimage city of Santiago de Compostela for a retrospective of his work. When Yair Moses arrives, a painting over his bed triggers a distant memory from one of his early films: a scene that caused a rift with his brilliant but difficult screenwriter. Upon his return to Israel, Moses decides to travel to the south to look for his elusive former partner and propose a new collaboration. But the screenwriter demands a price for it that will have strange and lasting consequences.

A searching and original novel by one of the world's most esteemed writers, The Retrospective is a meditation on mortality and intimacy, on the limits of memory and the struggle of artistic creation.

"[The Retrospective] moved me deeply." — Vivian Gornick, The Nation

"[Yehoshua] achieves an autumnal tone as he ruminates on memory's slippery hold on life and on art." — The New Yorker
About the Author
A. B. YEHOSHUA is the author of numerous novels, including Mr. Mani, Five Seasons, The Liberated Bride, and A Woman in Jerusalem. His work has been translated into twenty-eight languages, and he has received many awards worldwide, including the Los Angeles Times Book Prize and the National Jewish Book Award. He lives in Tel Aviv, Israel.
STUART SCHOFFMAN, a journalist and translator, is a fellow at the Shalom Hartman Institute in Jerusalem and editor of Havruta: A Journal of Jewish Conversation.
Praise For The Retrospective…
Winner, 2012 Prix Médicis étranger
Winner, 2012 Prix du Meilleur Livre Étranger
A New York Times Book Review Editor's Choice

"[Yehoshua] achieves an autumnal tone as he ruminates on memory's slippery hold on life and on art."—The New Yorker

"Yehoshua's prose penetrated to a level of psychological understanding that moved me deeply. . . [His] stories remind us that Israeli literature rightly joins the literature of those other cultures that have earned the right to make of ordinary lives a metaphor for such soul-destroying weariness."—Vivian Gornick, The Nation

"An ambitious, engrossing, playfully testamentary novel."—Moment

"A pure pleasure. . . Yehoshua's best book in years."—Maariv (Israel)

"Genius. . . In The Retrospective, Yehoshua evokes the complexities of growing old — for men and women, and for a country that is no longer fledgling — and the entrapments of regrets and broken memories that make it hard to part 'from what might have been but was not.'"—Jewish Daily Forward

"Yehoshua is concerned with the inadequacies in our quotidian sense of history, our inability to comprehend its violent grandeur. Though the history he has in mind may be Jewish and Israeli, the final words of Ralph Ellison's Invisible Man may apply: 'Who knows but that, on the lower frequencies, I speak for you?'"—Robert Pinsky, New York Times Book Review

"The Retrospective is intelligent, sensitive fiction . . . In his inimitable style, Yehoshua crafts a powerful and engaging allegory of modern Israeli Jewish identity. "—Haaretz

"Yehoshua delivers a stunning explanation of the ethics of art. . . A fluid and absorbing novel of ideas; highly recommended."—Library Journal, starred review

"A truly international book, a serious set of reflections about coming to terms with the past—with a surprising ending. . . His recent novels have a wonderful restraint, an increasingly elegiac feel."—Jewish Chronicle

"Yehoshua's intelligent and refined novel. . . about an aging Israeli director reviewing both his films and his life. . . recalls once again Faulkner's famous dictum that 'the past isn't dead. It isn't even past.'"—Kirkus, starred review

"With beautiful wordsmanship, Yehoshua entangles dignity and humiliation, repugnance and rapture, showing us how difficult they become to distinguish."—Booklist

"A compelling meditation on art, memory, love, guilt… A hugely pleasurable read, it shows that in his seventies, A. B. Yehoshua is still producing some of his best work."—Independent (UK)

"Fascinating. . . Beautiful."—Ha'ir (Israel)

"Richly plotted."—Jewish Week