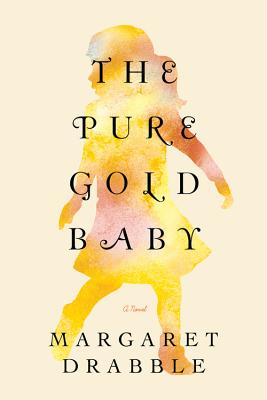 The Pure Gold Baby (Hardcover)
Houghton Mifflin Harcourt, 9780544158900, 304pp.
Publication Date: October 1, 2013
* Individual store prices may vary.
Description
Jessica Speight, a young anthropology student in 1960s London, is at the beginning of a promising academic career when an affair with her married professor turns her into a single mother. Anna is a pure gold baby with a delightful sunny nature. But as it becomes clear that Anna will not be a normal child, the book circles questions of responsibility, potential, even age, with Margaret Drabble's characteristic intelligence, sympathy, and wit.

Drabble once wrote, "Family life itself, that safest, most traditional, most approved of female choices, is not a sanctuary; it is, perpetually, a dangerous place." Told from the point of view of the group of mothers who surround Jess, The Pure Gold Baby is a brilliant, prismatic novel that takes us into that place with satiric verve, trenchant commentary, and a movingly intimate story of the unexpected transformations at the heart of motherhood.
About the Author
MARGARET DRABBLE is the author of The Sea Lady, The Seven Sisters, The Peppered Moth, and The Needle's Eye, among other novels. For her contributions to contemporary English literature, she was made a Dame of the British Empire in 2008.
Praise For The Pure Gold Baby…
"Achingly wise…Lamenting and steely, gentled by compassion. Admirers of Marilynne Robinson will find themselves very much at home in this book." —
Wall Street Journal
"Moving and meditative...I found a kind of somber bravery in the story of this unwavering, intelligent woman and her guileless and beautiful child. I'm so glad that Margaret Drabble, like her characters, just decided to keep on going." —Meg Wolitzer, NPR's
All Things Considered
"Feelings of age, of history, and of hindsight permeate the book...The novel's true preoccupation is social history, and it powerfully evokes the changes of recent decades." —
The New Yorker
"The Pure Gold Baby is a closely observed group portrait of female friends, a patient insight into the joys and pains of motherhood, and an image of how society has changed and how it has not." —Harper's
"It is a testament to the intensity and skill of Drabble's writing that part of this novel's suspense has to do with our waiting for definitions, diagnoses, and certainties that are never offered; and that part of our satisfaction lies in our acceptance that they cannot be…These are characteristic Drabble maneuvers: to take us all the way to death and madness and then back, to life defiant and friendship itself defying time by living fully within it." —
The New York Review of Books
"Insightful and wise, The Pure Gold Baby chronicles the deep challenges of parenting under any circumstances — yet it also captures the almost unbearable vulnerability of being human." —Boston Globe
"The Pure Gold Baby is as deep as it is wide: resonant, recursive and contemplative." —The Kansas City Star
"
The Pure Gold Baby
is an unexpected gift from a great author. How do we treat the child who walks among us in a different way than most? In Margaret Drabble's hands the answer is with a depth of empathy few master." —Alice Sebold, author of
The Lovely Bones
"Margaret Drabble has written a compelling portrait of a mother whose care for her disabled child unfolds against a world of shifting mores. This is a panoramic survey of the way social attitudes toward difference have shifted--of what has been gained and of what has been lost. It is above all a humbling portrait of time, a stern reminder that what we know to be true today may well be untrue tomorrow. It is written with acuity, wisdom, and grace." —Andrew Solomon, author of
Far From the Tree
"An intimate look at a small family and its circle, told with wit, sensitivity, and deft knowledge of the household details of its setting...[Drabble] is a masterly storyteller and a preeminent chronicler of modern life...Readers who yearn for well-crafted fiction full of thoughtful ideas and observations should welcome this heartily." —
Library Journal
(starred review)"[A] deeply intellectual, though never pretentious consideration of our intricate connections and obligations to others. Thoughtful and provocative, written with the author's customary intelligence and quiet passion." —
Kirkus
"Dame of the British Empire Drabble is in peak form in this marvelously dexterous, tartly funny, and commanding novel of moral failings and women's quandaries, brilliantly infusing penetrating social critique with stinging irony as she considers what life makes of us and what we make of life... Given Drabble's standing as one of the giants of world literature, elevated attention will be paid to her first novel since
The Sea Lady
(2007)." —
Booklist
(starred review)
Coverage from NPR
or
Not Currently Available for Direct Purchase