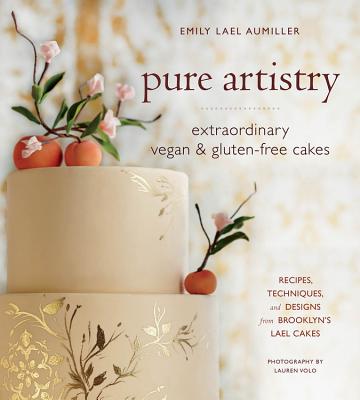 Pure Artistry
Extraordinary Vegan and Gluten-Free Cakes
Hardcover

* Individual store prices may vary.
Description
At her celebrated bakery Lael Cakes, Emily Lael Aumiller creates stunning special-occasion cakes that are as pleasing to the taste buds as they are to the eye—and they're also all vegan and gluten-free! As more people are becoming aware of their dietary restrictions, Emily's exquisite cakes provide a solution that leaves everyone happy while dismissing the idea that vegan and gluten-free desserts are by nature unattractive. Pure Artistry includes recipes for staple cakes (like Mexican Chocolate, Lemon-Poppy, and Classic Red Velvet) plus icings and fondant, how-tos on cake construction, and information on necessary ingredients and tools. The truly extraordinary feature of the book is the gorgeous cake designs, which are organized by mood—classical, classical whimsy, modern, and modern whimsy. These teach the reader foundational decorating techniques, like making sugar flowers, while inspiring bakers with photography that is gorgeous enough to stand on its own. 
Praise For Pure Artistry: Extraordinary Vegan and Gluten-Free Cakes…
"Brooklyn-based pastry chef Emily Lael Aumiller sits squarely in the overlap of show-stopping cakes and special-needs diets. Her creations are vegan and gluten free, yet look like they belong in a magazine — as indeed they have (see Martha Stewart Weddings and Brides). Her new book, "Pure Artistry: Extraordinary Vegan & Gluten-Free Cakes" (Houghton Mifflin Harcourt, $35), provides a master class in special-diet cakes and cake-decorating. With beautiful (and hardworking) photographs by Lauren Volo." —Newsday "Aumiller's goal of creating "edible art" (that just happens to be vegan and gluten-free) is apparent in this graceful collection divided into two sections: Recipes & Techniques and Aspects of Cake Design. The author's years of baking without the likes of eggs and milk led her to years of experimenting in search of successful "stable" cakes, and readers will benefit from her research into alternative ingredients such as gluten-free flours, unrefined sugars, and plant-based fats. Detailed information on tools and decorating leads to cake recipes centered on Mexican chocolate, coconut, and ginger. The highlights of the book are the often intricate and always lovely cake decorations; how-to sections give step-by-step photos for painting and stenciling adornments, sculpting feathers, and creating and applying a chevron pattern. Photography by Volvo captures the artful creations in full-page spreads: "Gold in Chaos" is a three-layer cake that appears to defy gravity, and "Pleated Angels," a wedding dress–inspired cake, boasts pristine "folds." This title is both inspirational and enjoyable to browse." —Publishers Weekly —
Harvest, 9780544190696, 352pp.
Publication Date: April 12, 2016
About the Author
EMILY LAEL AUMILLER is the founder and owner of Lael Cakes. Upon opening Lael Cakes and struggling with food allergies, Emily mastered recipes that cater to gluten-free, dairy-free, and vegan clients who are in need of a high-end custom cake.
or
Not Currently Available for Direct Purchase