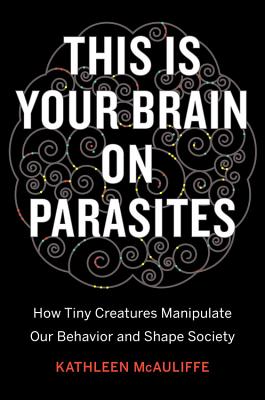 This Is Your Brain on Parasites
How Tiny Creatures Manipulate Our Behavior and Shape Society
Hardcover

* Individual store prices may vary.
Other Editions of This Title:
Paperback (5/16/2017)
MP3 CD (9/20/2016)
Description
A riveting investigation of the myriad ways that parasites control how other creatures—including humans—think, feel, and act.
 
These tiny organisms can only live inside another animal, and as McAuliffe reveals, they have many evolutionary motives for manipulating their host's behavior. Far more often than appreciated, these puppeteers orchestrate the interplay between predator and prey. With astonishing precision, parasites can coax rats to approach cats, spiders to transform the patterns of their webs, and fish to draw the attention of birds that then swoop down to feast on them.
 
We humans are hardly immune to the profound influence of parasites. Organisms we pick up from our own pets are strongly suspected of changing our personality traits and contributing to recklessness, impulsivity—even suicide. Microbes in our gut affect our emotions and the very wiring of our brains. Germs that cause colds and flu may alter our behavior even before symptoms become apparent.
 
Parasites influence our species on the cultural level too. As McAuliffe documents, a subconscious fear of contagion impacts virtually every aspect of our lives, from our sexual attractions and social circles to our morals and political views. Drawing on a huge body of research, she argues that our dread of contamination is an evolved defense against parasites—and a double-edged sword. The horror and revulsion we feel when we come in contact with people who appear diseased or dirty helped pave the way for civilization, but may also be the basis for major divisions in societies that persist to this day.
 
In the tradition of Jared Diamond's Guns, Germs and Steel and Neil Shubin's Your Inner Fish, This Is Your Brain on Parasites is both a journey into cutting-edge science and a revelatory examination of what it means to be human.
Praise For This Is Your Brain on Parasites: How Tiny Creatures Manipulate Our Behavior and Shape Society…
"If you've ever doubted the power of microbes to shape society and offer us a grander view of life, read on and find yourself duly impressed."-BookForum

"A fascinating account of an extraordinary suite of biological phenomena, only recently come to light and proving that given enough time and enough evolving species to work with, natural selection can accomplish almost anything."
-Edward O. Wilson, Professor Emeritus, Harvard University, author of Consilience.
 
"This book has all the elements of a crime thriller: violence, blood, gore, race and sex. But here the criminals are parasites. McAuliffe tells a vivid and sometimes horrifying tale of the hijackers that control our brains and our behaviour. In company with the best science writers, she shows us that reality can be way more interesting than fiction."
-Valerie Curtis, Director of the Environmental Health Group of the London School of Hygiene & Tropical Medicine and author of Don't Look, Don't Touch, Don't Eat
 
"Be prepared to throw away all your preconceptions about the order of life. Humorous, inspiring and macabre—this is infectious reading in the tradition of giants like Robert S. Desowitz and Jared Diamond."
-Michael A Huffman, associate professor, Primate Research Institute, Kyoto University

"From start to finish, [McAuliffe] spins a consistently engrossing tale of invasive creatures that can alter your behavior and outlook, depress your cognitive functioning, and even make you more violent or sexually aggressive." -- Heather Havrilesky, Book Forum
Eamon Dolan/Houghton Mifflin Harcourt, 9780544192225, 288pp.
Publication Date: June 7, 2016
About the Author
KATHLEEN MCAULIFFE is a contributing editor to Discover. Her work has appeared in over a dozen national magazines, including Discover, the New York Times Magazine, Atlantic, and Smithsonian. From 1999 to 2006, she was also a health columnist for More. Her work has been published in Best American Science Writing, and has received several grants and awards, including a science writing fellowship from the Marine Biological Laboratory at Woods Hole. She has appeared numerous times on TV and radio, and was interviewed by To the Point, the nationally syndicated Osgood FIle, and other programs after her 2012 Atlantic feature "How Your Cat Is Making You Crazy" became the second most widely read article in the magazine's history. McAuliffe lives in Miami with her husband—a research physicist—and her two children.
or
Not Currently Available for Direct Purchase