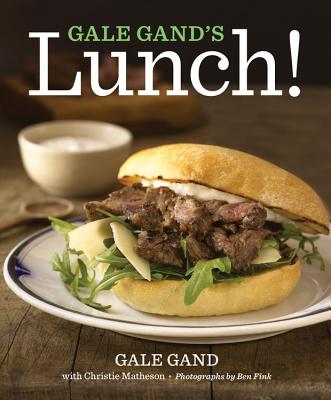 Gale Gand's Lunch!
Hardcover

* Individual store prices may vary.
Description
It's time for a lunch revolution. Lunchtime doesn't need to be about hurrying through an assortment of processed products. The midday meal is a fabulous opportunity to enjoy delicious ingredients and flavor-packed dishes and to slow down while you eat (even if just for a few moments). Acclaimed chef Gale Gand shows you how to make it happen—simply and easily, and for a fraction of the price of prepared salads and sandwiches. Gand offers 150 recipes—including plenty of kid-friendly fare (tested and approved by Gand's own children)—along with tons of tips for packing foods to go or turning lunch into a celebration with friends and family. As Gand says, when it comes to entertaining, "lunch is the new dinner." Chapters on soups, pastas, salads, grains, fruits, and more, as well as desserts, drinks, dips, and snacks, provide countless combinations for memorable meals at home or on the go.

Praise For Gale Gand's Lunch!…
"The Italians had it right with a leisurely midday meal. Not a snack to sustain you through the day, but a thoughtful, flavorful expression of the season's bounty. Gale Gand has designed the most delicious riffs on lunchtime staples. It's the sort of food I could eat forever. And maybe I will."
–Mario Batali, chef, author, entrepreneur
"Gale Gand has given us all a reason to enjoy lunch again. Not the fast, barely-thought-about lunch, but divine moments during our busy days to savor a simple, homemade lunch. This book delivers, in the most wonderful way, the central meal of the day. We all aspire to send our children and ourselves off to school or work with the most amazing lunches. And the task just got a lot easier and more delicious with Lunch!"
–Cat Cora, lifestyle entrepreneur and Iron Chef
"Gale Gand has all the credibility in the world with me. Whether it's a homemade American main dish or an old-fashioned (and newly appreciated) dessert, if Gale serves it, I'm eating. Having now focused her talents on lunch—the neglected middle child of our eating day—I just have to salute. Here's to Gale's Honey-Mustard Pretzel Rolls, Dilled Green Bean Pickles, and Fresh Ginger Ale, finished off with Apple Pie Pops or Devil Dogs. Or both! That middle child never looked so good."
–Sara Moulton, host of the public television show Sara's Weeknight Meals
"For those of us who believed we were marrying for better or worse, but not for lunch, this is a reprieve and a delight. Gale Gand's lunches are as good as her desserts, and will keep my family away from peanut butter sandwiches every day."
–Nathalie Dupree, cookbook author

"She's no slough, this two-time James Beard Award winner; every dish hews to her philosophy of delicious, nourishing, and seasonally sourced foodstuffs, geared to kids and adults alike. Now that, as she points out, lunch has become (or is becoming) the new dinner, anything goes, including crispy roasted chickpeas, chipotle-cheddar biscuits, grilled hanger steak with arugula, the ultimate PB&J, matzo ball soup, three-beet salad with snap peas, or "Everything Cookies."
–Booklist
Houghton Mifflin Harcourt, 9780544226500, 256pp.
Publication Date: April 29, 2014
About the Author
Gale Gand is founding pastry chef and partner at the internationally acclaimed Tru restaurant in Chicago. She has won numerous James Beard Awards and published award-winning cookbooks, including Just a Bite and Short and Sweet. She was also the host of Sweet Dreams, the daily baking show on J216Food Network and the Cooking Channel.
or
Not Currently Available for Direct Purchase